You've likely heard of Argan oil, Social Gals and Gents, but the question is: Did you really listen to the motivation for its endorsement by so many leading healthy beauty aficionados, or better yet, actually act on the advice, and give it a whirl? Thought so. 😉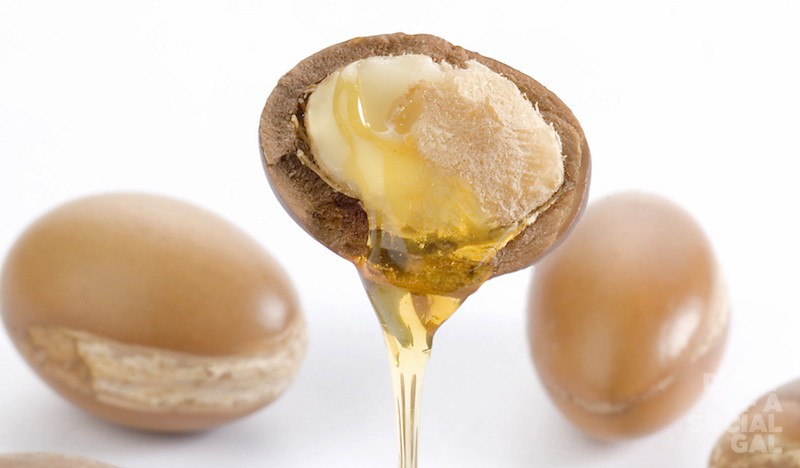 HERE ARE THREE "MANE" REASONS THE WONDER OIL DESERVES SOME LOVE IN YOUR CABINET:
1.  CONDITIONER SUPREME: First, the oil extracted from the kernels of the Moroccan Argan tree, and often dubbed liquid gold, is packed with oodles of beneficial nutrients, including sizeable amounts of  Vitamin E and fatty acids, that make it a perfect hair conditioner on a regular basis, antidote to all that heat abuse and overstyling.
Application: All you have to do is rub a few drops into your hair, after washing and towel-drying, being sure to massage into scalp, and run through ends. The long-term effect is not only corrective, and solid on dandruff fighting, but studies show that the high antioxidant content can also give cells a boost and encourage regrowth.
2.  MASKTASTIC: In addition to replacing conditioner, the oil makes a spectacular mask, when applied generously to clean scalp and hair, and wrapped in a towel overnight, or for a few hours. This is a particularly good go-to before a special event when you're looking for that extra oomph, and shine, and overall smooth behaviour! 😉
3. STYLE-FRIENDLY: Finally, the multipurpose gift that keeps on giving is also a great, anti-frizz styling ally, when used in the right quantities. Just rub a few drops between palms, and apply to wet or dry hair (a little goes a long way). Then, reap the rewards of the resulting healthy manageability and shine, a far cry from the chemical laden treatments of years past that offered just short term gain, and long term pain.
As for access, we're loving the easy to use spray from homegrown Naturiste, but the oil can be purchased from many different reliable sites and purveyors of health and beauty products.