While Diary is by no means a beauty site and a place where we profess to be experts in any one realm, there are certain tricks that this Social Gal has picked up by virtue of having served as Social Columnist for over a decade for our leading English daily, The Montreal Gazette, and in that official capacity, having attended (and still attending) thousands of events.
In fact, it became a survival thing (not a luxury thing lol) to nail down the most useful, time-efficient and effective beauty weapons that would make my professional stiletto-hopping from event to event look easy breezy. 
And one of the absolute best Social Gal Secrets I unearthed on my party travels (that I continue to use religiously to this day) was the SK-II Facial Treatment Mask, available on myriad beauty sites like Sephora.com and at bricks and mortar luxury retailers like Saks.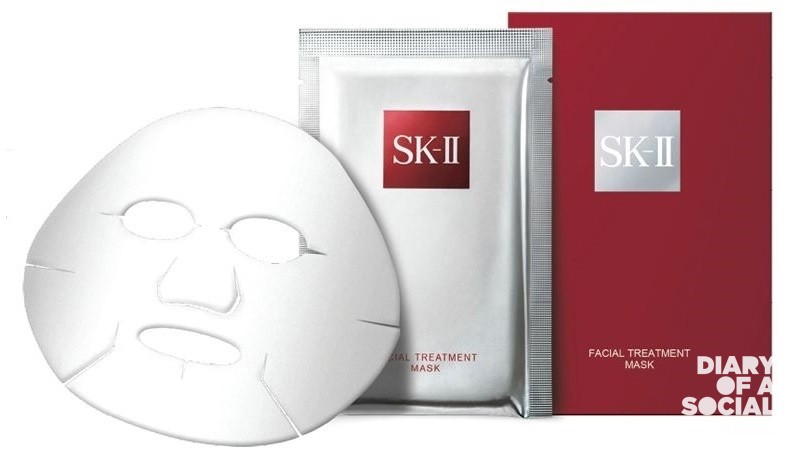 Just what makes it so beyond? The insanely magical ingredient called Pitera that was discovered accidentally to have had a hand (excuse wordplay) in keeping the (literal) hands of monks silky smooth and unlined.
While one application might not send you straight back to the womb, fetus-like, it will be worth the somewhat hefty price tag ($135 per mask) giving your skin such a moisture and radiance boost that co-workers, and / or co-party mates, will surely be asking (possibly in unison) what your secret is, what you've done … and / or or who you're seeing! 😉
As for easy application: Simply place the sheet mask on dry skin after cleansing, adjusting to your facial contours for 5-10 minutes (or longer for maximum absorption).
Unsolicited but good advice: Use the time as a gift to yourself to recline and exhale either in a steamy bath or your favourite chair or sofa. (I swear it works better if you don't attempt to multitask and be superhuman but surrender to the well-deserved me-time).
Then, once you're ready: Remove the mask and wipe off the excess liquid with a dry cloth. (I like to rub the surplus into my hands with a view to following in the monks' footsteps … handsteps?)
Final note: Enjoy the compliments … all of them.