Like me, you've probably heard all the terrifying stuff about Aluminum in beauty products, especially deodorants and anti-perspirants; the very real, much-talked about links to Cancer, Alzheimer's and other diseases. But then, like me, too, you may have experienced some, uh, not so delicate results when sampling some of the more natural and / or organic varieties on the market (which can be enormously compromising, make that stinkily-mortifying, especially after a rather intense quarantine workout  …
ENTER: PURELYGREAT CREAM DEODORANT, a recent find that ironically found me! The incredibly well-working, natural alternative to the naughty Aluminum-rich mainstream options, popped up in a gift bag from an event I was covering awhile back and couldn't resist testing out, so seduced was I by the simplicity and purity of the packaging (a nice departure from all that "fussy overdone" tendency oft revered in the world of product marketing).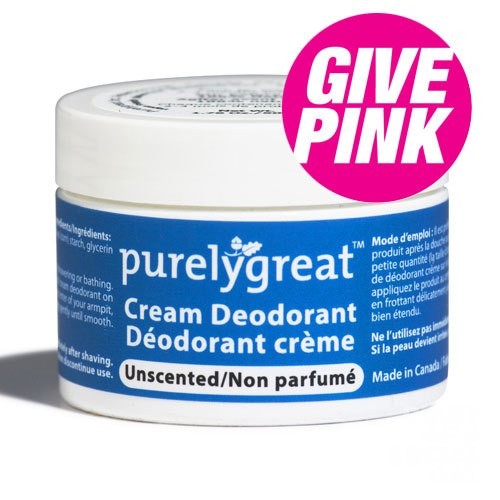 That was years ago now, and truth be told, I've been whirling with this low-maintenance baby (that requires just one application and is insanely reasonable!) ever since.
Created by Debbie, a determined Canadian mompreneur on a mission to create a natural deodorant without any of the bad stuff, that actually works, she spent years perfecting the formula, ultimately harnassed the talents of her hub and son, and has been helping thousands of satisfied customers, like yours truly, smell better, naturally, ever since.
Notably, the cruelty-free, environmentally conscious, EWG-verified product comes in different scents (including unscented), is 100% all natural, Vegan, and free of Aluminum, Triclosan, parabens, and preservatives, and is made of very few ingredients. It's also the star of a collaboration with the Canadian Breast Cancer Foundation, which tells you a little something about how healthful the deodorant is! 😉
In fact, the Purelygreat family (literally lol) is so convinced they'll wow all you Social Gals and Gents with this product and the others in the range, they stay true to a unique "Try Before You Buy" policy, enabling prospective customers to use the products prior to purchasing. How fabulous are they really? 
For more on the Purelygreat product line, click here.