There are a gazillion trazillion beauty websites, blogs, podcasts, You Tube videos and other social and traditional media platforms out there that barrage us with beauty secrets and revelations every day, all the time! It can get a little overwhelming.
Which is why, here in Diaryland, every Monday, or MAKE-IT-UP-MONDAY as we call it, our "official" Diary Day Of Beauty, we seek to highlight a product, regimen, or tool that is tried-and-true in our world; a nugget of beauty wisdom, straight from the heart that's likely to make a difference in your world / beauty regimen as well.
Today's offering is especially exciting 'cause it's been doing such a fabulous job for my lashes, and truth be told, overall spirit. Funny how a small beauty product has that kind of power. 😉
Moreover, it's incredibly accessible price-wise, and won't break that bank with so many spring buys on the horizon (hello billowy sundresses and rompers).
Just what has me so fired up and tickled? L'Oreal's aptly named: Voluminous Superstar Mascara.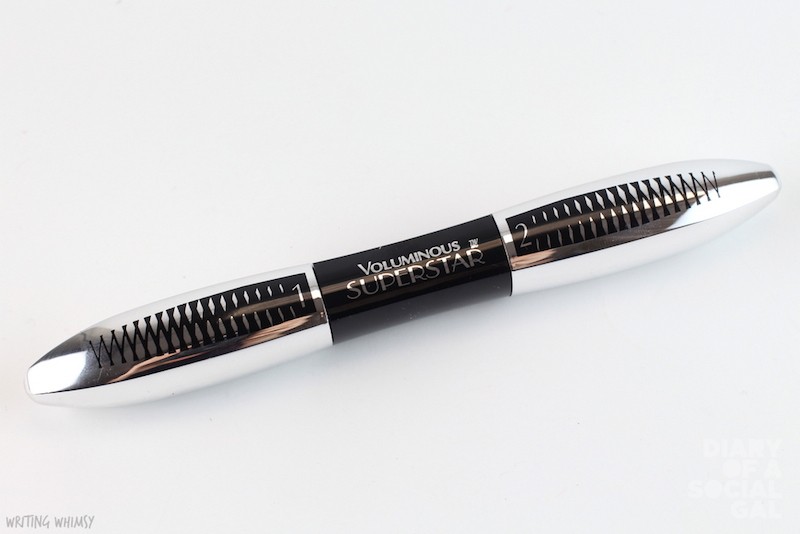 A longtime fan of their bestelling Voluminous brand, this electric silver, futuristic tube, brandished with the attention-getting name, recently got my attention straightaway at the pharmacy, and, of course, like a good product-obsessed Social Gal, I had to give it a toss in the basket.
So glad I did. The two-tier system, comprised of a Super-volumizing primer and Super-lifting mascara, has been delivering through the stratosphere.
THE M.O.: After applying a considerable amount of primer, with ample squiggle motion (which works wonders), I top off with the lifting mascara, and squiggle quite a bit there too, to ensure that all the white primer-extended lashes are thoroughly covered.
Because I love the enigmatic cat-eye but, blame my parents, have naturally close-set peepers, I focus the application on the outward corners of the eyes, an effective trick, made considerably more effective when the lashes are so extended and exaggerated, as they are with this new beauty bestie!
My favourite compliment to date? Who does your lash extensions?! I almost fainted. (It was akin to a friend telling me to go eat something a few years back, after a particularly useful Dr. Phil cleanse, heaven!)
So there you have it loves, today's Social Gal Secret. May it have you as lash-obsessed as I am.
PS: The magic tube is available at most purveyors of beauty, online and off, ULTA, etc. I stock up at the Jean Coutu on Greene Ave, one of my favourite spots to get lost in pharma la lal land. 😉