We're about to change the way you look in the mirror forever, that is the HiMirror, a technovation in beauty that came about because Simon Shen, the CEO of a prominent Taiwanese electronics group, wanted to create a product that would get his wife more excited about his industry.
Mission accomplished. The HiMirror is a genius invention, currently living its best self as the HiMirror Plus, that revolutionizes the way we reflect.
In fact, this revered enhancing gadget, with built-in security protection for the paranoid inclined (like yours truly), not only has the ability, via up-to-the-minute LED technology, to simulate five different lighting scenarios that will (literally) reflect your given destination at a particular time (sunset, restaurant/party, shopping/supermarket, bright office, and outdoor/sunny), but can actually analyze skin problems and track progress, on a day-to-day and month-to-month basis, thereby enabling  efficacious analysis of which products and regimens work best for you.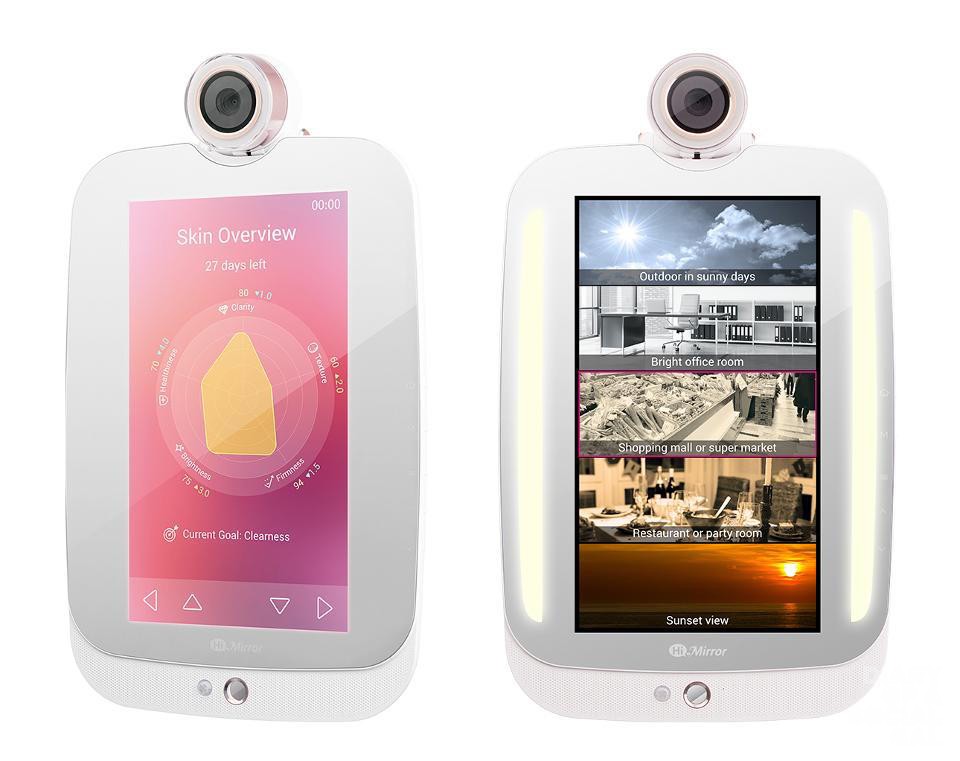 Developed in conjunction with beauty professionals and dermatologists, the mirror assesses and tracks individual skin conditions, from dark circles, wrinkles and fine lines, red and dark spots, and more, offering effective skin care plans based on the results of the Skin Index Synthesis.
While the information is intended for personal reference only, and is not intended to replace a medical diagnosis, it sure as heck ups the ante of any of the boring old mirrors we gaze into now! 😉
Moreover, in addition to the above, the new plus version enables users to add up to six individuals, provides considerably more photo storage than the original (seven times more to be exact: 14,000), has enhanced wireless capacity, and even allows for syncing with the iPhone and other Shen inventions, like the Smart Body Scale.
I don't know about you Social Gals and Gents, but my husband envy just went up. What does smart Simon have up his sleeve next? #Can'tWait #HappyWifeHappyLife. 😉
For more on the smartest mirror in town, and its superstar sister products, click HERE.