New year, new us … Right? 😉 
But before taking on all those exciting new projects or setting a pack of fresh goals, Social Gals and Gents, it's crucial to sort things out in a clear and organized fashion and to make room for these changes.
In fact, spending about 15-minutes every day, planning things out, can save you, on average, six hours of wasted time in your action-packed week.
That's 480% on your investment of time.
Need I say more? Thought so!
Here are a few simple steps that have served me really well on my journey to date and will likely make your life easier too: 

STEP 1.
Buy yourself an old-school paper agenda. Yeah, you heard me. REAL, ACTUAL PAPER. (While the phone calendar is useful for reminders and scheduling, it won't deliver the kind of results this baby will).
You see, writing things down helps. Solidifies things in your brain.
Trust me. I've always used a paper agenda and have never missed a deadline, like ever. 
Also, having your week mapped out visually gives you a bona fide head-start. You become primed to take on the week because you know exactly what's coming, well most of it anyway. 😉
As for styles, go for what you love and what entices regular use; bright colours, the one with the stickers or the nice leather option at Indigo. Go crazy. It's an investment ;).
I personally can't get enough of my agenda from ban.do. It's cute, not too big and has enough space to write everything out. And yeah, it has stickers too.
https://www.chapters.indigo.ca/en-ca/paper/2018-2019-academic-ban-do/825466952638-item.html?ikwid=bando&ikwsec=Home&ikwidx=7
STEP 2.
Cross things off.
Now that you have your sexy new paper agenda, fill it with deadlines, appointments, events and all those basic to-dos.
When they're done, take out your favourite pen and cross them out. One by one!
It might seem silly but the exercise is actually incredibly satisfying.
It also shows you what's left to do and slowly eliminates an overwhelming list from your mind, a must for stress-busting in today's hectic, fast-paced world.

STEP 3.
Clean.
Tidy up, clear your desk – and work space – and have fun with it.
You won't be totally ready to take on a challenge until you do.
You'll feel better and less distracted by the mess/clutter.
Truth be told, uncluttered space often = an uncluttered mind.
Do it. It's really not that hard.
STEP 4.
Download some quality organization apps (especially if you're like my dad who loves technology and can't seem to carry a pen and paper!).
But don't get carried away and collect a bunch. It would defeat the purpose.
As for some faves that have really gone the distance for me, enhancing quality of life and freeing up coveted chunks of time, here are the top three: 
STEP 5.
Print out this month's calendar.
Print it and write out all the most important deadlines.
See it as a summary of your agenda.
You'll have your month's major plans right before your eyes, and as a consequence,  will be able to see what's coming in a way that's more more long term.
Again, don't forget to cross things off.
STEP 6.
Make lists.
This is the short term of your agenda.
If you have a busy day, make a detailed list of what you have to do. And yes, you know it, cross things out!   
It will make a huge difference in your overall productivity.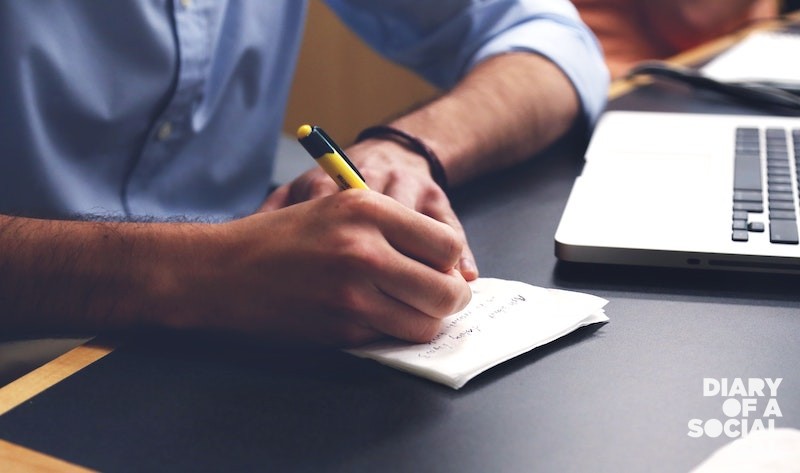 Ok, there you have it, Social Gals and Gents, some easy-to-follow steps to help you live a more organized 2019. So stop making excuses! Instead, turn messes into colour-coded art and experience the fruits of an organized journey, firsthand. Let us know how you fare. xx