So I recently reconnected with an old friend and made plans to catch up over a dinner we'd been trying to plan for say, two years now, but alas, the crazy of life – especially for busy entrepreneurs (which we both are) often gets in the way of good intentions and said promising dinner just never seemed to manifest.
Until recently. And I'm so glad it did, because not only was the eve a spectacular catch-up with a really cool and special human that I should be consciously spending more quality time with, but she also – boldly – took the opportunity to let me know that she felt I was "blocked" in some way and that the blockage was impeding my self-actualization on the personal side and realization of full potential on the professional front.
While my first instinct was to be slightly taken aback (like really sister?!), it was immediately followed by a pretty impressed exhale, because hey, she saw what I've been feeling and internalizing for awhile now. And, hard as it was to confront over wine and appetizers, the cat was out of the bag; this intuitive friend had now forced me to confront some paralyzing truths and to initiate the search for some resources that might help me work through them.
Having done quite a bit of work on herself (strictly as a layperson I should add), she recommended that I read some good tomes on point like the book I'm about to tell you about today, as well as a few others.
Even cooler: this incredibly insightful and generous soul even went out of her way to purchase a few of these resources for me and to send over for my birthday in December. (Note to self and to all: hold the real friends that really care close, they're rare and a gift).
Upon receipt, I immediately got busy with the one that screamed read me: UNFU*CK YOURSELF by GARY JOHN BISHOP: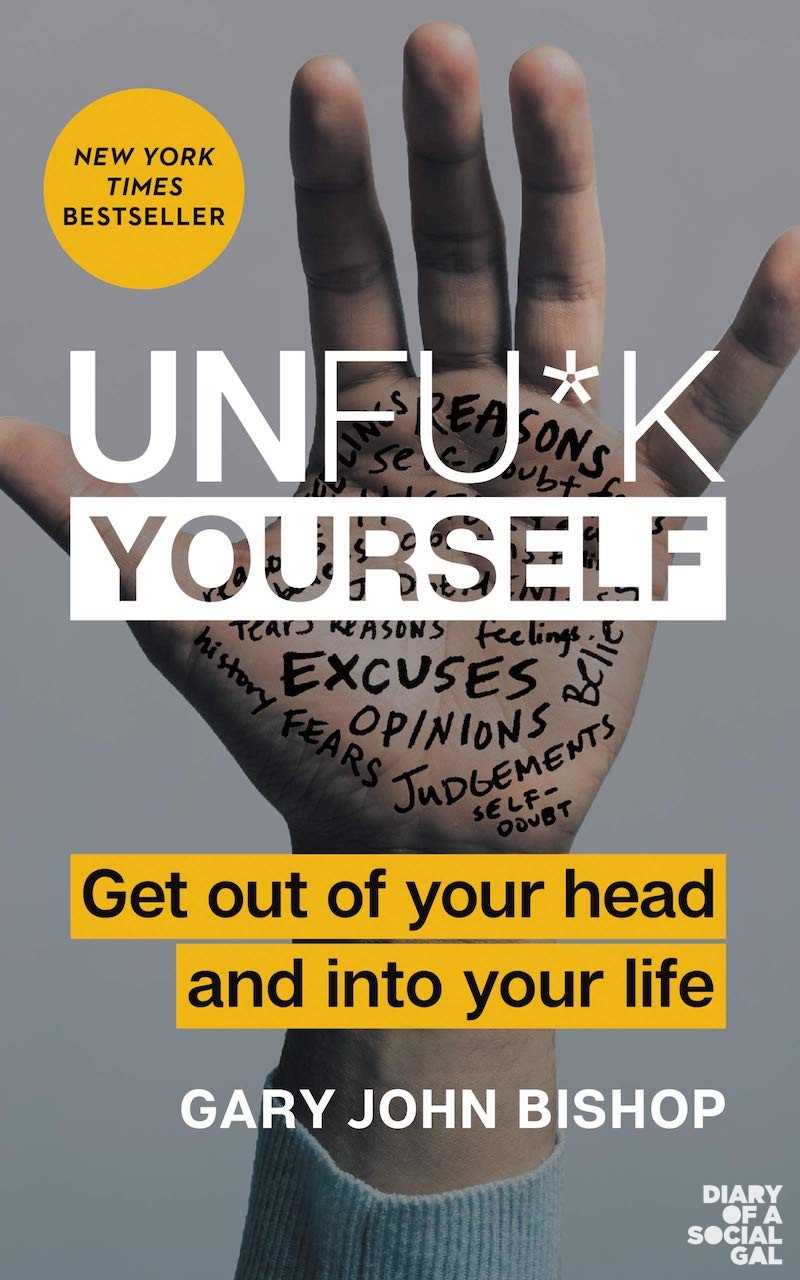 Was I lured by the powerful wordage? Course I was. Journalist, people! But I'm recommending it to you Social Gals and Gents today because the tome is so much more than just an attention-getting sassy title.
Will it totally change your life overnight and have you realizing all your life dreams by the last page? Uh nope! No book, no podcast, heck no therapy session – or several – can do that.
But, if you're ready and open (both are key), it WILL provide some pretty keen insight into what you've been doing wrong to continue to allow blockages to dominate your reality (often subconsciously) and provide some pretty effective tools to counteract and move beyond them.
Am I now going to short-cut things for you and list some of the key nuggets of wisdom? I could. Easily. They're highlighted in vivid yellow and sitting right in front of me.
But I'm NOT going to do that. Instead, I'm going to encourage anyone who may be experiencing similar challenges in their lives (i.e., wondering why they tend to make the same mistakes in relationships over and over and/or don't seem to move beyond a certain point professionally and/or can never nail the healthy living regimen) to get a copy and sink into it themselves.
Because, as I'm learning, the journey beyond the blockage(s) is an ongoing process, one that cannot be initiated by a secondhand summary, but must be taken on – with courage, grace and compassion – full on! – by the individual him/herself.
So happy reading to those who join me in the liberating and exciting unblocking or rather, UNFU*KING. 😉   
(LET THE MAGIC BEGIN HERE. )