Fun with Monday Mornings: So beloved Diary Dog Presley Precious Campbell was barking his feisty head off at an unsightly hour this a.m., and, for the life of me, I couldn't figure out why.
In the condo otherwise known as "Presley's Palace," he had multiple water and food posts throughout (should he wish to indulge), easy-access pee-pee pads partout, and, of course, his loyal bestie / master moi on call should he feel ill, and / or require immediate TLC / vet transport.
But this particular bark situation was different, considerably more enigmatic, for there really seemed to be no source for the incessant barking … until I dragged my weary body out of bed, to inspect further and … voila!
Once again, the pooch we call hero in the family, thanks to his winning warnings re: past potential dangers (including a fire, no less!) had done it again. The barks were intended to alert me to the ceiling dripping in the foyer, the very unfortunate result of a negligent neighbour upstairs forgetting to turn off the faucet. Good times. And were it not for his "royal barkness," the damage would have been infinitely worse.
Needless to say, the face staring back at me in the mirror, after all this drama and sleep deprivation, was not looking mighty fine. The eyes were swollen and puffy, lines pronounced, and timing disastrous, given the many important meetings and events of the day ahead.
Social Gal Secret to the rescue: What's a stressed out, sleepy Social Gal to do? Reach immediately for the Lise Watier Lift & Firm 3D Eye Patches: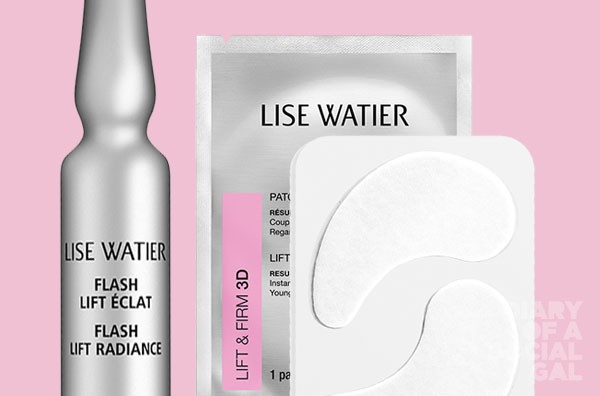 Pioneered by the homegrown beauty empire's savvy R&D team, these soothing patches get to work immediately upon application, and, in just 15-20 minutes, literally wipe out any tell-tale signs of a crazy early morning flood situation … and /or wild weekend of party fabulous.
Action-packed: Infused with powerful science-based ingredients like Soya Photo-Collagen, Aloe, Witch Hazel, and Vitamin E, the concentrated potion-soaked pads work on multiple levels to tone, repair, lift, and rejuvenate, and are even more effective when applied over LW eye contour skincare like Flash Lift Radiance, or other favourite creams / gels.
In a word (or a few): EYE-OPENING, LIFE-SAVING territory!
But hey, don't take the Diary word for it, test them out yourself, and let us know what you think: lisewatier.com.