Of course remedies, creams, and other alleged cosmetic miracles that promise to pop the posterior, tighten the tush and display it in its roundest, perkiest light, are most welcome during bikini season, when "les bums" are at their most exposed (especially for those daring enough to sport the floss that now pass for bottoms!).
Still, even in Fall, when bathing suits give way to heavier gear, the derrière gets plenty of play in the season's curve hugging denim, forever snug leggings, and yes, LBDs that no proper Social Gal can live without. Heaven forbid!
And so, that is the reason I still obsessively religiously slather on … drum roll please … BRAZILIAN BUM BUM CREAM (pronounced boom boom in Portuguese):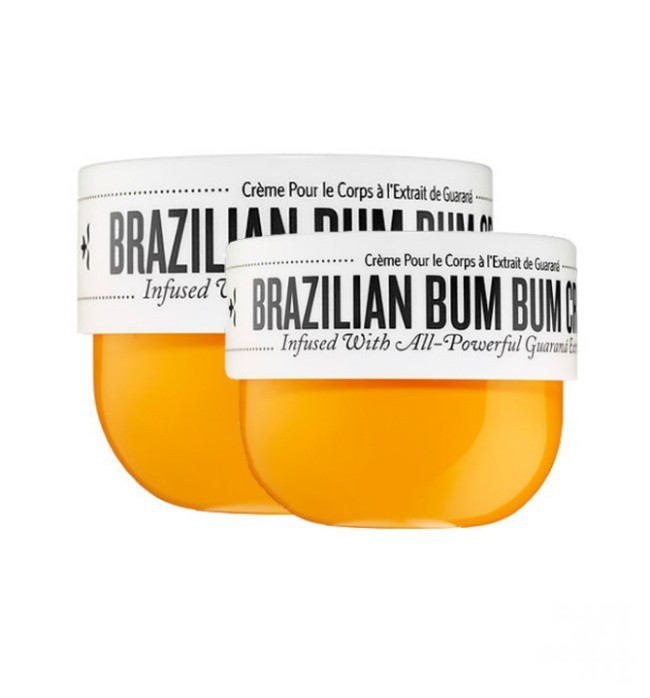 Yes, that's what it's called, for real, no jokesies, and after seeing a blurb about it in the pages of my beloved Tatler Magazine (aka the original social 'zine), I couldn't help but order a jar. I mean who could resist a name (and container) like that?! Just seeing it on the bathroom shelf never fails to provoke a giggle!
Even better: The beyond well marketed potion, that glides on easily and absorbs quickly, actually works.
Action-packed with proven perkifying ingredients like Guaraná, a native Amazonian plant containing one of the most potent forms of caffeine around (as well as a masterful blend of Cupuaçu Butter, Açaí and Coconut Oil), the cream so many swear by has caused a burst of good stuff to erupt in the booty region; a smooth & sexy lift that continues to elicit good comments and feedback, even when swathed in jeans, and other Fall fabulous!
Should you give this beauty baby a whirl? You bet your soon to swell sassily arse!
Re: application: Be sure to massage in a clockwise circular motion, per the instructions, and then, don't stop at the bum bum. Do like the rest of us smitten kittens and continue the rub into other worthy parts like arms, gams and yes, tum tum!
Even the sweet fruity smell will intoxicate, conjuring up all kinds of naughty beachy keen images of you and your love on the next jaunt to Rio. 😉