One of the perks of being a lifestyle journo is the opportunity to test out some of the cool new stuff in our realm, which, admittedly, keeps the journey fresh and exciting, for we never know what new experience is around the corner.
Which brings me so conveniently to today's post about my inaugural experience of Montreal (ahem Canada's!) first ever and only dedicated Infrared Sauna Studio: sleek new SWEAT FX on Victoria.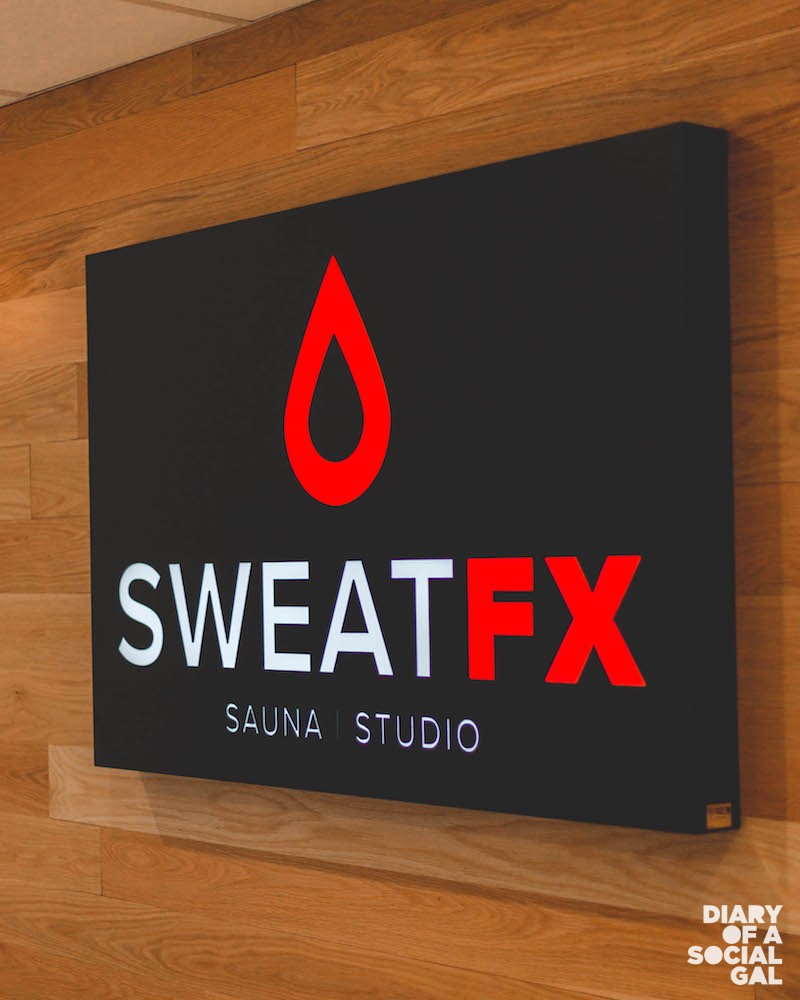 Advised to wear loose, relaxed clothing (I didn't, you should) and minimal makeup (ditto), I arrived at the studio on a Friday afternoon after an intense meeting, ready to embrace some me-time.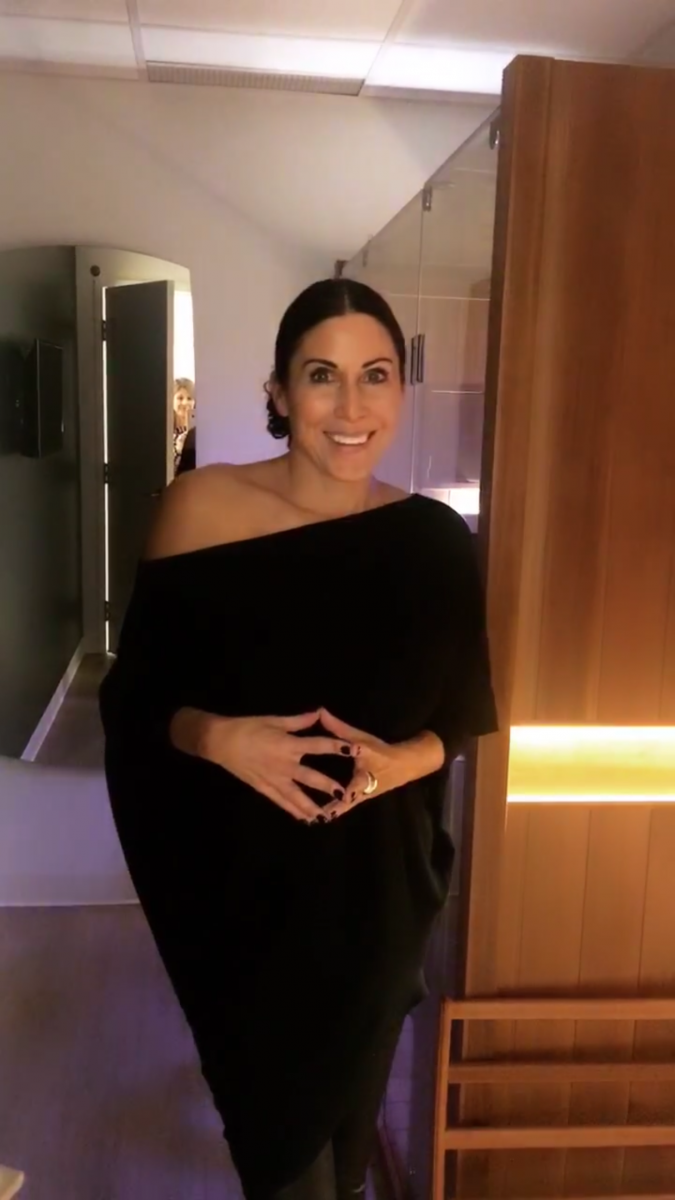 Though I had a little bit of a challenge finding the studio (be sure to walk down the stairs to the mezzanine when you get off at the second floor), I soon felt the stress of the day start to melt away as the upbeat, calm and knowledgeable owner, Leslie Kirstein Rawas, greeted me with a big smile and some really solid and passionate information about the experience I was about to live.
Not only would the immersion in the scientifically proven technology have its way with the rest of the day's stress (did it ever!) but, unlike traditional saunas, would seep deep into the system and detoxify from within, purging the body of unwanted, unnecessary bad stuff. (She explained that the treatment is even recommended and beneficial for those undergoing chemo, given the ability to sweat out metals).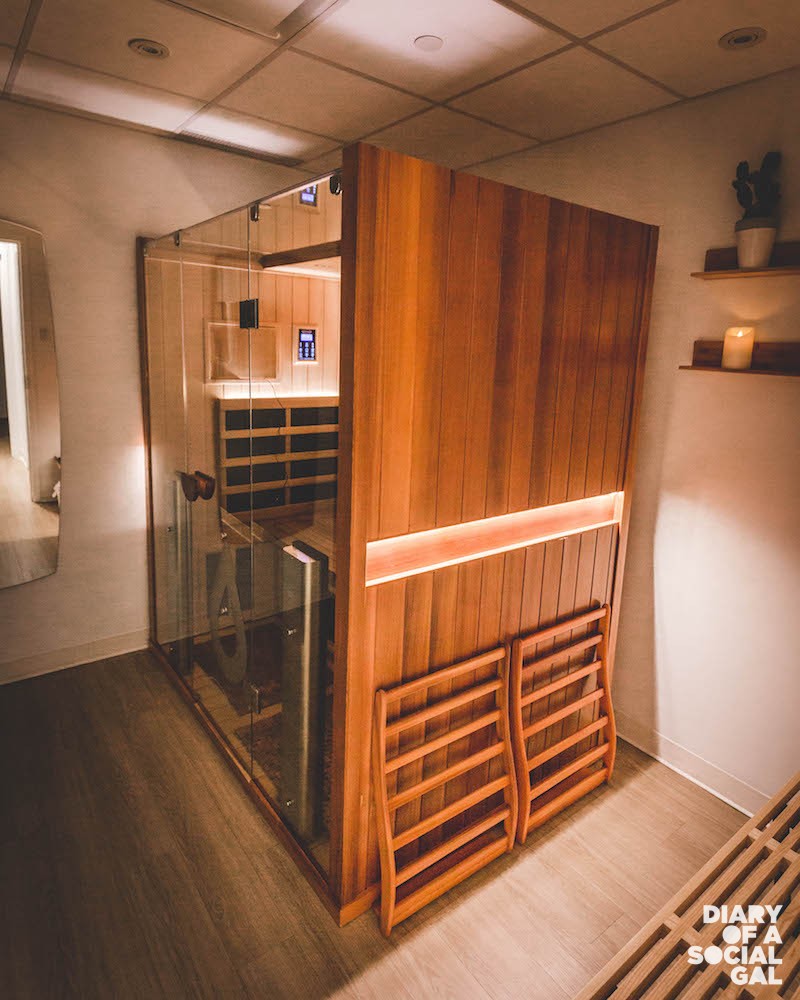 She also went on to talk of other proven benefits, including upping collagen production (resulting in a stunning healthy glow), improving sleep patterns (amen ot that),  easing muscle tension (athletes comprise a big part of the clientele), and, my personal fave: weight loss. I mean really, what could possibly beat losing unwanted poundage by simply sitting/ lying/ relaxing in a warm cozy cocoon? Exactly.
And so, fortified with this knowledge, I followed instructions to take off the clothes, and head into the sauna replete with a charger for the phone (should you be so inclined to stay connected) and a remote for the screen before you.
Though admittedly tempted to switch on the TV and see what's up on the American political scene (my guiltiest addiction), I decided instead to snap a quick shot on insta of my infra-experience, before turning off the phone and saying no to the TV and any electronic diversions. Can you say digital break?! 
Instead, I focused solely on relaxation and breathing as the 150 degree temp began to work its magic for the next 40 minutes (the prescribed limit for maximum benefits).
How was it?
For someone like me who loves hot weather and steams and saunas, this was heaven in a sleek wooden hive.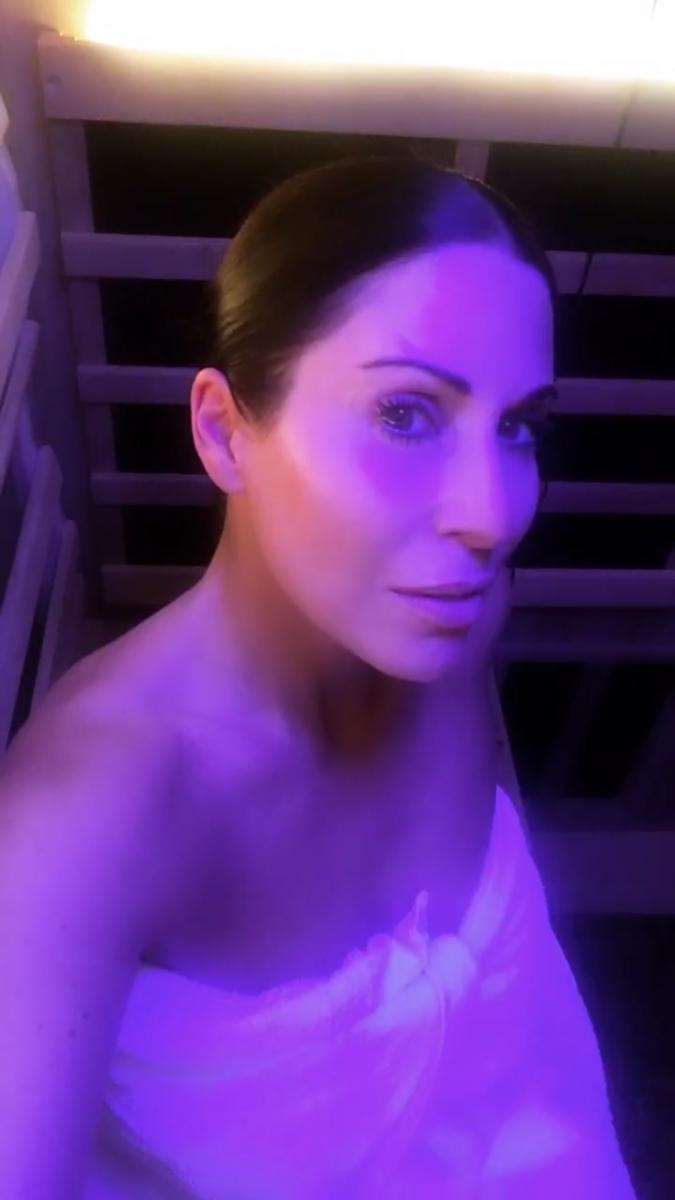 As I lay there practicing my yoga breath and gazing at the ceiling boasting state-of-the art chromatherapy (a component of this particular infra red technology), I began to shed the rest of the day's aggravation, and surrender to the calming interplay of the vibrant hues.
For awhile, I incorporated some yoga stretches too, thinking that this might be the best weight loss regimen I'd ever had … Like wow.
And then, just as I lay there contemplating the fabulousness of it all, I looked over to the clock and much to my chagrin, realized that my glorious first infra-red encounter had come to a close.
Gingerly, I pulled my limp, relaxed, detoxed body out of its insanely comfortable extended position and reluctantly put my clothes back on.
"How was it?" Leslie and her wonderful colleague, Noah, asked. "Beyond perfect," I exclaimed, sounding and looking more relaxed than I had in a loonnnggg while.
"Your skin looks amazing!" they said, a fact I had to concur with when I glimpsed the mirror in the corner and saw a glowing rosy reflection I was so proud to claim as my own. 😉
And, even as I collected my things and went on with the rest of the day and night's activities, the residual gifts kept coming.
I continued to be relaxed, less affected by minutiae that would otherwise inflame, and, as promised, went on to have the sleep of the century, arising at 9 a.m., something I haven't done in years!!!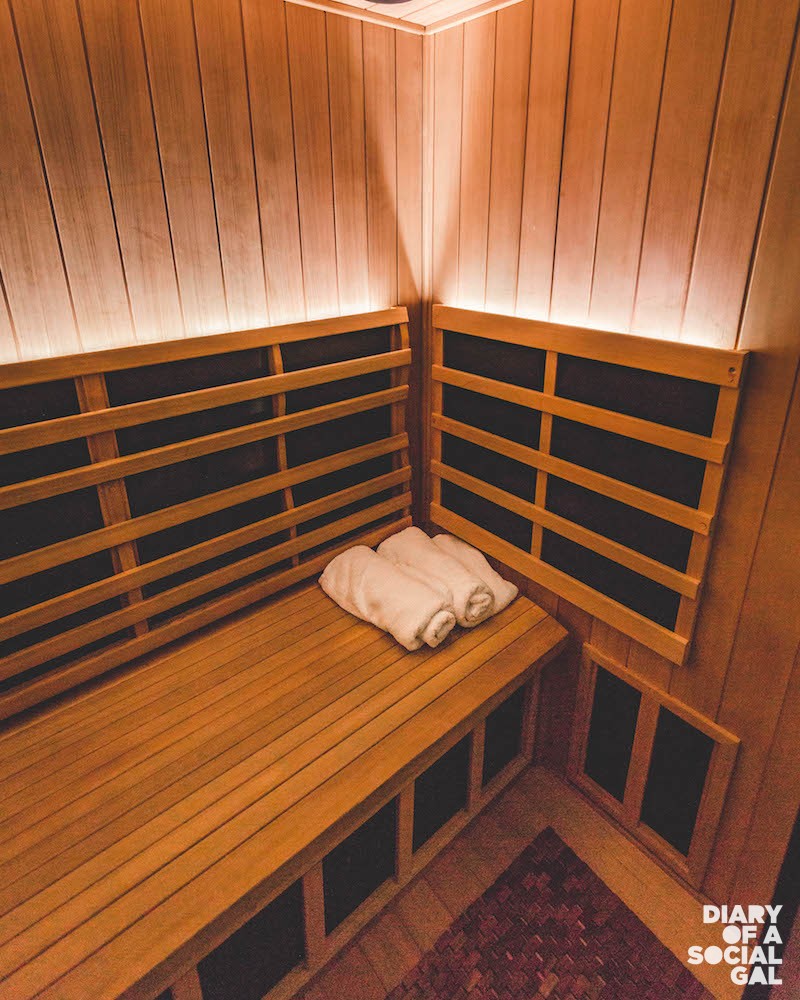 Am I excited about my next session (the optimal is 1-2 a week, though daily is nirvana)? You betcha. Do I recommend it? Ditto.
For more go to SWEATFX.COM, 376 Victoria Ave, Westmount, QC H3Z 2N4
 *40 min. sessions are available on the hour from 10 AM – 6 PM