Up there with decadent desserts (preferably overwhelmed with milk chocolate and caramel), long, aromatic deep-tissue massages (preferably by a gifted massage therapist who also happens to be a dead ringer for Channing Tatum), and a plethora of other of life's most indulgent pleasures, is a fragrant hot bath, lit moodily by a pleasing array of surrounding candles, paired with a glass of your favourite wine or champagne (Dom Perignon is my latest obsession), and that escapist book, or movie mag, you've been dying to devour, minus any annoying distractions. Let's all say it together: Ahhhhhhhhh ….
But there is one way to make this admittedly near perfect experience even more perfect: the healthy addition of two good scoops of Epsom salts.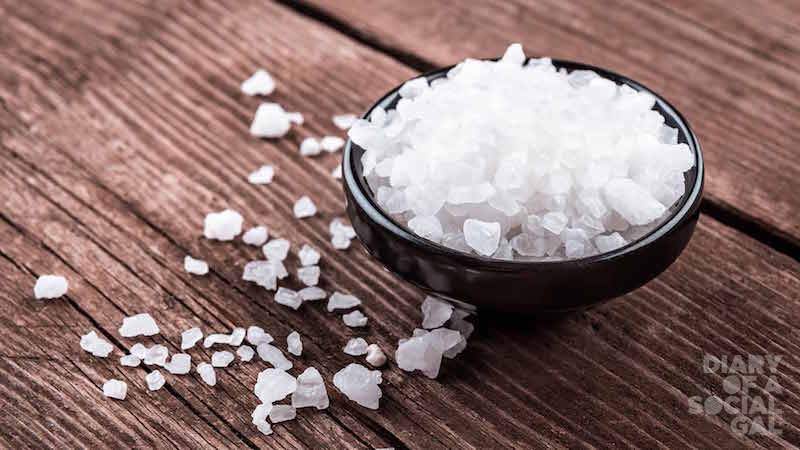 Why you ask? some solid reasons:
First, these reliable, cost-efficient salts, that originate from natural springs in a part of England, shockingly called Epsom, are long famous for their rehabilitative effect on all kinds of aches and pains, including arthritis, sunburn, fibromyalgia and more.
And, knowing all you active Social Gals and Gents, there are likely some strained and / or sore, post-workout muscles in your well-toned temples that can use a little Epsom love.
Second, if the day has been considerably wilder and wonkier than expected or desired, and you're finding yourself too wound up to sleep, a soak in these babies has a miraculously calming and lulling effect.
Third, and inextricably linked to the above two, studies show that when bodies achieve proper levels of Magnesium and Sulphates (both contained in Epsom and replenished into the body via regular soaks for at least 12 minutes, with two cups added), the following benefits are accrued:
Improved heart and circulatory health.
Improved ability for the body to use insulin, reducing incidence or severity of diabetes.
The flushing of toxins and heavy metals from cells, thereby easing muscle pain and helping to eliminate harmful substances from the body.
Improved nerve function via the regulation of electrolytes.
Relief from stress, resulting from the production of excessive adrenaline, thanks to the role Magnesium plays in the body's binding of adequate amounts of the feel good hormone, Serotonin.
Reduced inflammation, the root source of pain.
Improved oxygen use.
Improved nutrient absorption.
Improved formation of joint proteins, brain tissue, and mucin proteins.
Prevention or easing of migraine pain and tension.
All that goodness from a little escapist bath time! 
Where can you find these magic salts? Most drugstores, and health food stores, even some grocers. I Epsom up at the Jean Coutu on Greene Ave. Happy soaking Social stars! 😉