Oh my, where to start … There was so much eye-candy for fashion and beauty lovers careening down last week's A/W Paris catwalks, it made you wanna launch your body onstage and steal the dream confections right off the model's lithe bodies (but then that's just a weird fashion fantasy that you wouldn't really act on, cause  it would be symptomatic of a host of other crazy, and get you arrested, but we digress). Anyway, the now overstated point here is that the collections were really strong for autumn/ winter, and narrowing down our favourites was a considerable challenge. And so, kindly forgive the barrage of Paris picks. (For the complete collections, do  head to the source of all things fashion (aka the '"bible" for style lovers everywear): the Business of Fashion.
Ok here we go, in random order. Call it fashion stream of consciousness. 😉 
CHALLENGING IS GOOD: For a dose of 2017 edgy, tickled we were by some of the dripping-with-fashitude-pieces on the KAREN WALKER, ELLERY and yes, JACQUEMUS runways, especially Walker's white trench with exaggerated detail, Ellery's billowy-armed tops paired with the new cropped flared pant, and Jacquemus's overall tendency to do unexpected new shapes incredibly well across the board: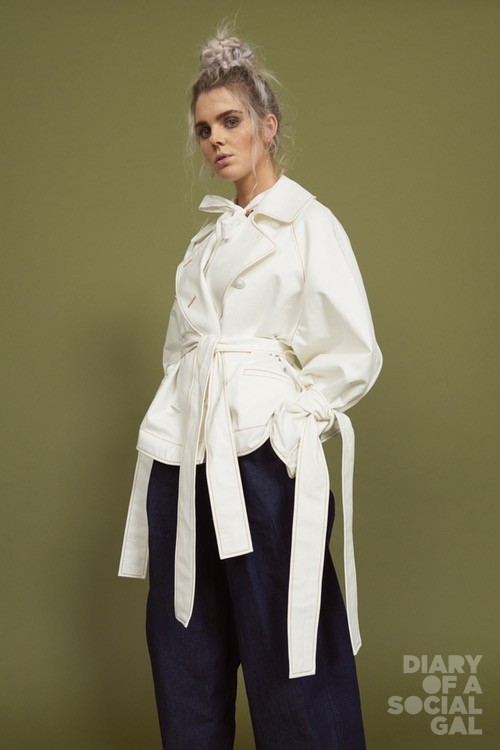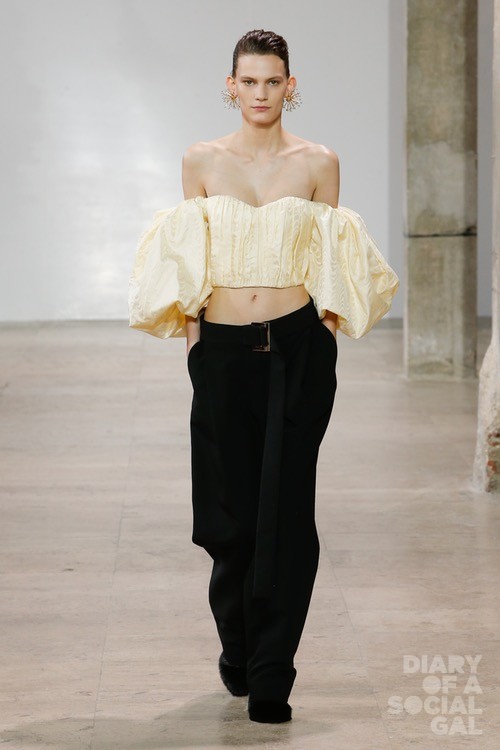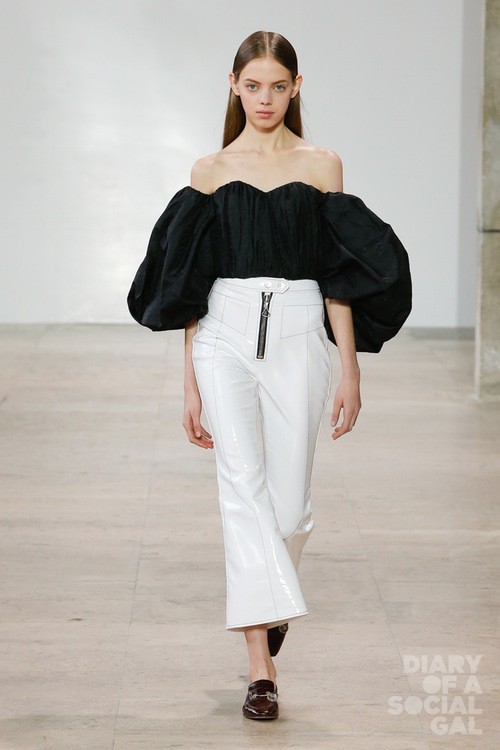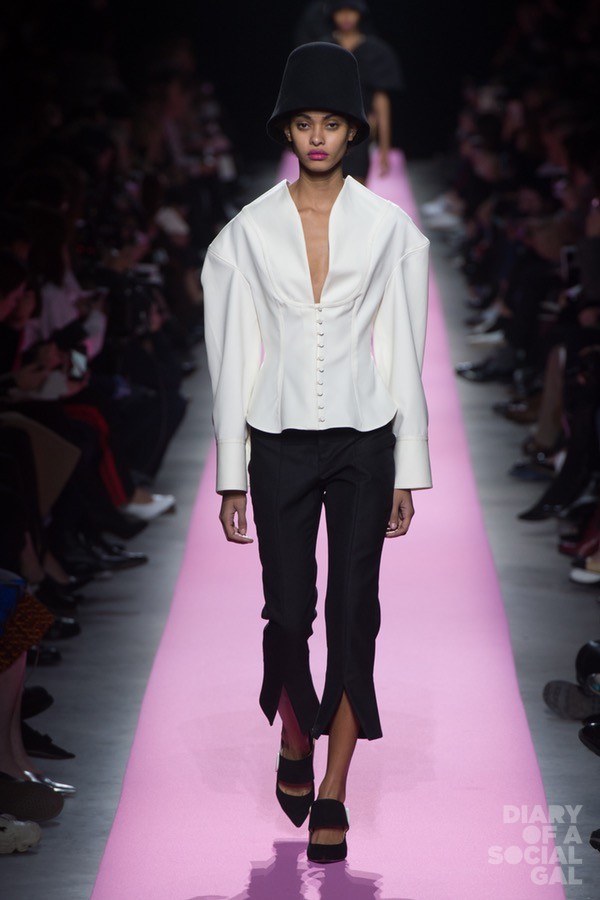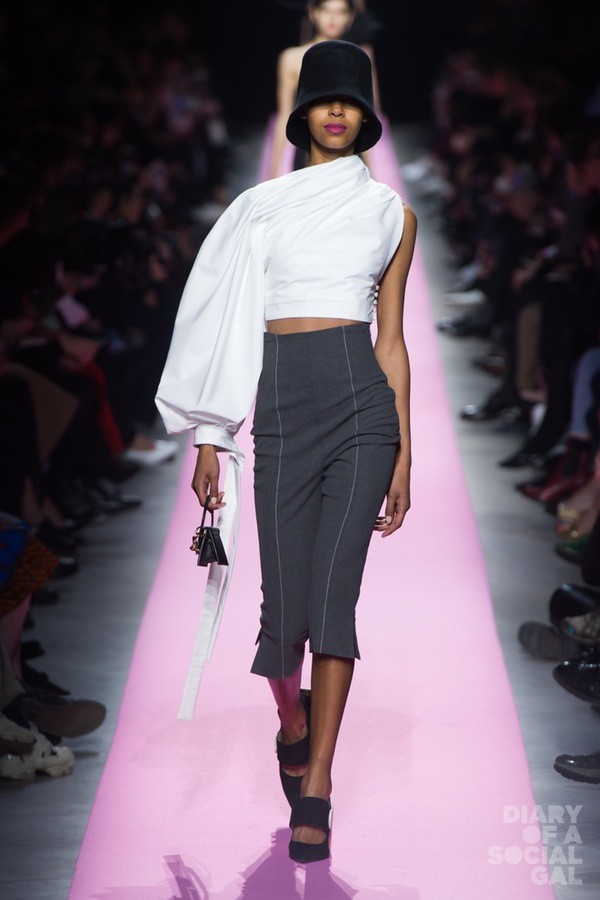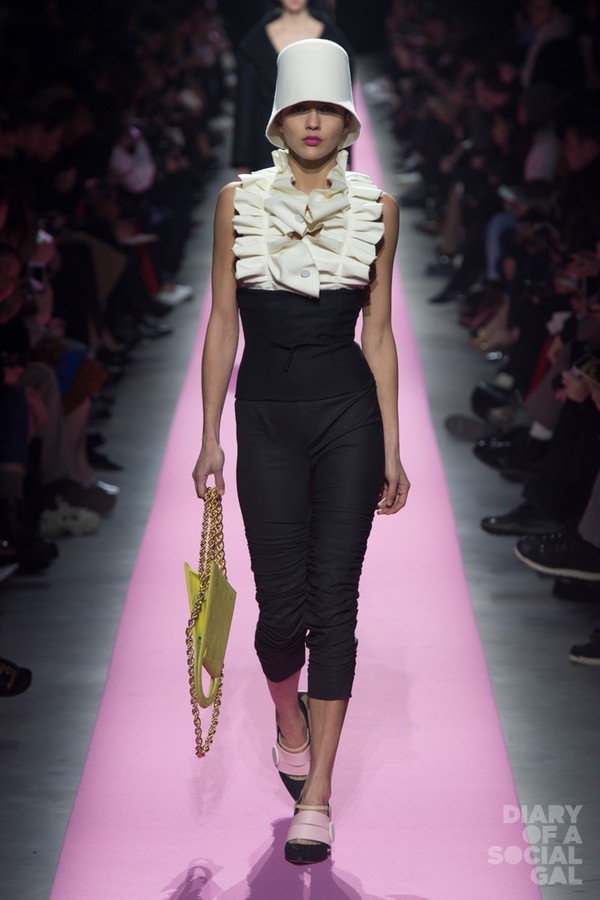 GLITTER GALS: If shine is your thing, as it is for so many of us Social Gals (hello entrance making highs!), PACO RABANNE emerged as a new closet bestie. The metal cocktail dresses in gold and silver were seriously well-done and worthy of an add to your personal collections. 😉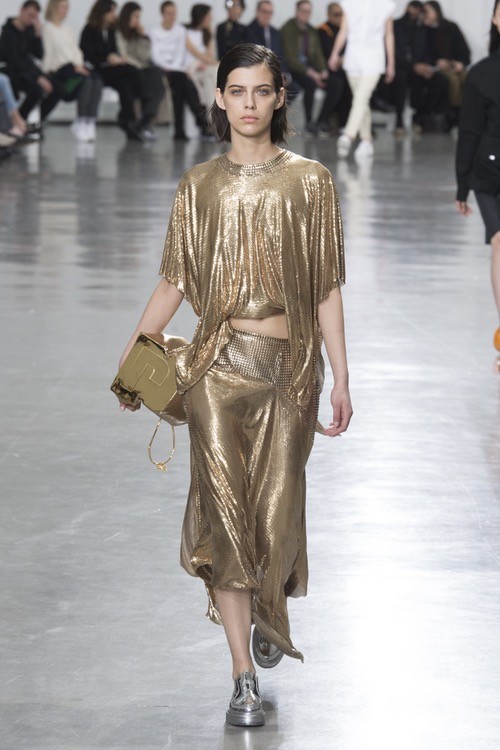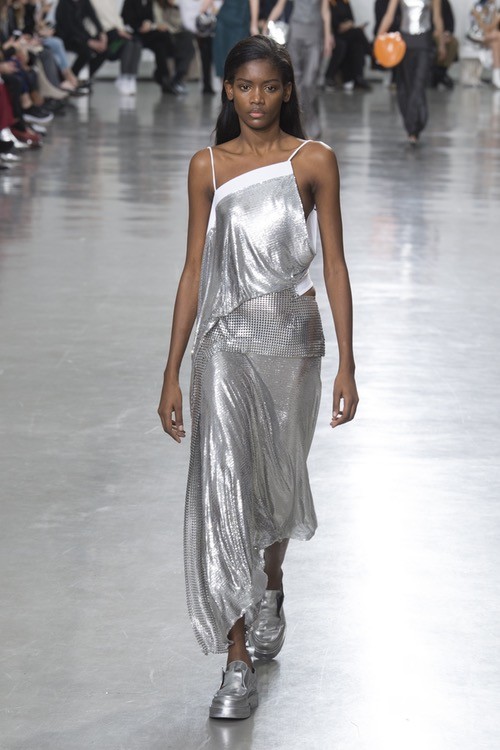 DREAM SCENE: One of the biggest trends for fall winter was clearly (excuse pun) bold 'winter white,' (correction: 'fall / winter white'). Not surprisingly, CHANEL's Lord Lagerfeld (no he's not really a Lord, but he should be, so should his cat), did some enviable slouchy, sexy, swingy coats in the monochromatic hue that we're lusting after, while PAULE KA frocked the hot out of the palette, COURREGES created my new favourite fall jacket, and team SONIA RYKIEL feathered out the brightness with a coat sure to be gracing the curves of a J-LO, Rihanna, and other miraculously formed goddess-humans, sometime soon: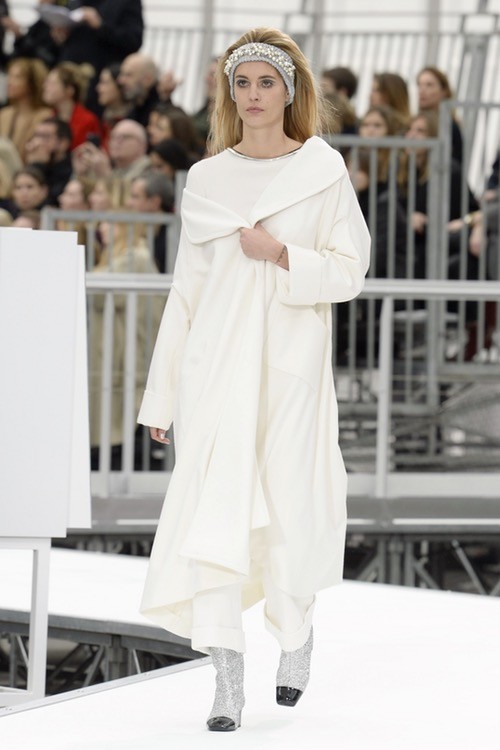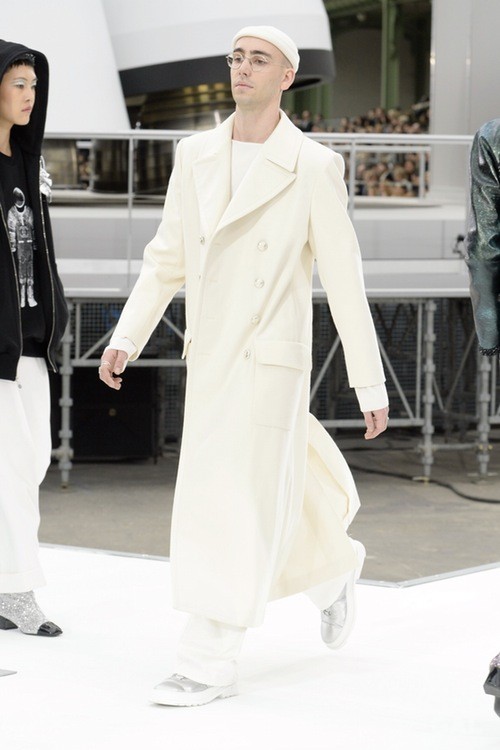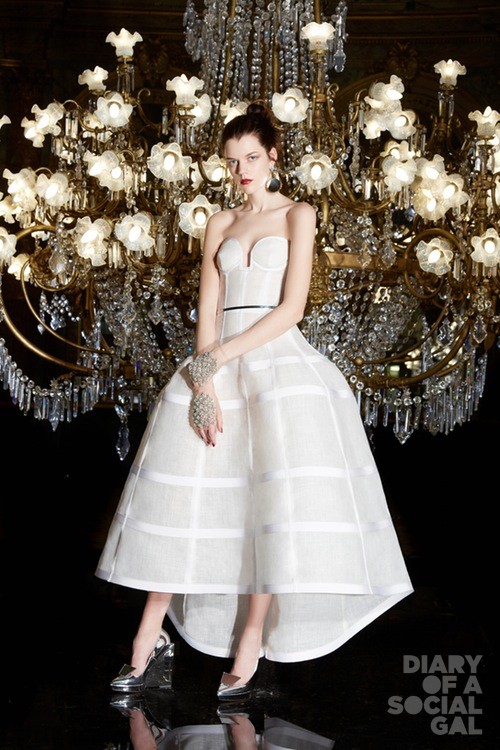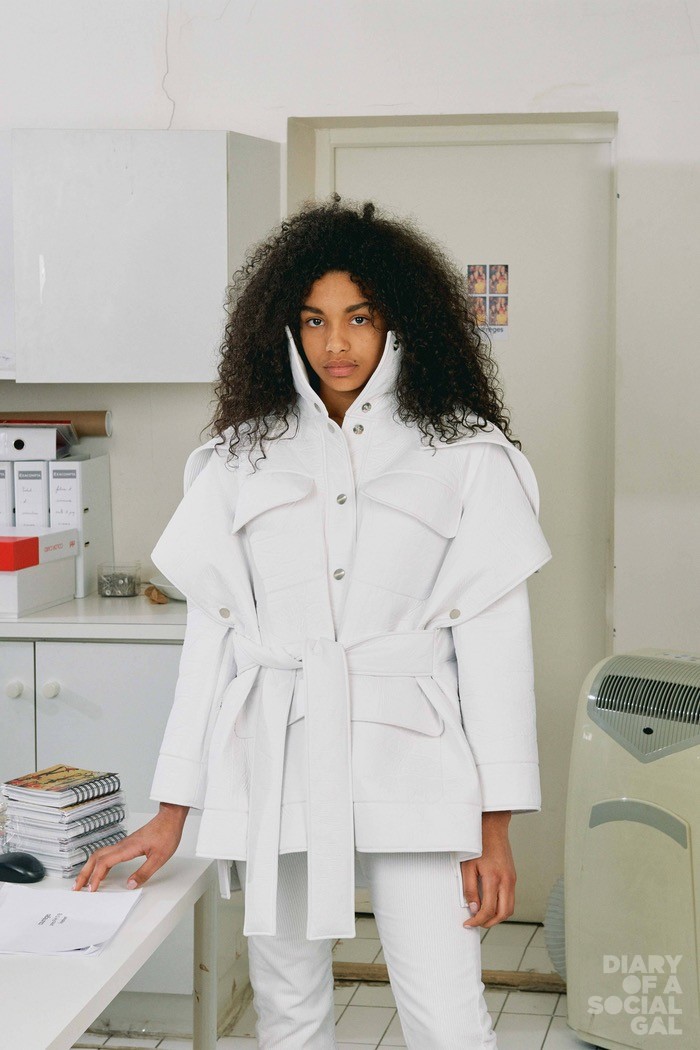 BACK TO BLACK: For the in-your-face power black superstar garb that is, quite frankly, an addiction for many (guilty as charged), MUGLER, MCQUEEN, BALMAIN and SAINT LAURENT delivered in spades. There were to-die-for jumpsuits (MUGLER) with exaggerated shoulders that reduce waists to wisps (as if they'd been Kardashian corset shrunk), fierce midriff / skin showing gowns (BALMAIN) that screamed fabulous, a pack of crazy cool, rocker goddess mini things (SAINT-LAURENT) that groupies should wear en masse for effect, and insanely beautiful see-through dresses from MCQUEEN that need to be painted on our bodies NOW!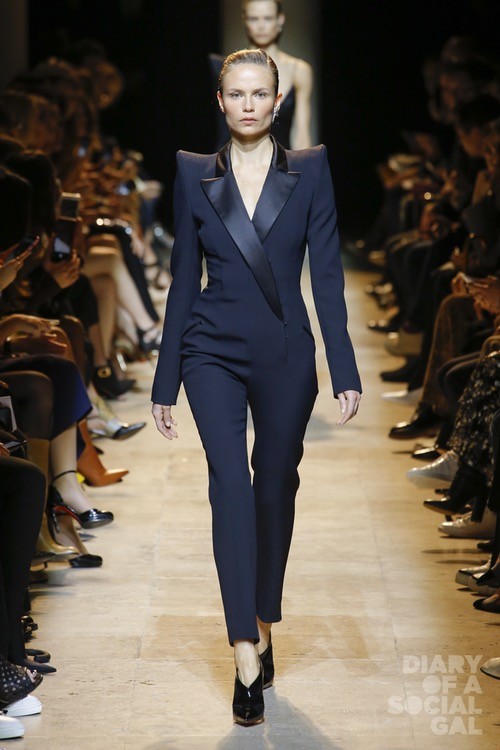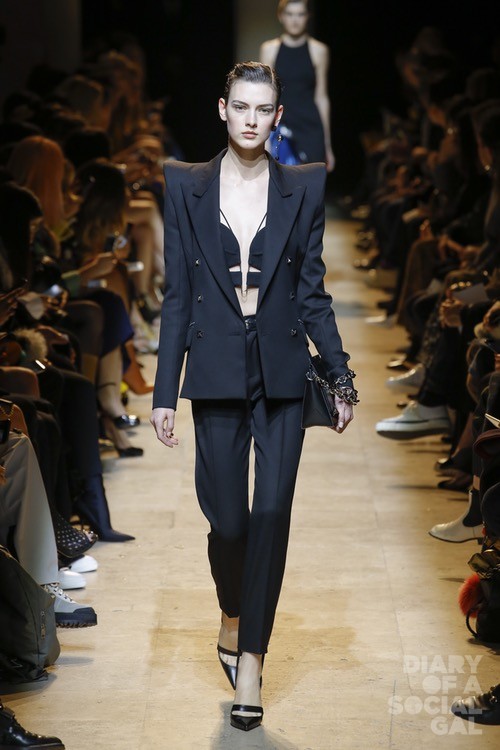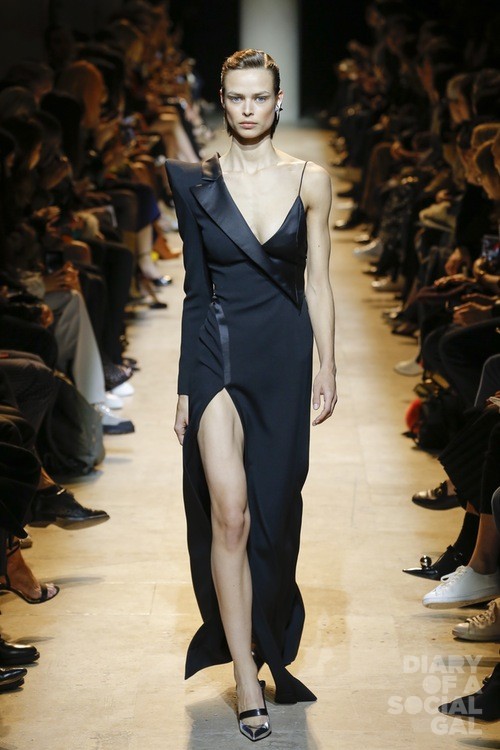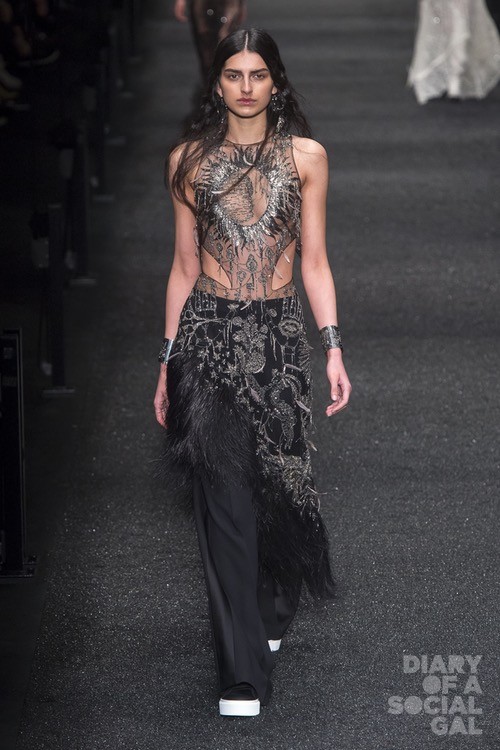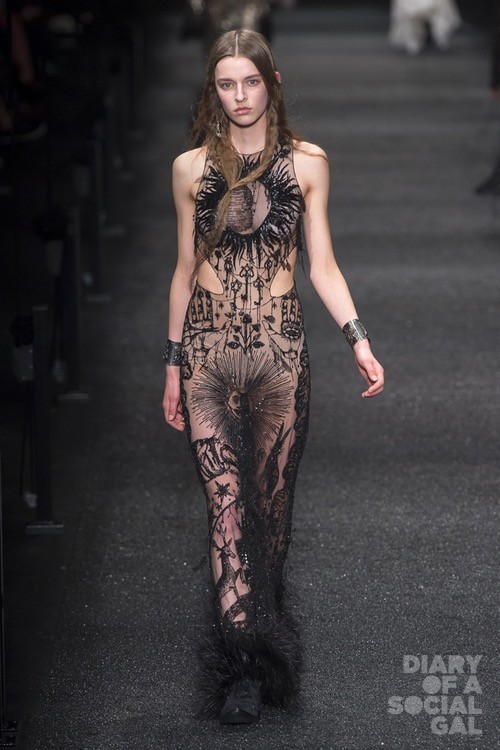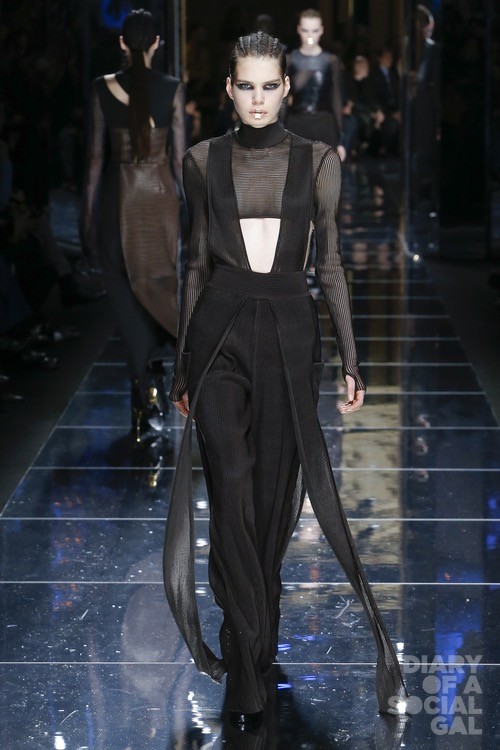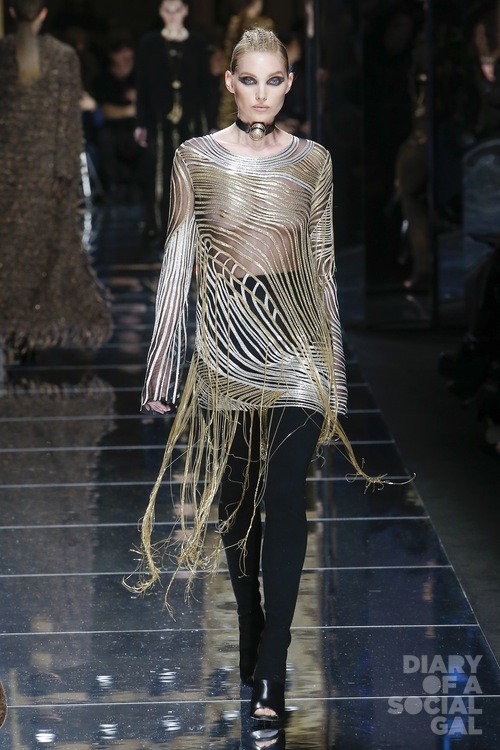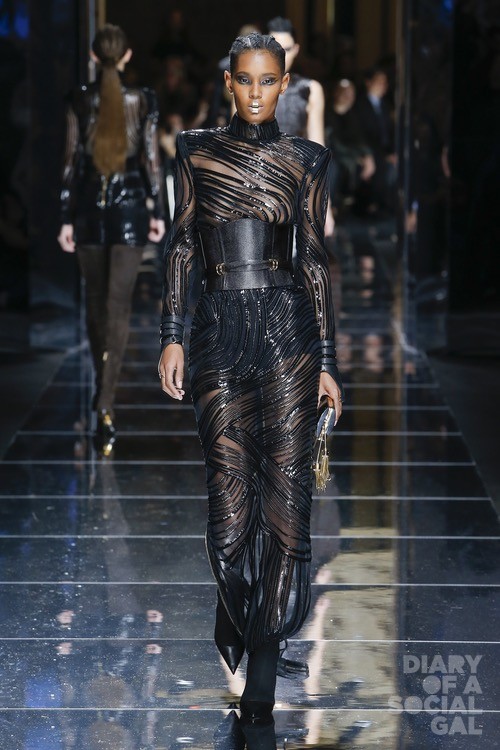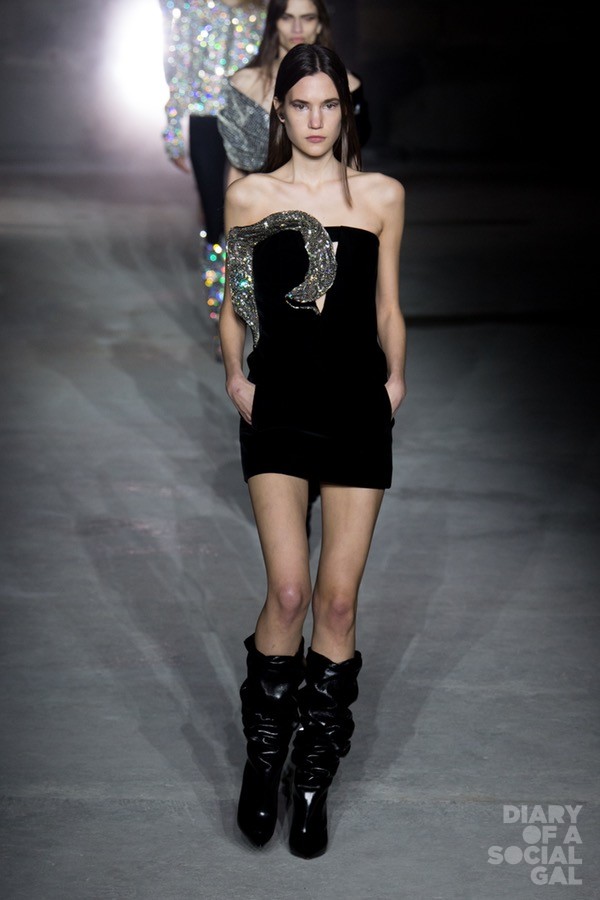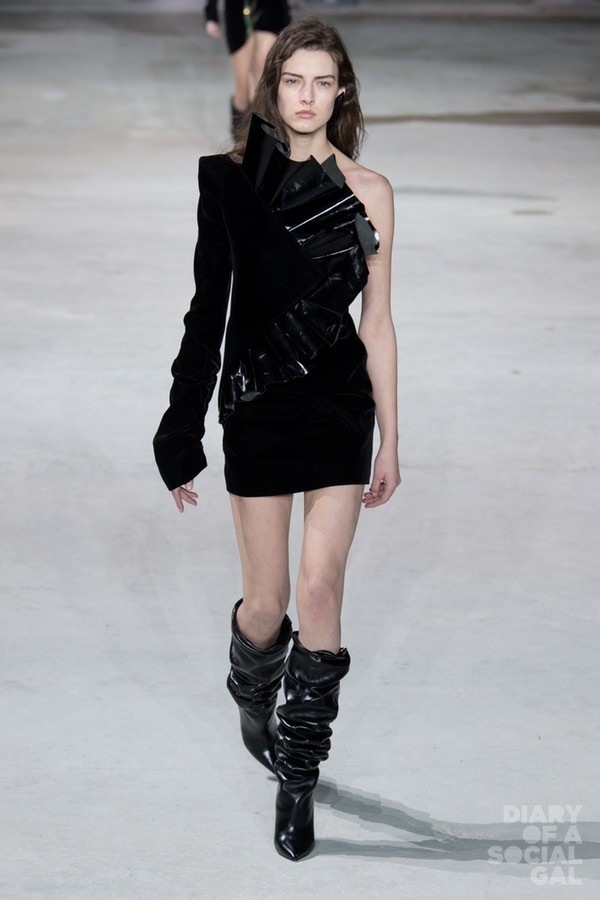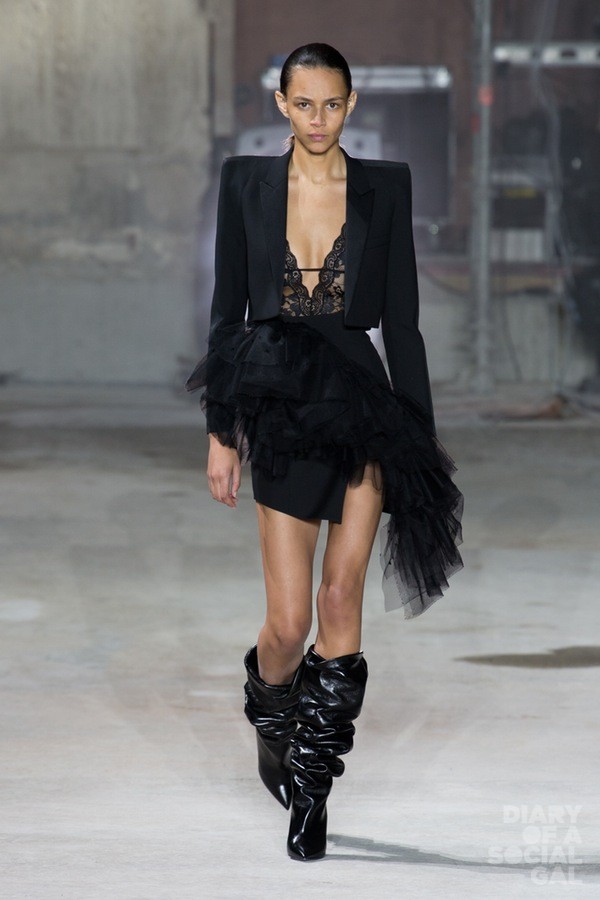 SEEING RED: Finally, gloriously, the radiant rouge all over the GIVENCHY runway, constructed, deconstructed, draped, blazing in sequins, molded to perfect glamazon bodies, and paired with the sleekest, sceniest futuristic shades, was a sight to behold, and an antidote for all the above noir that will be making it's way into my wardrobe, and those belonging to countless others. Nothing like the colour of love to rev up the winter blues. 😉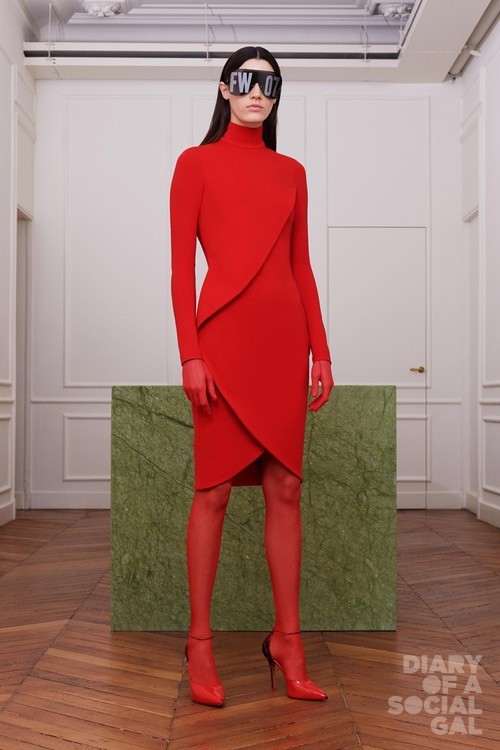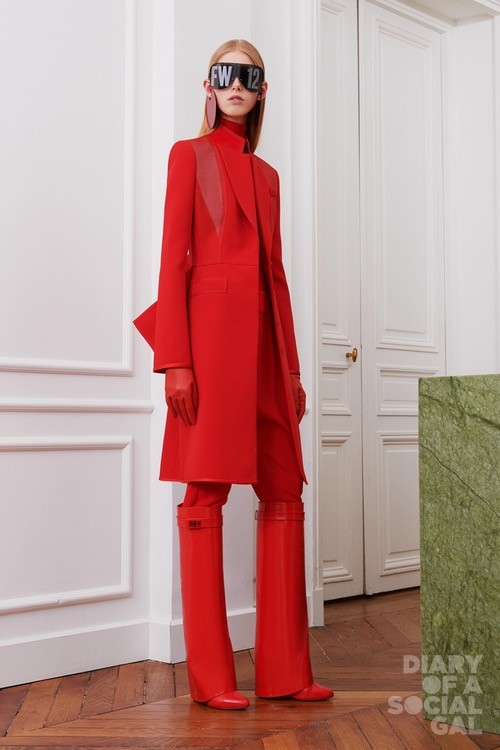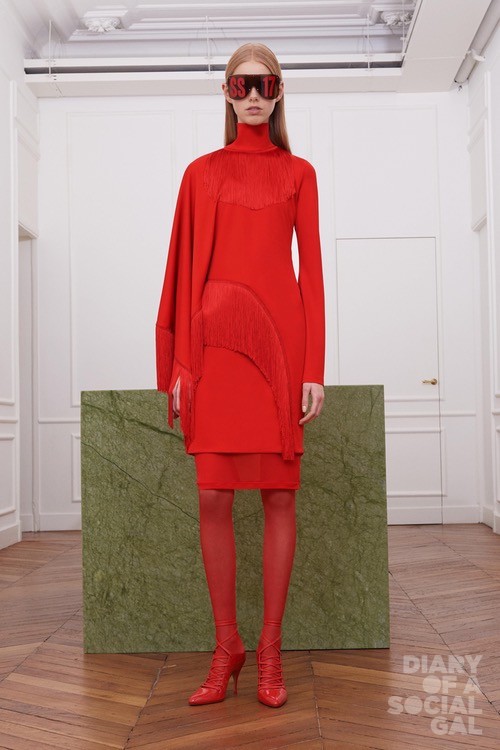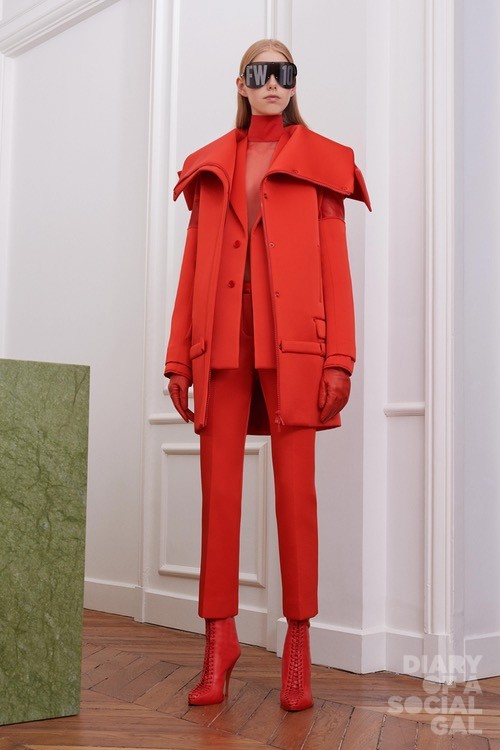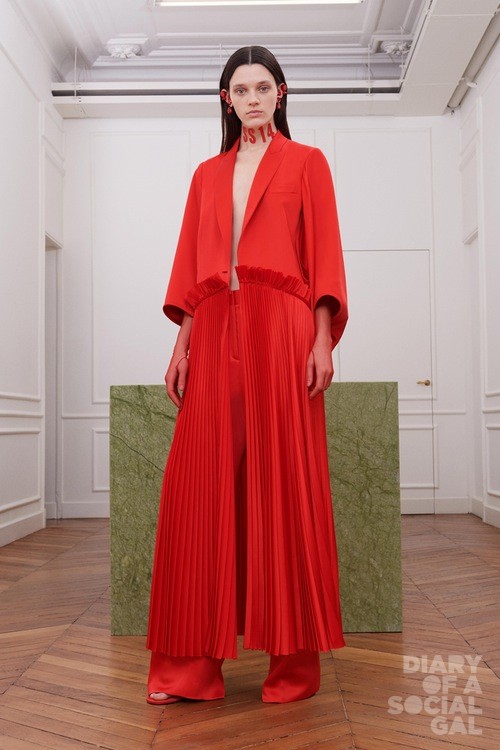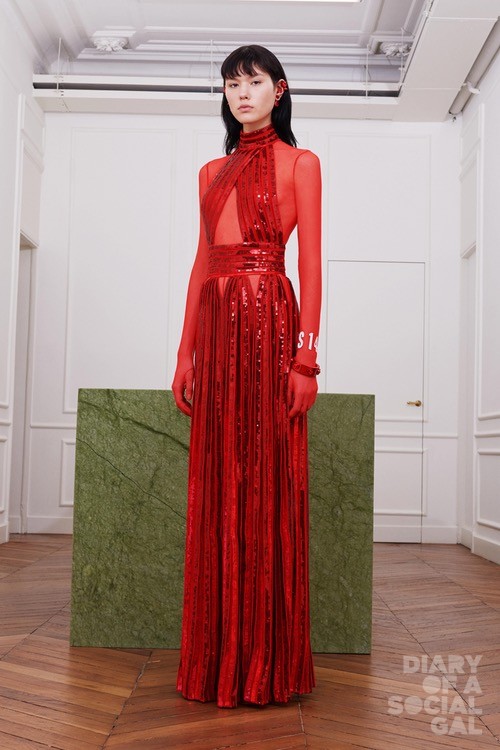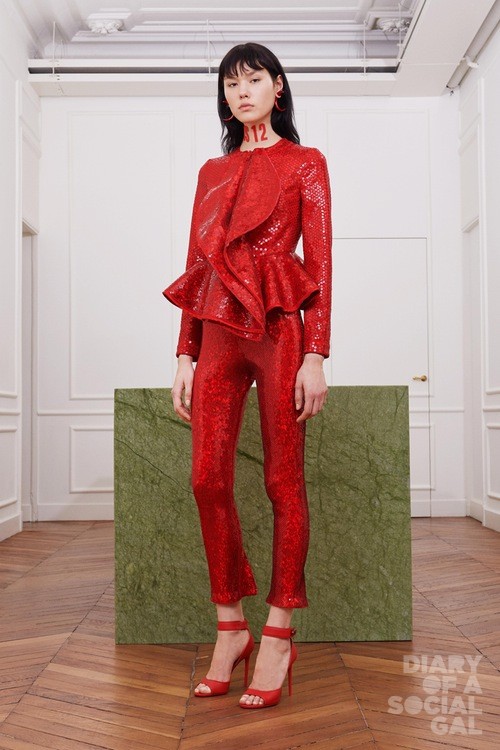 That's the post Paris FASH 411 Social Gals and Gents. Hope you enjoyed. Now go shopping!
Special thanks to Diarysto JESSY COLUCCI.