As you may have noticed, Diary is a place coming at you straight from the heart, where I, and fellow contributors, share what we love and are passionate about, with a view to bringing a little something special and of value, to your worlds. Infotainment is the descriptive I'm partial to.
That said, imagine how extra fabulous the share becomes when the object of our desire / share, is created by Montreal Social Sisters (and / or Social Brothers), who are as passionate about their craft and creations as we are about ours.
Yeah, pretty fabulous. Which brings me to today's post: Some seriously inspired wordage for a recent collection of activewear, masterminded by a trio of amazing  go-getting homegrown women I happen to know and admire, and have the pleasure of capturing for the Montreal Gazette and Diary lenses.
Their names are CLAUDIA BURKE-CYTRYNBAUM, JORDAN GROVER PINCHUK, and NATALIE AZZOUZ, who also conveniently doubles as the face and body of the brand. (If she wasn't such a delish human, we'd have to hate her! 😉 )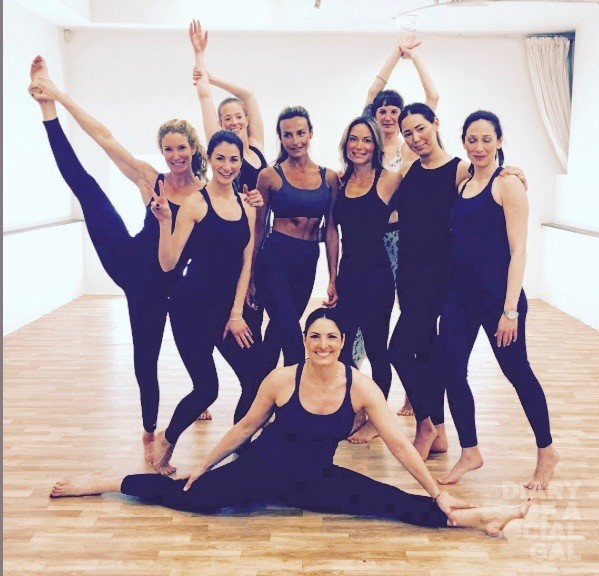 While Claudia and Jordan come from established careers in high fashion retail, having occupied positions as managers, owners and buyers, Nathalie brought years of experience in other fields to the table.
All, however, were united by a passion for healthy fit lifestyles, and the importance of looking and feeling amazing while living them, and saw a niche in the marketplace for a line that would marry the height of activewear technology to modern style and comfort.
And so, after years of research, developing and creating what they enthusiastically dub, the "perfect fabric" (one that not only clings to the body in the most figure-flattering fashion, but, via the latest in fabric technology, wicks away moisture, keeping you dry and fresh as a daisy throughout wear), AURUM was born.
Named  for the Periodic Table's 79th element – Gold (Aurum in Latin), the trio, who share what they affectionately call a golden bond of friendship, were inspired by the precious metal's ability to capture and safeguard solar light, rumoured to exude divine intelligence. What better goal than that for activewear? Lofty stuff! U go girls!
Accordingly, inspirational words beloved by the brand's creators can be found on the inside of the fabric, intended to add to the Aurum experience and empower wearers to live full lives of "love, strength, confidence, kindness and mindfulness," qualities each of the three founders strive to embrace in their own lives, on a daily basis.
With all this good energy and underlying inspiration, I have yet to extoll the virtues of the pieces I've come to see as necessity for both workouts and general lifewear, even admittedly wearing them out to events, under blazers and sweaters (and once on Halloween, but that's a whole other post!).
So without further ado, the following are some of my favourite Aurum staples that I wholeheartedly recommend to Social Gals who not only want to be incredibly comfortable, but look sassy and stylish before, during and long after workouts!
1. THE KINDNESS TANK
You gotta love a tank officially named Kindess but this well-designed baby lives up to its name. While I wear  the chic, criss-cross style without a sports bra for moderate workouts like yoga (and real life endeavours), I do recommend the line's Confidence Bra for added support during more intense workouts.
One of the greatest things about this tank is the more forgiving room on the tummy (that is, If you have one like I do, unlike Nat!) and good coverage over the bustline. There is arguably nothing worse on the fitwear front, than an ill-fitting topper that clings unflatteringly to delicate tummy zones, while failing to cover ample chests. #skankness!
2. THE LOVE FULL-LENGTH LEGGING
Again, the name is fitting, cause I could not love this legging more. Not only does it lengthen the leg, have a built-in thong, and give the posterior that perfect perky lift (hello Kardashians, Social Gal in the house!), but it manages to contain the midsection in the most comfortable way, and is cut well into the waist, making any dreaded flab peeks a distant nightmare!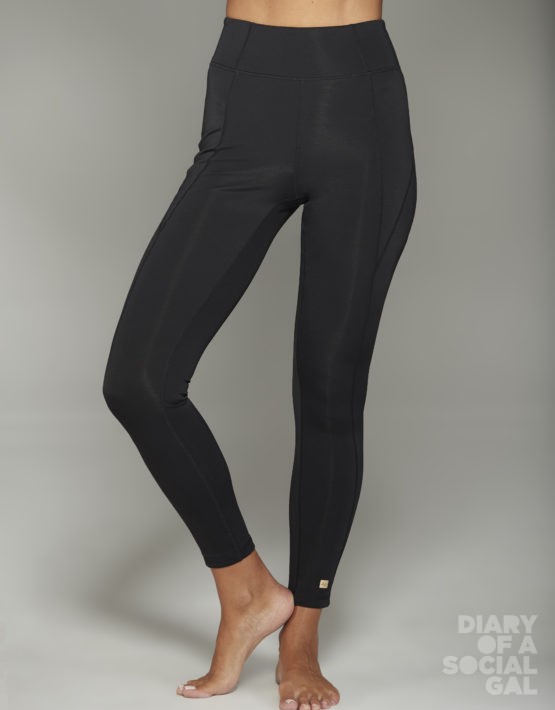 3. THE STRENGTH BODYSUIT
I've always had a thing for jumpsuits. They're not only sexy AF (uh oh, there's Naughty Gal making a cameo!), but they make getting dressed so easy, especially when the mission is workout, which will already be working into the energy supply.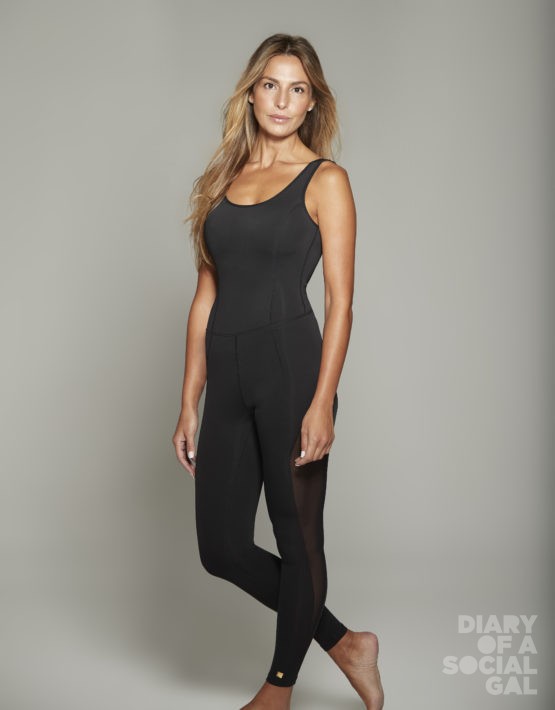 Not shockingly, the design here is as flattering and easy to wear as the other pieces, and boasts a gorgeous side panel too.
In fact, the style is so stunning in its minimalist-chic appeal, we even featured it in our last edition of the magazine. Course we did!
So there you have em Social Gals, a passion piece about a line I adore. Congrats Aurum goddesses, you've outdone yourselves. #Respect!
For more on this spectacular line, go to Aurum.com.
Footnote re: $ and styles: The cost is surprisingly affordable for such long-living high-tech  luxury pieces, and the selection, far more diverse than my creature-of-habit monochromatic choices featured here would suggest. 😉