There are some things in this world of ours that simply cannot be ignored like today's MARCH FOR OUR LIVES.
And as I sit here, rendered (almost) speechless by the potent images of hundreds of thousands of teens and myriad other supporters descending upon Washington for this history-making march against gun violence in American schools (not to mention those marching in solidarity with them all over the world), I can't help but be fuelled by a huge hope that has long been dormant in me and so many others.
Moreover, power to the five extraordinary – and extraordinarily brave – young survivors of the horrific Marjory Stoneman Douglas Valentines massacre in Parkland who powered this initiative from a living room barely over a month ago, and literally inspired and birthed a global movement! (How ironic is it really that the most adult voices on the planet belong to many who have yet to secure the right to vote?!)
I pen this post with a positive energy and excitement over what they have achieved thus far (starting a movement and initiating actual real legislative change both in Florida and nationally!) and look so forward to the awesome strides they have yet to make …but clearly will soon.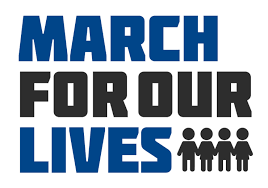 BRAVO future generation, bravo! You reinstate faith in everything, and assure us that the future is bright. 
Apologies for the burst but some things just have to be shared … 😉  
#NEVERAGAIN #ENOUGHISENOUGH