Every now and then a product comes on scene that is, if not life-changing, then fabulously life-bettering.
One of the best of of such products that I've encountered in a looong time, is a little luxury sumpin' recommended by one of the smartest entrepreneurs and most beauty-savvy women I have the pleasure of knowing and calling friend: the spectacular Connie De Luca, owner of beloved beauty emporium and day spa NUVA.  (By the way, if you haven't had the fun and fab of an exchange with her, definitely drop into the salon for a face-to-face, 'cause not only will she dazzle with her deep knowledge of products that actually work, like the one I'm getting to here, but her humour, intelligence and refreshing real-speak will  inspire on many levels. Connie is the bomb!)
Now about that product. During a chat at the salon a few months back over what else but frothy-yummy cappuccinos she insisted on whipping up (way she rolls) Connie looked at me with that signature glimmer in her eye, and said "hey, have you tried  ORIBE Gold Lust Dry Shampoo?"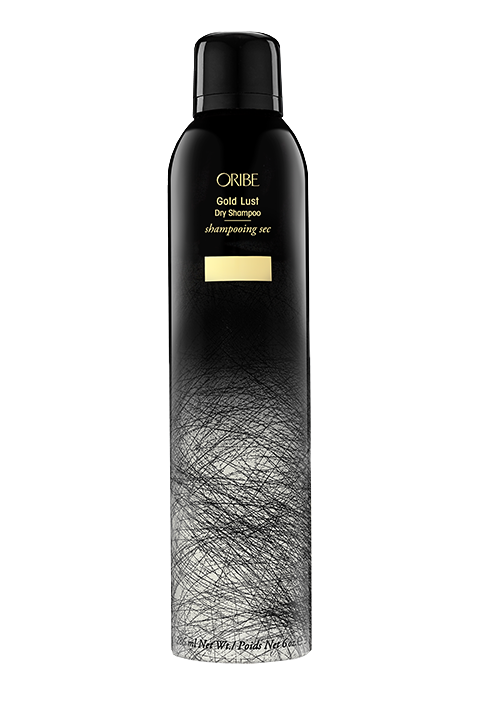 Priding myself on being on top of the top products on the beauty market, I had to admit, head bowed, that I had not.
"Well,"  she said, "you should!"
And, as I 've learned is usually the case in Connie-World, she was spot-on.
Brain-baby of legendary celebrity stylist Oribe, the product packed with all kinds of perfect mama-nature approved naturals, including celery seed extract, bamboo, rice silk, lavender, myrrh, chamomile and their signature complex (comprised of watermelon, lychee and edelweiss) not only makes hair feel instantly clean, extending blow-outs into a healthy and convenient low-maintenance place, but also keeps hair smelling gorgeous all day, thanks to special fragrance-retention technology.
Also worship-worthy: There's no annoying extra weight (making hair feel gnarly) or bad guy ingredients (parabens, sulfates and sodium chloride). Plus, strands are continually nourished and fortified by the A-list ingredients described above, and super-silky to the touch.
Given all this upside, It's no wonder the wonder-potion has walked off with a slew of prestigious industry awards like Brides Beauty 2017 and Glamour Beauty 2017.
RE; ACCESS: Of course you can buy this exclusive life-saver at Nuva, though it's also available online and at other purveyors of luxury beauty products.
That said, the opportunity to hang and schmooze with Connie, her equally sublime and super-knowledgeable daughter and partner Maria, and their dream-team, is a definite perk. Like Social Gal fabulous.
Nuva Spa has two locations, with the flagship at 1750 Pierre Ave. Laval in Centropolis.