You know all those stories about nightmare renos?
Upon embarking on my own renovation adventure back in September 2018 I was like puh- leeze. I had Joseph the contractor from NOUVO (so adorbs and insta-story friendly HGTV should scoop him right up) and I have a mother (a.k.a. Gail) who's a supremely talented professional designer that's been in the biz for well, a while (if I tell you how long, I'll have to kill you).
What could possibly go wrong?! I mean, really, it's not like we were taking on the Four Seasons Montreal (which, fun footie and speaking relatively, ultimately finished about 50,000 times the square footage in less time).
Well, here's the deal Social Gals and Gents: those reno-horror stories? They're all … TRUE! Think the love child of Murphy's Law and Mercury Retrograde. Let me a throw a couple atcha, many of which continued up until, uh, the day of this shoot (not joking even a little!): the kitchen contractor developed some sort of PTSD and took a leave of absence (all perfectly understandable if he'd had a replacement ready to go, and to my utter dismay, most other kitchen contractors didn't have an allergic reaction to picking up a job in its adolescent phase); several cabinets were ultimately too tall for the installation of the special stretch ceiling and had to be trimmed down at the eleventh hour; the mirror guy didn't seem capable of comprehending the concept of one uniform piece, delivering it in three … shall I go on?
So yes, despite aligning with a pretty stellar team, the journey was no renopicnic … but hey, as the adage goes, "nothing worth having is easy," right? And, in the end, we did miraculously make deadline (stress on miraculously) and were able to showcase the reveal of the little Westmount Square condo that could in the special interiors-themed DIARY VOL. 8  (which FYI, was certainly inspired by the personal journey … ).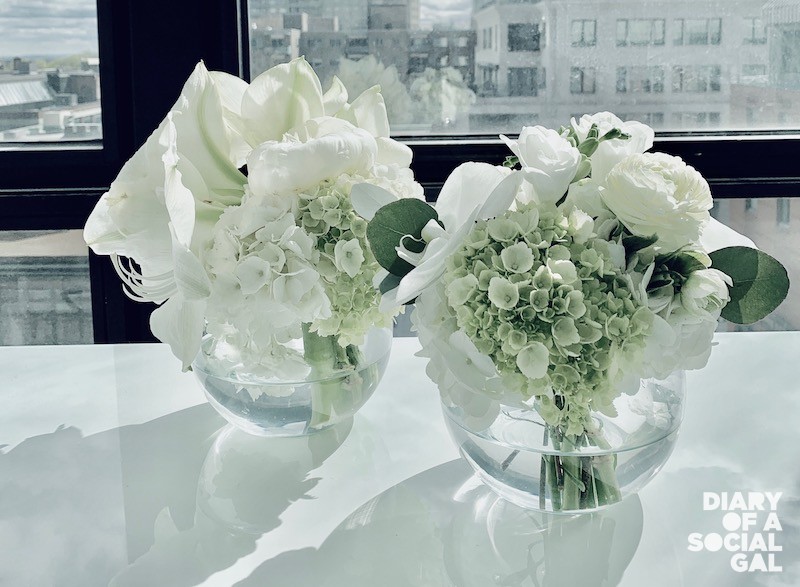 #HIVEGOALS
Having lived with the previous aesthetic for years (let's call it "glammy chic," a souped-up take on the "shabby-chic" trend of years past, replete with oversized armoires, venetian mirror and lots of blingy gal touches), it was clearly time to embrace a new vibe, one more in sync with my current publishing-focused professional life and more evolved personal one (as debatable as the latter may be). In short, à la Carrie B. in the first flick, it was definitely time for the "grown-up condo" and the dawning of a new aesthetic I had affectionately dubbed "minimalist glam." (Alas, the glam is hard for a dyed-in-the-wool Social Gal to break up with, so shoot me.)
Here's the thing, though: this new look and feel was not going to suddenly manifest with a fresh coat of paint and sleek new furnishings … The time had come to completely reimagine the Mies van der Rohe space of 1967 into an open plan more in sync with 2019 living. That meant a major overhaul: swapping the sites of the bedroom and living rooms, full-on demolishing walls, extending the bathroom, creating a new walk-in closet (more Carrie inspo!), and effectively replacing every original part (kind of like me … kidding! Ask Dr. Karl Schwarz for proof, it's still mostly me!)
As for the skinny, here's the rundown:
WORKING THE WHITE
Blame it on growing up with a mother who "paint- whited" everything, thereby "white-washing" my brain from a tender age. But the truth is, white- washing aside lol, the "white impressions" stuck, and I do find the neutral palette incredibly peaceful and serene in a wild, always-ON digital world where colour explodes from multifarious sources all the time … So yes, the chosen hue could only be the wears-so-well-and-looks-so-luxe Behr Marquee Ultra Pure White in an eggshell finish.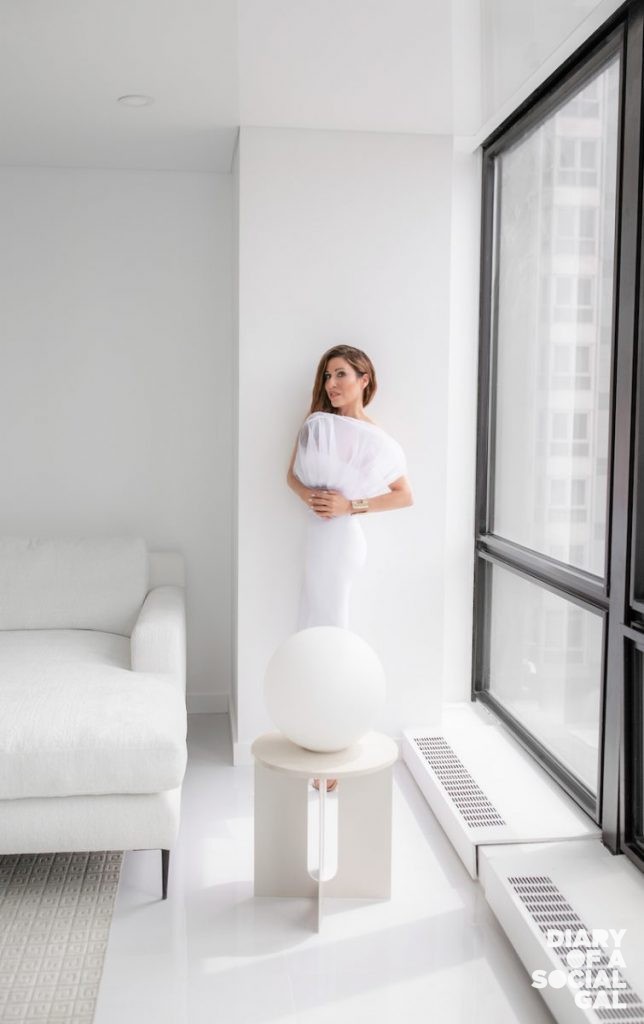 THE SKY'S THE LIMIT

Forever invigorated by sayings like "the sky's the limit" and "nothing's impossible, the word itself says 'I'm possible'!" (wise words from the timeless Audrey Hepburn), I couldn't help but be drawn to the prospect of a ceiling so luminous and reflective that every gaze upwards might invoke sentiments of infinite possibilities and dreaming huge.
The unique treatment was achieved by the masters at EXTENZO, experts in what is more commonly known in the biz as "stretch ceilings."
For a dose of magic so vibrant in its simplicity and so impactful in a personal and/or professional space, I highly recommend you "stretch" the limits … 😉
BUBBLE & MIRROR-ME-HAPPY
When it comes to bathrooms, I'm a sucker for three things: a deep comfortable tub I can get lost in for hours (with scented PALO SEL DE BAIN by aimee&mia, a good book and a glass of Moët), embrace-you-with-lushness towels, and a strategically aligned mirror that enables one to see all angles of a blow-dry. Mission accomplished in the new hive.
The state-of-the-art Oceania tub, available for purchase at haute bathroom/kitchen heaven Batimat (love you Matthew Calabrese!) is an aqua-escape utopia made even more irresistible by certain embedded (bubble) technology: a homegrown system that ingeniously sends micro-bubbles deep into the epidermis — at once softening and exfoliating. Does it Rihanna werk? Fabulously and so cool that it bears the "made in Quebec" moniker.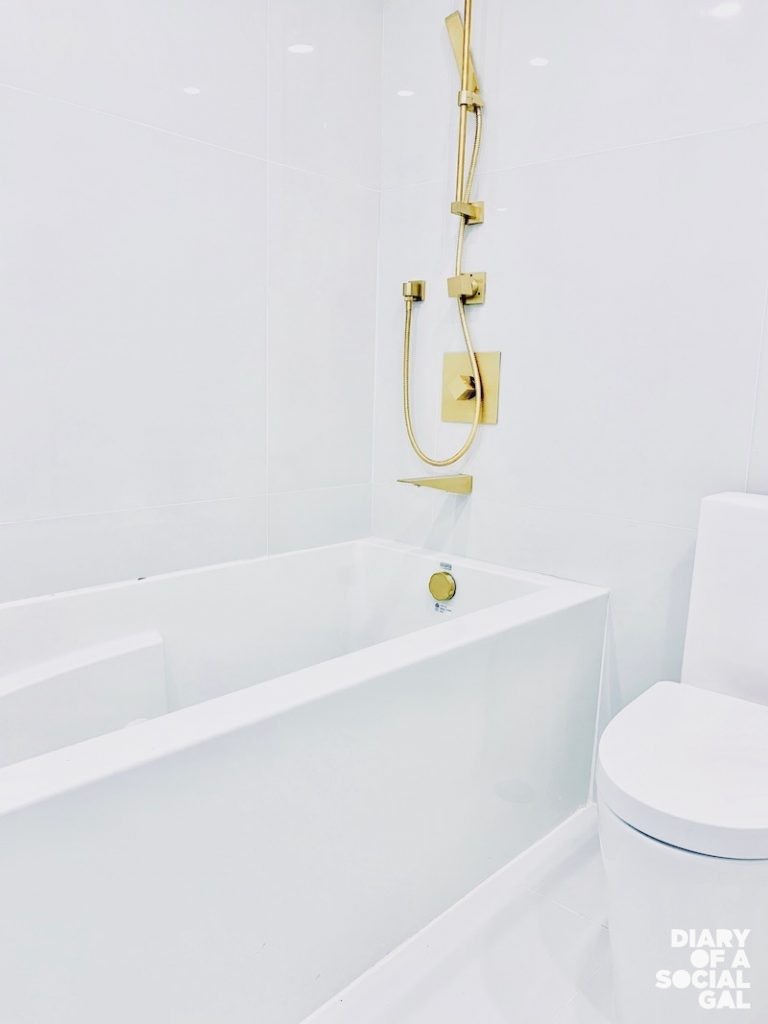 The towels — and myriad other irresistible treasures — are a find at one of our city's longest-standing home-beautifying mecca: the Linen Chest (Go Stan the man!).
As for the mirrors, make-it-happen Joseph made sure to adapt the installation to include a 360-degree coiff contemplating mirror too, bless his Social Gal empathizing heart.
A CUISINE FOR ENTERTAINING
While it may come as a shock to some, I am no Cordon Bleu chef (!!!) and likely would have starved to death eons ago were it not for the record number of events I cover a year where appetizers are a life-sustaining job perk, vast selection of magnificent eateries in our fair foodie city and … Uber eats!
That said, I do love to entertain and did want to have a functional open kitchen concept that would allow for good and easy flow into the Great Room.
And yes, I did want to have a pretty cuisine back-drop for all those "kitchen bijoux" I love so much like the gold Christofle egg, available at Lipari, where trust me, it's one-stop-shopping for gorgeous home everything, especially with the new flagship in the works. (Ask for Jenny and Angie, they're invincible!)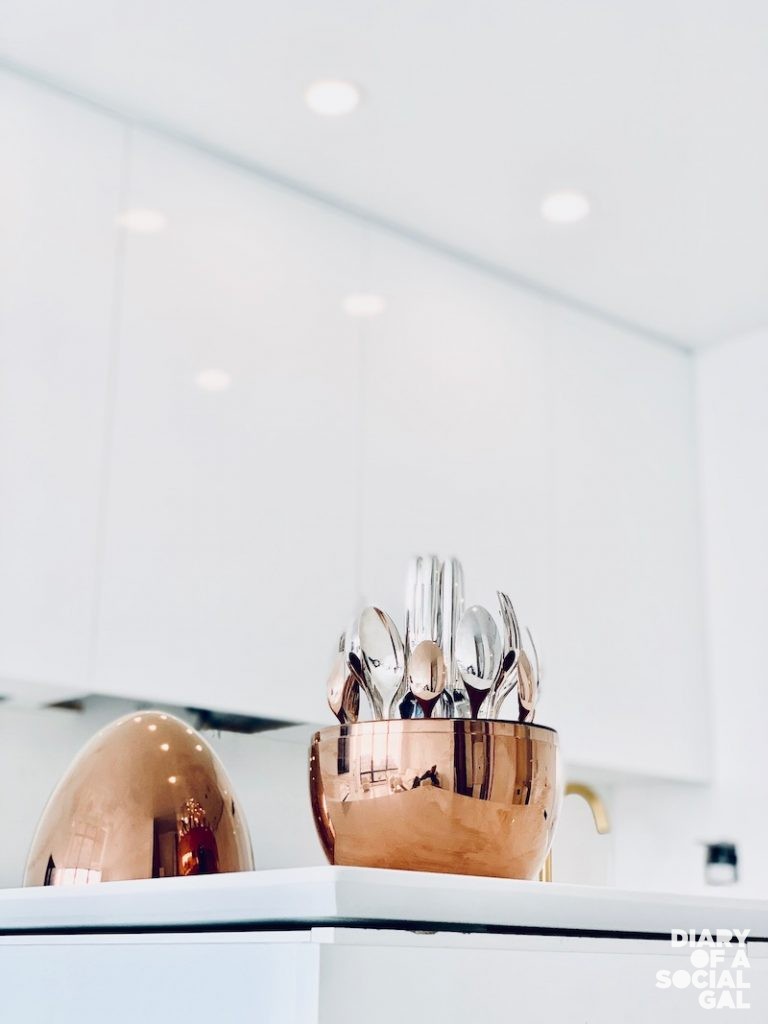 As for the dream kitchen construction, the masters at EK Design got it just right. (Elie, you rock!). As did the appliance wizards at Distinctive and Germain Larivière (respect, miracle makers Jocelyn and Martin).
LET'S LIVE!
The new term is "Great Room" but I still like its prior incarnation "Living Room", because hey, we do some quality living in that space!! Accordingly, I wanted this room (whichever name you prefer) to reflect the minimalist glam "less is more" vibe I had embraced for the overall space, while serving as the perfect backdrop for entertaining,laughing, chatting, netflixing, working, reading, exhaling, dreaming … LIVING!
The musts were a slick low coffee table, 65-inch screen for high-quality viewing, supercool lighting fixtures, two-way no-gas fireplace, and main event sofa where luxury would effortlessly entwine with comfort in a perfect universe of cozy.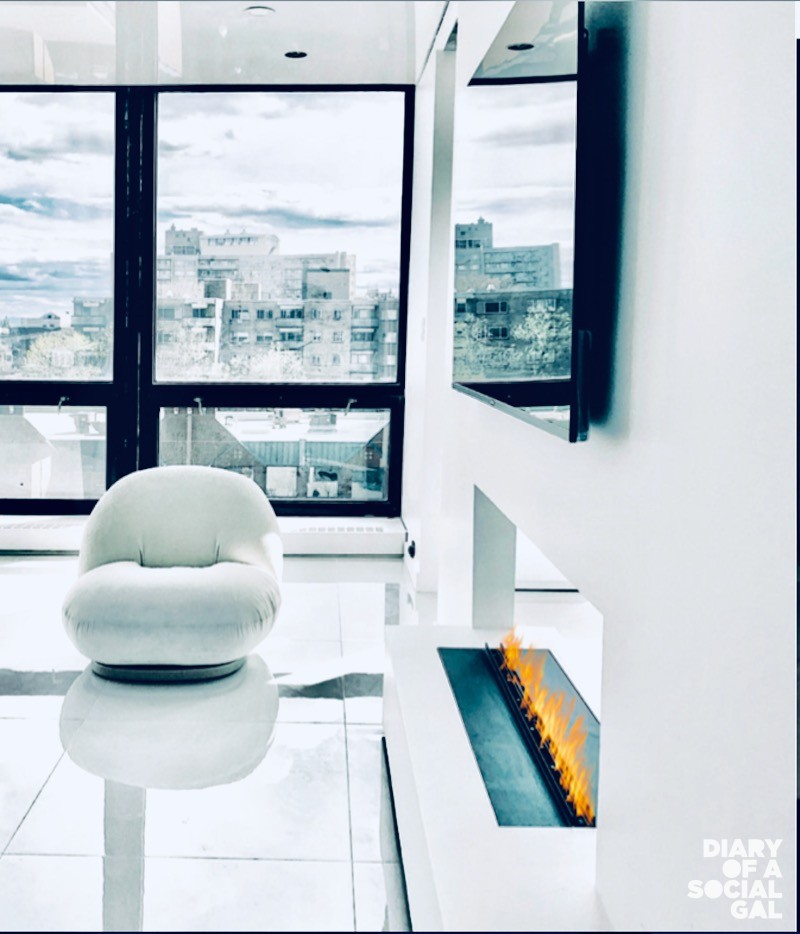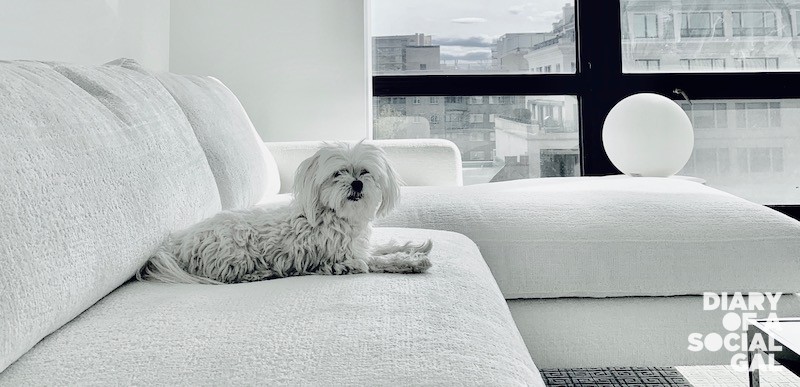 Bucket list check on all! A shout out to: Bram for not only being the king of lighting at UNION but delivering the goods (literally) against all conceivable odds; Reesa and Eddy at Tapis H. Lalonde & Frère who know a thing or a trillion about hot carpets (and good heels, Reesa!); Natalie and crew at CAMEO Collection who ingeniously rock comfy seating for all family members (including the fur babies); Scott at Celadon for insanely stylish everything (love my purchases!); Francois and David at Environnement Electronique (where service and premium audiovisual experiences are their oxygen); the Maison DF super-squad for selling the most stunning and pragmatic solution in a no-gas zone (DIMPLEX vapour fireplaces rule); Nathalie at DALPRO décor & design for making luxury friendly Altex blinds the window covering solution; Iona at Soll Solutions for crafting doors that are next level; and beautiful perfect Tim and his dream team at Montauk (thank you patient Kyla!) who brilliantly brought our long-imagined collab to life with the delivery of the first ever Social Gal Sofa (now exclusively available at Montauk, notably opening a gorgeous new flagship, stay tuned).
A BEDROOM STORY
Finally, we close this Jennyrella condo story with a visit to the bedroom now newly-repurposed as a home office too. Deliberately minimalist, the soft space boasts a slab of desk that spans an entire wall (also by EK Design), perfect for at-home brainstorming and writing (including the tell-all, coming SOON. Get excited … It's gonna be goooood).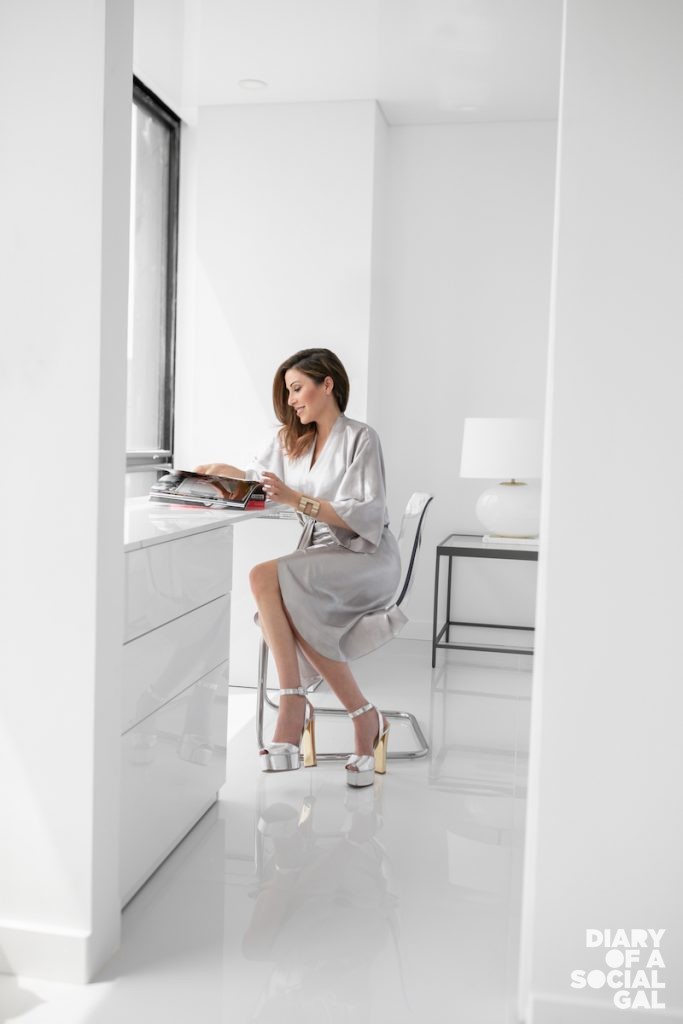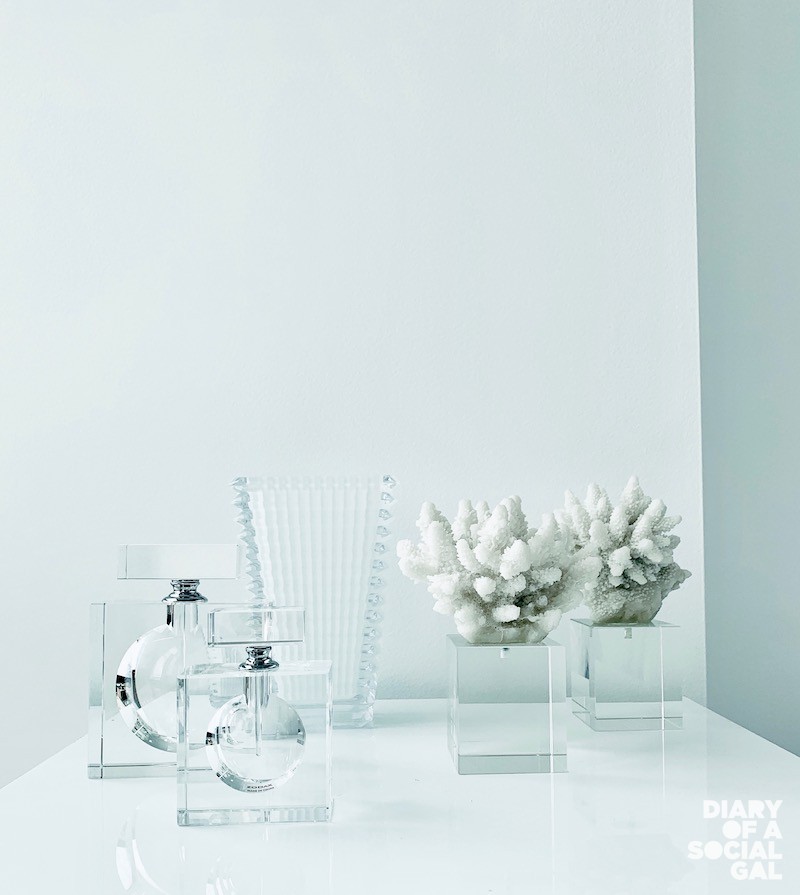 My faves in the bedroom are the headboard, so magnificently upholstered in Elite Fabric's high-shine velour by the upholstery aficionado himself, David Elmaleh (beyond!), the it-should-be- illegal-it's-so-glam-and-soft Frette bedding from above-mentioned Lipari – and yes, the closet. It may not be as big and luxurious as Carrie's, but it's my little slice of closet heaven and I love it much …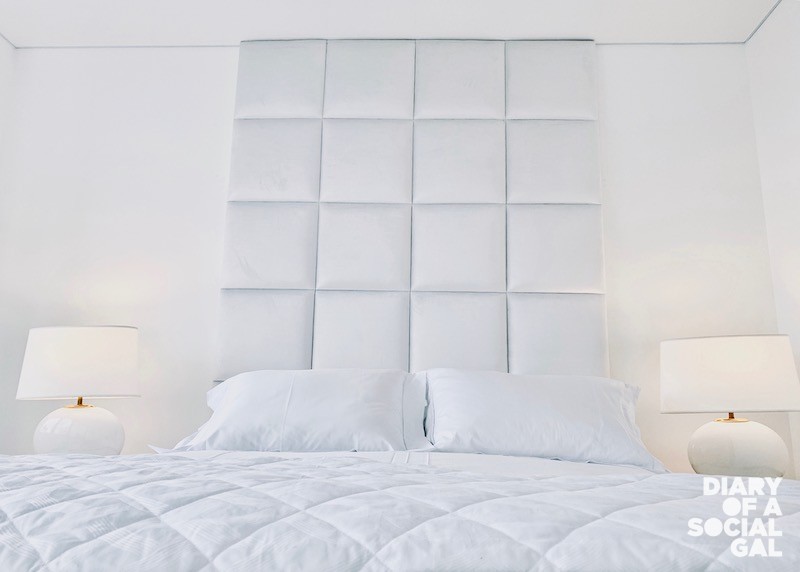 So, there you have it, Social Gals and Gents, a peek into my hive too and while I'm truly excited and awash in new Jennergy and Jennthusiasm (gotta trot out the name-centric descriptives for the fun stuff), I am most eager to make memories here with those I hold dear.
As J.M. Lawrence put it so exquisitely: "It's not what we have in life, but who we have that matters."
But still, gotta love that big screen TV and crazy sound system … !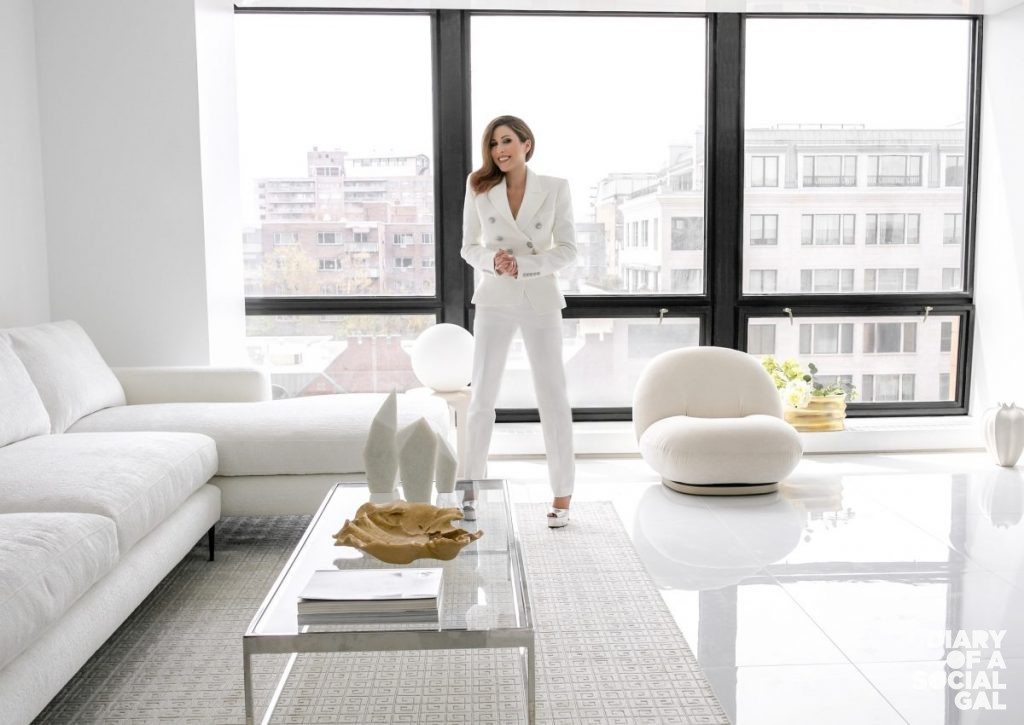 DREAM TEAM:
Photography KAROLINA JEZ
Makeup and hair CHARLOTTE MARIE FLANNERY.
Video L'ENSMBL.
Blazer BALMAIN (TNT Montreal).
Pants THEORY (TNT Montreal).
Shoes GIUSEPPE ZANOTTI (Browns).
Link here for BTS fun and the exclusive video.