IF YOU LIKE PEEKS INTO THE GORGEOUS INTERIORS OF FABULOUS HUMANS AS MUCH AS WE DO (HELLO ARCHITECTURAL DIGEST ADDICTION!), THEN THIS SERIES OF INFLUENTIALS IN THEIR HIVES, INCLUDING ANNA ANTONOPOULOS, PENNED BY SUPERSCRIBE URSULA LEONOWICZ AND SHOT BY GIFTED LENSER KAROLINA JEZ, HAS YOUR NAME ALL OVER IT … (SEE PHOTOS BELOW):
As treasurer and vice-president of finance for the Antonopoulos Group (currently presiding over Hotel William Gray and some of the hottest hotel properties and eateries in the city), Anna leads a very busy professional life and is always on the go. That said, she does make a point of carving out time for her passions and hobbies which include a love of art and architecture, travel and gastronomy, sitting proudly on the board of the Musée d'art contemporain foundation. She also enjoys quality time with friends and family in her cozy-chic condo In Old Montreal. Read on for her take on style, design and the life-changing magic of tidying up.
How would you describe your fashion sense versus your decor style?
I would say they're very similar. Fashion is personal, so is home decor, and in that vein I think my home represents me well. It's clean, modern, minimal and functional with a subtle edge: splashes of colour like rich greens, blues, lavender and white, and textures for boldness. You won't see me in red nor will you see a red item in my home, lol!
My decor items are a blend from travels, gifts, candles and incense sticks — which are essential to my home — as well as coffee table books about things I love including travel, art, Heidi Klum (my girl crush, lol) entertaining and cooking.
Also, there's no clutter. I love every piece, and this was before Marie Kondo! (The same doesn't apply to my closet where I have to take the time to see what really sparks joy.)
What kind of look and feel were you aiming for and how would you describe the final result?
I combined soothing sea hues with varied textures and curvy forms to achieve a tranquil effect punctuated by pops of brightness with a view to balancing luxury with comfort.
Did you work with a designer or decorator, and if so, who?
No.
What inspires you in terms of interior design?
Instagram, my travels and books. I love interior design and architecture and follow pages on social media that provide great insight and inspo. Some of my favourites include Dream Casa, Eye Swoon, Travel & Leisure, A Designers Mind, and 1stdibs.
What do you most enjoy about your home?
I love the location in Old Montreal: tucked away enough so that it's quiet and relaxing when I want it to be, but always a few steps from the water and cool spots in the area.
What's your favourite room in the house and why?
My open living room, kitchen and dining area. It's where I spend most of my time when I'm home, cooking, chilling and watching Netflix on the couch, and working at the dining room table.
What about your favouritepieces of art and furniture?
I'd have to say my Jon Rafman piece, which is part of his Google Street View collection. I chose it with the help of my good friend at his gallery, Galerie Antoine Ertaskiran. It's a capture of the northern lights in Finnmark, Norway. The shim-mering green and purple hues of the northern lights across the dark black sky bring me a sense of calm. To me, there's nothing more magical than the moon, stars and sky (aside from magical human connections, of course!). I also adore my Michael Moebius piece featuring iconic Marilyn with the bright pink bubble gum. It's playful and feminine and adds a dash of colour in a soft way.
As for furnishings, I love all my furniture as each piece was carefully selected and is as functional as it is visually pleasing (to my eye, at least). My two plush living room sofas are my star pieces and they're also the first ones I got, which set the tone for the living room. They're so comfortable and the cushions can be placed as you wish — on the floor around the coffee table or completely removed to turn it into a day or actual bed. This is where I chill and gather with friends and family. I love how the design is so versatile and practical for a condo space.
Where, and how, do you like to entertain at home? What's the party vibe?
The gathering of family and friends is what it's all about, but I can't deny that setting the table also brings me a lot of joy! No matter the entertaining style, once I figure out the menu, even before looking for recipes, I plan my table setting and decor first. Fresh flowers are always a must.
I also tend to invite many guests over at once so to accommodate and create a stress-free vibe, I usually set up champagne and wine on the counter (for easy access!) and a delicious spread on the dining room table where they can help themselves.
What about your favourite spot to relax and unwind?
In my living room, on the plush day bed by the window. Although I don't spend much time at home, this is my spot on the weekend: it's where I have my morning coffee, skim my social media feed and then maybe sleep some more, lol!
Favourite design/decor shops in Montreal?
I mostly browse online and always visit furniture design and decor shops when I'm travelling, because it's so nice to have objects that have a story to tell and bring back amazing memories. So far, my favourite city for design inspiration has been Stockholm: I love Scandinavian interior design.
In Montreal, I'd say Espace Pepin, as they carry curated pieces like furniture, pottery, and my favourite flower designs, all made by local talent.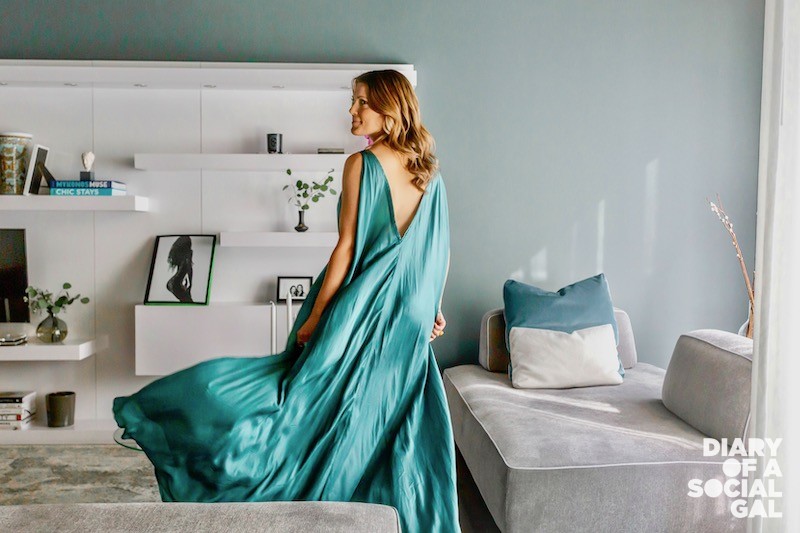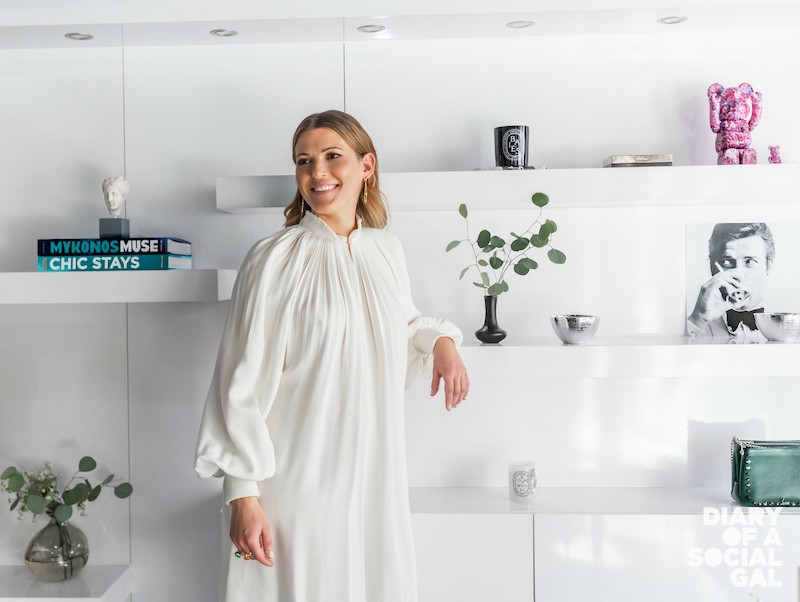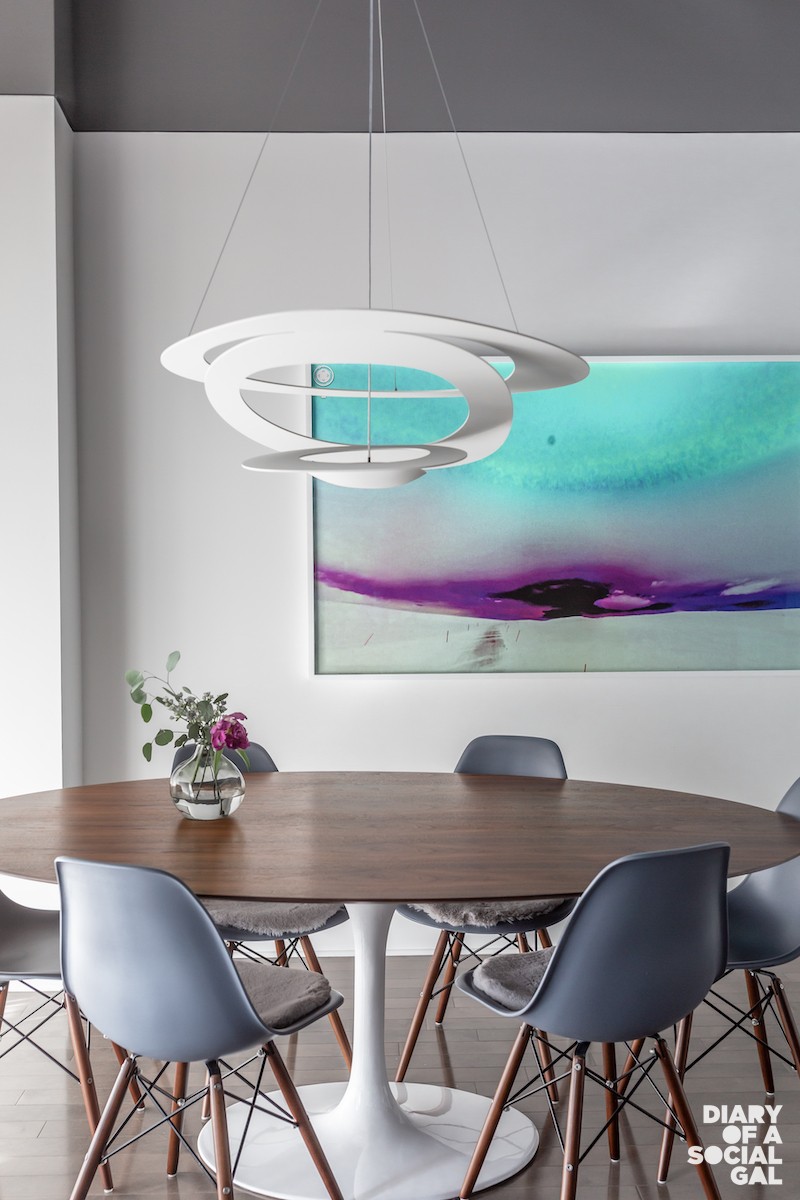 Photography and retouching KAROLINA JEZ.
Creative direction and styling TINASHE MUSARA (Folio Montreal).
Hair STEFF RICHARD.
Makeup ELIZABETH D'AMICO.
All clothing their own.
All jewellery ECKSAND.
Many thanks to ERICA BIANCHINI and EVA HARTLING.
Video LENSMBL.
For more BTS, link here. For the video: here.