When it comes to planning a bachelorette party, the first order of business (ahem!) is simple: where to go, and what to do?
In recent years, the "destination bachelorette" has become more and more prominent on the wedding scene. To be clear, there are advantages of keeping it local: it's easier to coordinate, the time commitment is less extreme, and usually more people can find a way to make it.
But really, what's better than a prime excuse to get away with your best gal pals?! Very little, as it happens. 
My bridal party and I ended up choosing Miami for a few unsurprising reasons: gorgeous weather, great food, a solid nightlife scene and direct flights from both Toronto and Montreal that can guarantee a cocktail in hand beachside by 11 am.
An added perk? No more than an easy breezy carry-on is necessary to accommodate a Miami-appropriate wardrobe (read: tiny bathing suits, crop tops, mini skirts).
Was it everything we (I) hoped for? Yes  … and more.
After three fantastic nights and four warm, sunny days, voila my Social Gal approved Must-Hit Miami list for your bachelorette, your best friends' bachelorette, or a trip with the gals — because, hey, you're worth it.
1. DAY PARTY: KIKI ON THE RIVER
What happens when you mix Miami vibes with the Greek islands and a boatload of rose? Kiki on the River. Situated on the Miami River, this day party hotspot has amazing dance music, top-tier food, and deadly cocktails.
The party starts at 1 pm, and river-goers are free to pull up on their boats to grab a bite and/or a bottle (we say go bottle heavy!). Candidly, the service is rather 'Miami-sass', but the vibes, views, and smoke machines that somehow escape tackiness make it all worth it.
Don't be shy to put on one of the sailor hats and make yourself at home.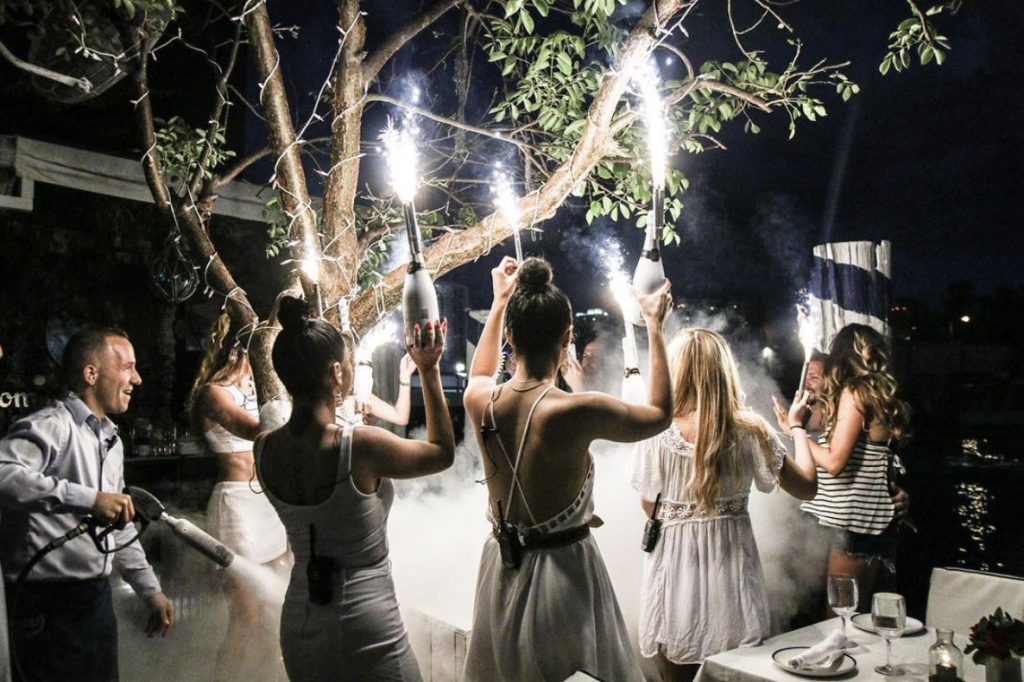 2. DINNER PARTY: CECCONIS
Nestled in the SoHo Beach House courtyard, you'll find a little slice of Italian food heaven, otherwise known as Cecconis. Sparkling lights and a warm, inviting Miami atmosphere make it a perfect spot to get the party started.
Depending on the size of your group, you have the option of a custom family-style menu, which works especially well with larger squads.
We sat down to delectable lamb and gnocchi, wine, and more deliciousness of the truffle variety.
The pizza also comes highly recommended from regulars, a must for the carb inclined!
3. BOAT PARTY: OUT AT SEA
Miami's party scene at sea is equally addictive.
On any given afternoon, you'll find boats anchored around sand dunes and yachts filled with the stylish set in the harbours, all celebratory, making the most of the festive tropical backdrop. 
As for rentals, there are several options a mere click away that come fully equipped with a captain, engagement ring floaties, slides, and music.
Depending on what floats your party boat — more chill or thrill  — this website has a solid rundown of what's on offer.

4. SPIN AND RECOVERY: SOUTH BEACH
Finally, what better way is there to wrap up your trip than sweating it all out at Soul Cycle? 
The South Beach Soul Cycle is located in the tony 1 Hotel, and you can slide onto a saddle as early as 8:30 am.
Best of all, it's a stone's throw away from the iconic South Beach, so you can put your swimsuit on after class and take a well-deserved dip in the sea.
But, before getting too comfortable on the beach chair, I do recommend a quick post-workout stop for a snack: the Cubano sandwich at Moreno's Cuba is a must … and hey, you did just sweat off last night's naughty tails. 😉 
So there you have it soon-to-be-married Social Gals or those simply looking for the next very fine Social Gal Getaway …
Happy gal-bonding.