Whoever said living in Montreal is always easy … lied. As much as we love our precious ville and all that it has to offer (i.e., premium partying and crazy good fashion and cuisine), there is that extreme weather, never-ending construction, and potholes the size of well, you know. Sometimes, you just want to escape the grind. But fabulously, Social Gals and Gents, you don't have to hop on a plane to satisfy the escape bug. There are a number of great Instagram-worthy escapes in our own backyard and of course, we've got some of the best for you contained in the following roundup. No flight, passport, or jet-lag necessary. And yes, their interiors are pretty addictive … Happy "travels".
FOR A DASH OF SPARKLE: HOTEL BIRKS
PERFECT FOR … The romantics looking for a taste of the new old world.
WHY WE LOVE IT … Though Birks Hotel just opened its doors in 2018, a step into the space — awash in every modern convenience and touch imaginable — does also pay impressive homage to its rich heritage, thanks to the impeccable eye of implicated owner, Jean Salette, who worked tirelessly with his team to maintain stunning original notes like the ceiling in the main floor eatery.
HOW TO UNWIND … Given the hotel's strategic location in the center of the downtown action, it affords an almost irresistible platform for great people watching and overall soaking up of the liveliness of the city. In this spirit, book your stay during Jazz Fest, when Place des Arts comes alive with delicious street eats, world-class musicians, and something interesting to see and experience at all times. Truth is, this section of the city really shines from May to September, so take it in while at its peak! 😉
NOSH VIBES … If classic French brasseries are your thing, you'll be happy to find the crème de la crème directly in your hotel. The magnificently appointed Henri Brasserie (hello Zébulon Perron!) has the rich buttery foods you'd expect from classic French cooking. The coffee and pastries here will definitely turn you into a morning person. And if you can bear to tear yourself away from the ceiling gazing at Henri (restored genius), and superstars of service like GM Jack, keep the Française theme alive and venture over to Dominion Square Tavern, a five-minute walk away, where an afternoon cocktail and moules frites will make for a memorable mid-day snack.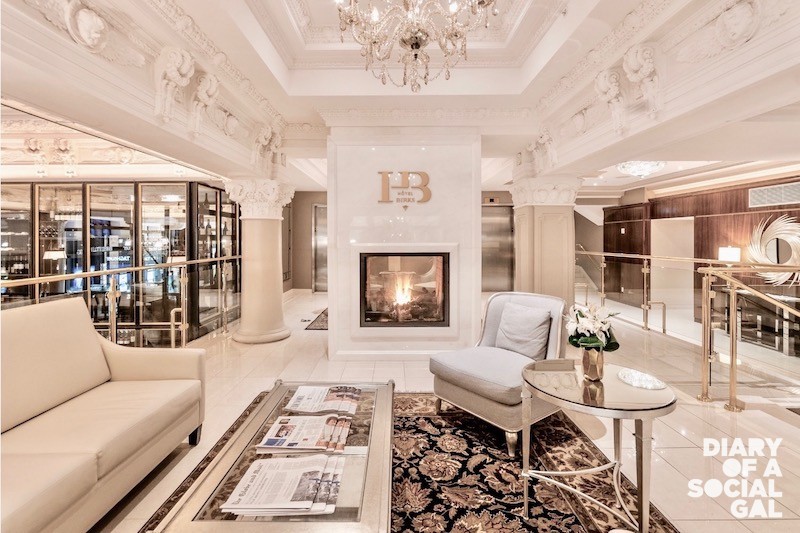 UPSCALE MEETS URBAN: LE MOUNT STEPHEN  
PERFECT FOR … A weekend with the crew.
WHY WE LOVE IT … A stone's throw from the Ritz-Carlton sits the architectural marvel that is Le Mount Stephen, a posh spot that opened for business (of the booming variety) in the spring of 2017. Formerly the private residence of business tycoon George Stephen, the stunner on Drummond is steeped in history and luxury, thanks to Mr. Stephen's passion for premium design and detail, and the current owners' predilection and talent for restoration. (There's not much the Tidan Hospitality Group doesn't master!).
HOW TO UNWIND … Take all of that money you saved on airfare and splurge on the dreamiest room on offer: Mount Stephen's Royal Suite. At a cool 5,000 square feet, the Hollywoodesque space includes row upon row of stunning skylights, cozy fireplace, fully loaded kitchen and giant terrace — perfect backdrops for indulgences we usually only dream about (i.e., wine tastings with experienced sommelier, private yoga, massages, and mani-pedis). When the room is this awesome, bring the amenities to you.
NOSH VIBES … Post indulgences, get ready to roll, Social Gals and Gents! Why not swing downstairs for superstar cocktails — and a magnificent meal — at the hotel's chic candlelit destination for in-the-know celebrants, Bar George. It really is one of the coolest places to "see and be scene" in the city, right there in your lobby. Craving Japanese? Hip and always-packed, Kampai Garden, is just a quick jaunt away. And then, for the more daring, head to Diary fave, Tiradito, where you should literally order one of everything on the menu and share away … with a side of extra yuca fries (for tomorrow, of course!).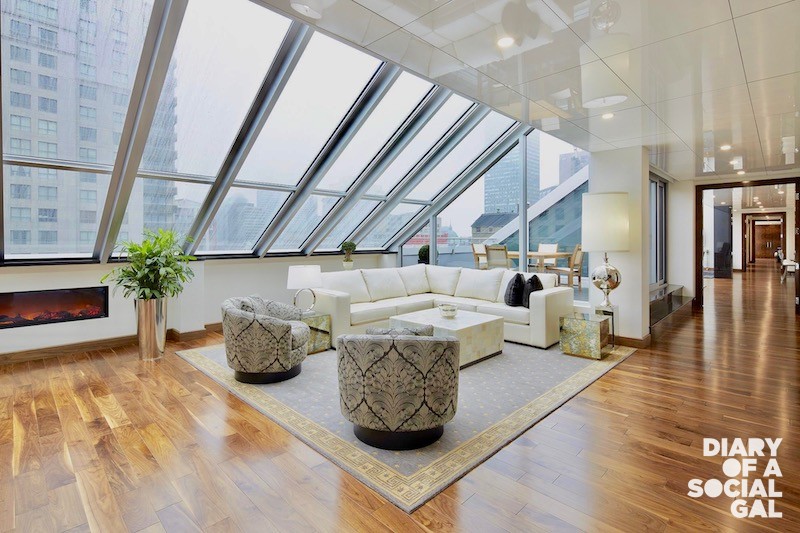 NO MORE LOOKING FOURWARD: THE FOUR SEASONS MONTREAL IS HERE, AT LAST! 
PERFECT FOR … Everything and everyone but especially geared towards those who love life at the peak of limitless and next-level partying.
WHY WE LOVE IT … There are so many reasons to love and treasure this new globally revered addition to the luxury hotelscape. But if forced to articulate our toppest (one so in sync with this edition's Interiors theme) — it would have to be that sumptuous, stunning ever-surprising sublime design permeating every crevice and corner of the heavenly new Four Seasons! Visionary owner, president/CEO of Carbonleo, Andrew Lutfy — in collaboration with design and decor aficionados like architect Philip Hasen and Zébulon Perron — has created a soothing seductive glam-modern vibe so magical it will make exploring every last zone of the space a #1 life priority …
HOW TO UNWIND … Let us count the ways, starting with a brand-new state-of-the-art spa replete with stone-stimulating walkway at its center and cozy exhale niches ideal for gal spa-ins and more romantic visits. For the shopping-inclined, take advantage of the easy access to the new and spectacular Holt Renfrew Ogilvy attached (where we dare you to not buy something fabulous!). And hey, if creative genius is your thing, you can always just sit and marvel at the absolute petal perfection of the suspended art installation in the atrium.
NOSH VIBES … Given the great location, there are a host of fine eateries and party spots worth visiting in the hood, like legendary Ferreira Café (perfection) and Soubois (a fave underground social forest). That said, between enjoying top-tier room-service in the paradisal room settings after either a rejuvenating shower and/or bubble bath in the free-standing tub, punctuated by visits to the endlessly stimulating new MARCUS by chef Marcus Samuelsson (where the quality of the internationally-applauded cuisine and impressive indoor and outdoor spaces will totally astound), chances are you won't be venturing too far off from the palace …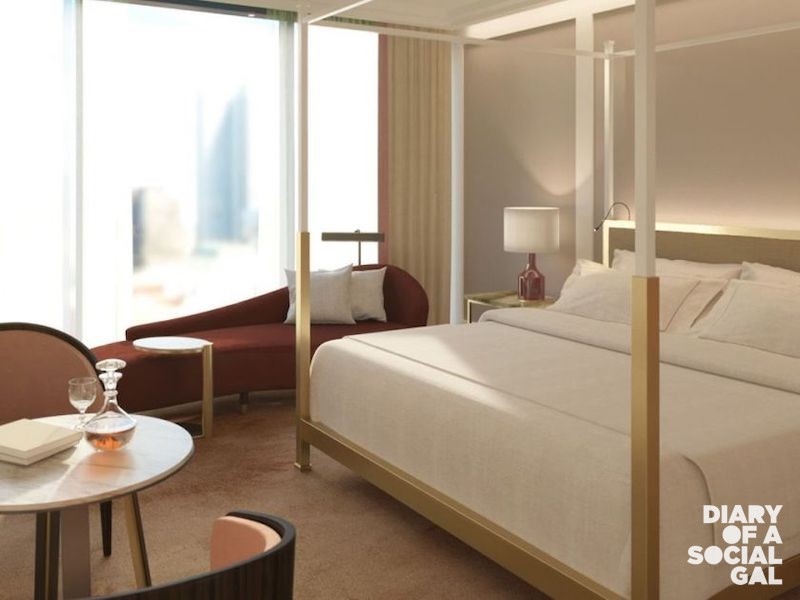 A REIMAGINED CLASSIC: FAIRMONT THE QUEEN ELIZABETH
PERFECT FOR … Sports fans and shopaholics (heck, everyone!) seeking a wintry or year-round escape.
WHY WE LOVE IT … Who wouldn't love to hop in a time machine and experience the bustling metropolis of Montreal back in the 60s? During the Expo 67, fifty heads of state chose "The Queen Elizabeth" to lay their heads. Of course they did! Fast forward two years later, and John Lennon and one true love Yoko Ono, spent a week at the hotel during their famous Bed-In for Peace protest. Needless to say, the largest hotel in the city (a favourite for conventions and big guest-list parties with awesome spaces like the breathtaking Espace C2 overlooking the city) is arguably the most storied and the complete 2017 revamp, led by the masters at Sid Lee Architecture, did its colourful history proud with a new right-now aesthetic that is at once luxurious, artistic and playful.
HOW TO UNWIND … When tourists visit "The Underground City" they may be disappointed to discover an expansive shopping mall with corridors that can be difficult to navigate. Locals like you? You know the real benefit: you can shop 'til you drop, get to the Bell Center, see a movie, eat a meal, go to the spa … all without stepping one foot outside when it's -20C! So yes, plan your staycation at the Queen E. during the big bad winter so you can cheer on the Habs after a day roaming the mall. What better way to pay homage to your city?
NOSH VIBES … A stone's throw from the Fairmont, you'll find Jatoba, a staple on the Montreal scene with their very fine cocktails, delish dumplings and Japanese fare, and the famous "Chocolate Bomb" dessert (ideal for a quick post-hockey game experience.) That said, you might wish to pull a John and Yoko and make the foodie component of your stay all about the Fairmont Queen E. Not only is the room-service insanely good (we had loads during filming of an editorial for Diary Vol. 8), but gorgeous Rosélys is a delight at any hour of the day (do enjoy the brunches and festive dinners), Marché Artisans is a one-stop nosh fest and Bar Nacarat, your built-in swish party spot for later. Bottoms up!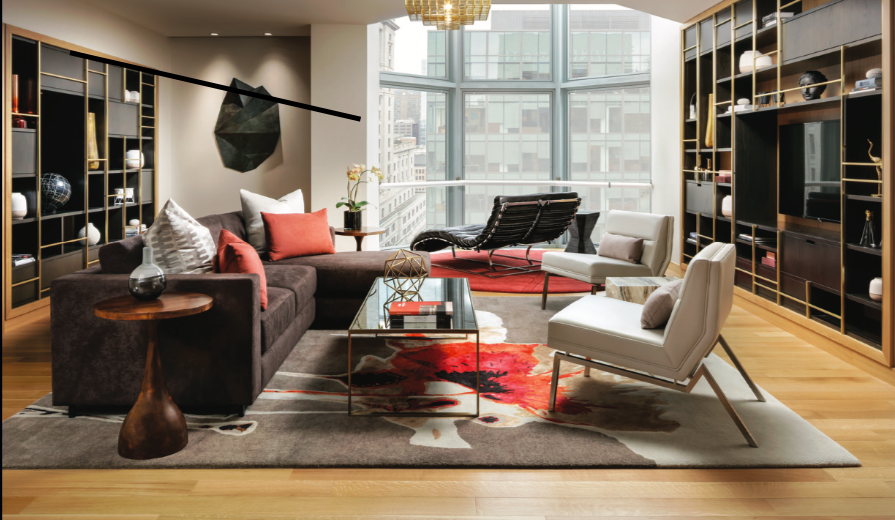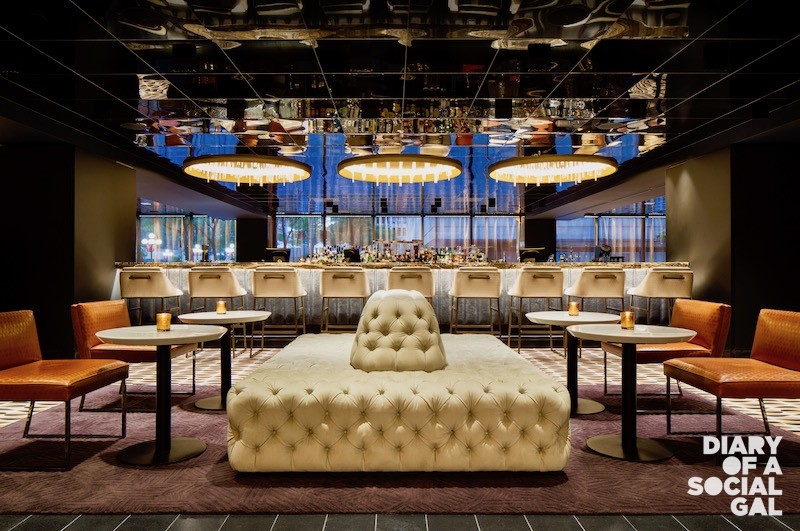 ALWAYS A FAVOURITE: THE W MONTREAL
PERFECT FOR … The stylish set looking to be in the action.
WHY WE LOVE IT … The prime location, the cool vibes, and the old- world meets-new-art style masterminded by the always creative and ultra-hip designers at Sid Lee — are just a few of the things that pop to mind when we boast about this mainstay on the Montreal luxury hotel circuit (notably about to become even more fabulous with another refresh underway).
But what really draws us here, time and again, is the frictionless experience that their "whatever/ whenever" service accommodates. If you've ever wished you could order your favourite dish with the snap of a finger at home, try hiding out here for a night or two and make it a reality.
HOW TO UNWIND … The AWAY Spa W has a wide range of services from get-and-go 30-minute facials to body wraps, but our favourite way to kick back and relax when staying here is hiding out under the curvaceous ceilings at the Baritzen bar. Order a martini, bring a good book or journal, and turn off the cell for some better-than-therapy me time.
NOSH VIBES … To switch things up, be sure to check out the brand-new go-to Pub Wolf & Workman. Fresh on the scene, this inventive take on the classic English pub serves up new specials every day and prides itself on friendly service and delectable cocktails.
LEGENDARY LUXURY: THE RITZ-CARLTON MONTREAL
PERFECT FOR … A romantic night or two with your other half … or any getaway!
WHY WE LOVE IT … Brain-baby of acclaimed New York firm Warren & Wetmore — who routinely receive raves for their high-profile designs like Grand Central Terminal in New York — there's nothing quite like the Ritz, here or anywhere. Hotels of this calibre guarantee consistent five-star experiences, from Shanghai to Los Angeles to Paris — meaning that you can essentially recreate that anniversary trip you took to the City of Light right here on the homefront (or choose to renew vows, like lavender-eyed Liz Taylor did with love, Richard Burton, back in the day). It doesn't hurt that they know your martini instructions after ordering it once, and what temperature you like to keep your gorgeous, convenience-laden room. Imagine not having to even think about setting the thermostat? Oh hello, heaven!
HOW TO UNWIND … You know how we were all over the "living like a tourist" shtick in the intro? Well, here's your chance to get your staycation badge of honour: indulge in the Spa St. James' Maple Sugar Experience. A wonder of exfoliation, the treatment (enjoyed by many a celebrity) replenishes with the best clay from the Prairies and organic Canadian maple sugar. If the getaway goal is to get back down to earth then this is a surefire way to feel a little closer to nature.
NOSH VIBES …. Given the prime location of the Ritz, it's easy to hop to almost any corner of the city for a good meal. But go with this Diary-approved recommendation: skip the ubers or the driving. Stay in the luxury bubble and relish every second: either 24-hour room service (what part of tucking into Lyonnaise charcuterie and champagne in a bathrobe is bad?) or a run downstairs to culinary bijou, Maison Boulud, for a gourmet meal that rivals any on the planet. (Do have the Molton chocolate cake for dessert — a sensory escape to bliss in its own right). Puttin' on the Ritz never tasted so good.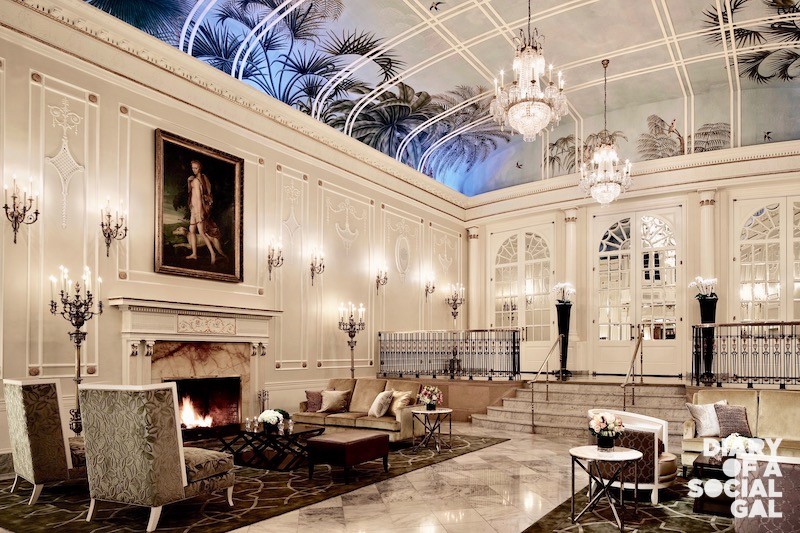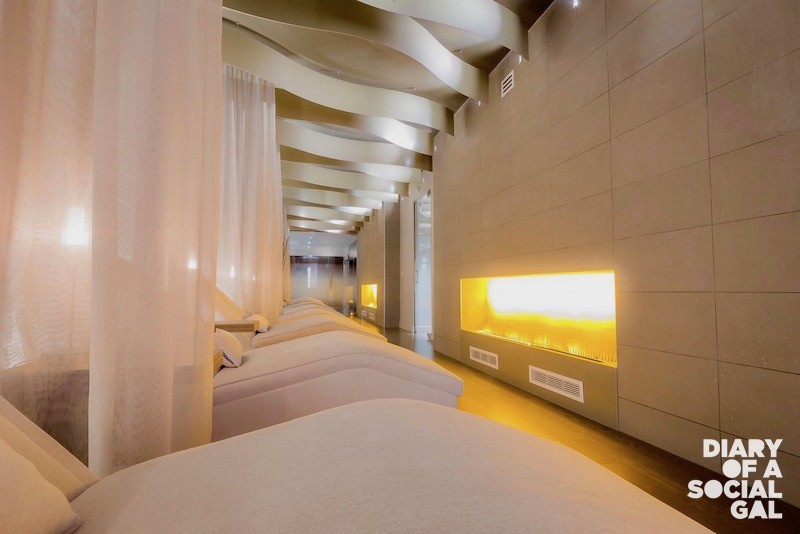 THE TRENDY MAINSTAY: HOTEL WILLIAM GRAY
PERFECT FOR … Suburbanites craving a classic Montreal weekend.
WHY WE LOVE IT … For those of us who aren't lucky enough to live in the Old Port year-round, chances are this brain-baby crossed your mind on your last visit to the area: "I always forget how awesome it is here!". Chic and sleek, Hotel William Gray, exquisitely designed by boutique firm CAMDI (a magnet for hip locals and celebs) sits on the quaint Rue Saint Vincent, brilliantly mixing old world with new. A glassy floor-to-ceiling entrance beckons at check-in, while the 18th-century stone exterior channels Europe, fostering all kinds of warm fuzzies. Inside, compelling local artwork hangs on the walls among trendy industrial lights and the intoxicating smell of Olimpico Coffee isn't far off. Really, William Gray is the spot-on intersection of feeling "oh-so-Montréalaise" and being in a new contemporary universe, all at once. A perfect emblem for Montreal in general, non?
HOW TO UNWIND … Of course, there's the always-delivers Spa William Gray that offers best-in-class massages and an assortment of other must-have treatments. But beyond robes and the oh-so-soothing water circuits (#ahhhh), try turning off your phone for the afternoon and taking a private architecture tour around the area with Guidatour. You'd be surprised at the calmness and peace that comes from doing nothing but gawking at pretty historic buildings all day — even if you've passed them before. Afterward, treat yourself to an expertly-made cocktail at COLDROOM.
NOSH VIBES … You may have noticed that we're partial to the idea of room service when it comes to crafting the perfect staycation (and Gray's amazing in-house resto, Maggie Oakes, never disappoints, nor do drinks and nibbles at its beyond stunning rooftop bar and restaurant boasting some of the best sweeping views of the city). But more good eats are just too accessible in this hood to warrant staying in for the entire duration of the stay. Take your time on several Spanish courses at Barroco, get a taste of old-world Italy at Da Emma, or get your seafood fix on at Jellyfish.