IF YOU LIKE PEEKS INTO THE GORGEOUS INTERIORS OF FABULOUS HUMANS AS MUCH AS WE DO (HELLO ARCHITECTURAL DIGEST ADDICTION!), THEN THIS SERIES OF INFLUENTIALS, INCLUDING JULIE, PENNED BY SUPERSCRIBE URSULA LEONOWICZ AND SHOT BY GIFTED LENSER KAROLINA JEZ, HAS YOUR NAME ALL OVER IT … (SEE PHOTOS BELOW):
Julie Étienne, aka @MademoiselleJules, is a lifestyle blogger (mllejules.com), Rockland Centre ambassador and former director of Au Pain Doré, classical ballet aficionado, wife and mother of two. As the daughter of a baker, she's also a fan of baguettes (the kind you eat as well as the kind made famous by Fendi), high heels and haute couture. Here's what she had to say about her home sweet home:
How would you describe your fashion sense versus your decor style?
When it comes to fashion, I'm more colourful, eclectic and busy. I like to take risks and express my adventurous side with my outfits, using colour, texture, accessories and funky combinations. I'm slightly more neutral and subtle when it comes to decor. I like monochrome colours and a minimalistic style.
What kind of look/feel were you aiming for at home, and how would you describe the final result?
When I'm home, I like to feel grounded. I was aiming for a cozy vibe so that my home could be my sanctuary. My life is super busy and scattered with family, work, social and personal duties, so I wanted to make sure that my home felt peaceful and calm, to really anchor my family and me.
Did you work with a designer or decorator, and if so, who?
Yes, Ana Borrallo, of Borrallo Interiors. She's so talented and has exquisite, refined taste. We love her!
What inspires you, in terms of interior design?
I draw a ton of inspiration from the design of luxury hotels and of course, trusty old Pinterest. I also like to flip through magazines and see what's out there and approved by the style curators I trust.
What do you most enjoy about your home?
My kitchen, which is the centre of the house. It's where everyone inevitably gathers. I love hosting and cooking, so I spend a lot of time there and we create a lot of memories in that room. My husband helped with the design and together we made it both functional and well thought-out, space-wise. He did a great job because he also spends a ton of time cooking and so he just gets the practical aspect of a kitchen.
What's your favourite room in the house and why?
My en-suite bedroom, which is where I relax and unwind. There's a fireplace and it really sets the tone when you light it up. I like to take a bath before going to bed and I also love my makeup desk because it's perfect for blogging and makeup tutorials.
What about your favourite piece of art and furniture?
Regarding furniture: we bought a Murano chandelier while on our trip to Italy (which is the same trip where my husband proposed to me, in Venice). The chandelier is kind of like a photograph of that memory and we bring it with us from house to house, as it continues to light up our lives. I love that piece.
I also like anything designed by Mies van der Rohe. Simplicity makes his furniture and buildings timeless, and at the same time, so functional.
But our dining room table is one of my favourite pieces in the house. We had it custom-made. First, we chose a tree in Ontario that was big enough for the dimensions we were looking for. Then, we let it dry for seven months before hav- ing it made into a table and had to use a crane to bring it inside the house! It was a quite a challenge, but we did it, and the table is a masterpiece in the house. We've hosted many parties around it with many people and we love eating around it. So it's very special to us. It brings back so many great memories.
Art is a tough one. There are so many good artists out there, but I like the Jacques Hurtubise we have. It's framed in a plexiglass frame and I love it. Maybe one day we'll own a Bernard Frize. We love his work too.
Where, and how, do you like to entertain at home?
This house has seen a lot of parties and celebrations! It's the perfect house for hosting, with the big living room, DJ booth and amazing sound system. We are serious music lovers. We've celebrated many milestones, holidays, baby showers, birthday parties, Super Bowl nights, hockey games, Halloween parties and so much more … We like to enjoy life and celebrate with friends and family.
What about your favourite spot to relax and unwind?
My bedroom. I also like the main living room which has a natural fireplace. It's where we like to play some music, watch a movie and just get cozy.
Favourite design/decor shops in Montreal?
MUST, Latitude Nord and Espace Pepin.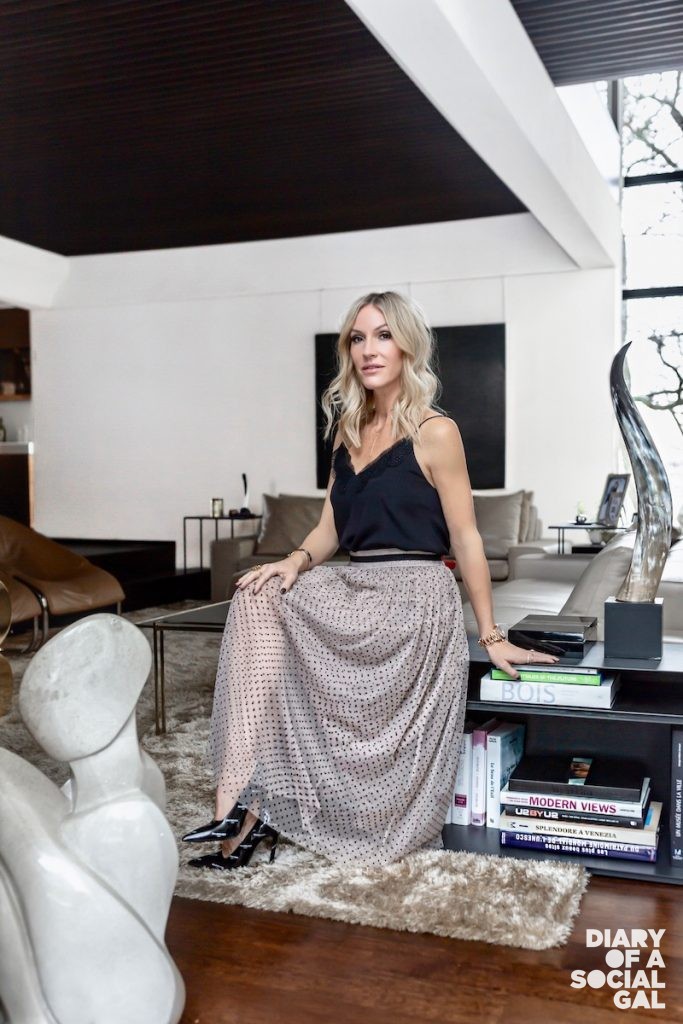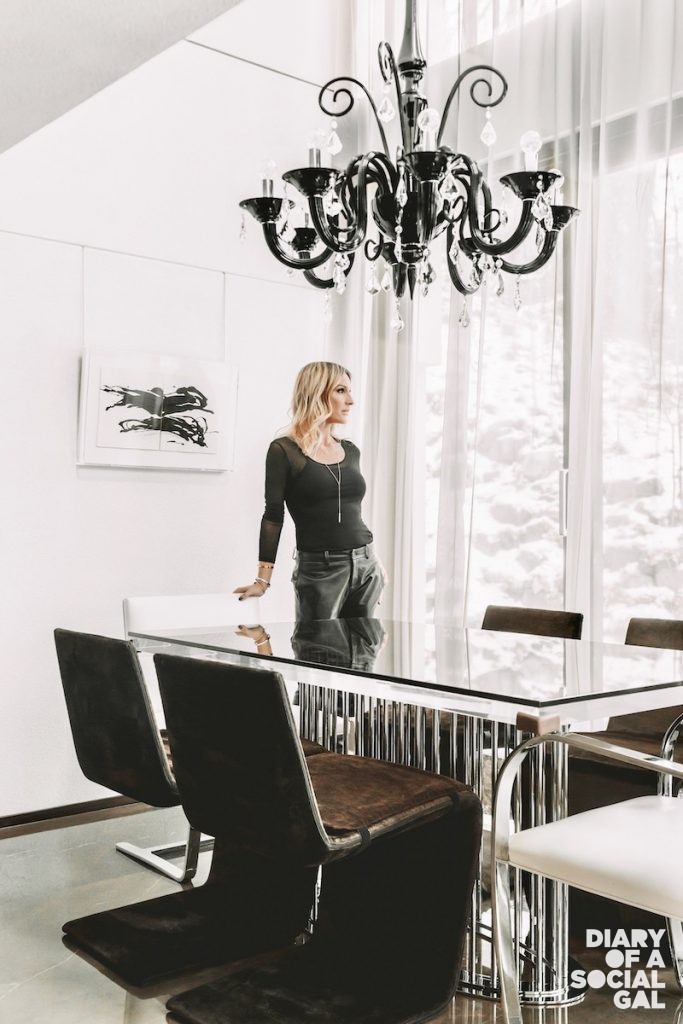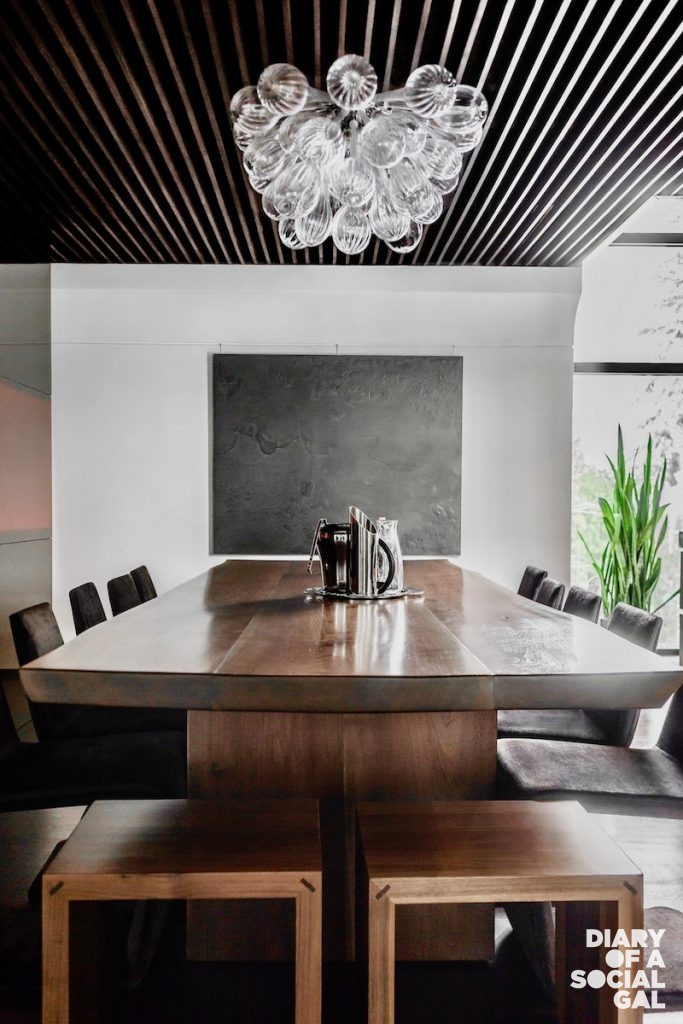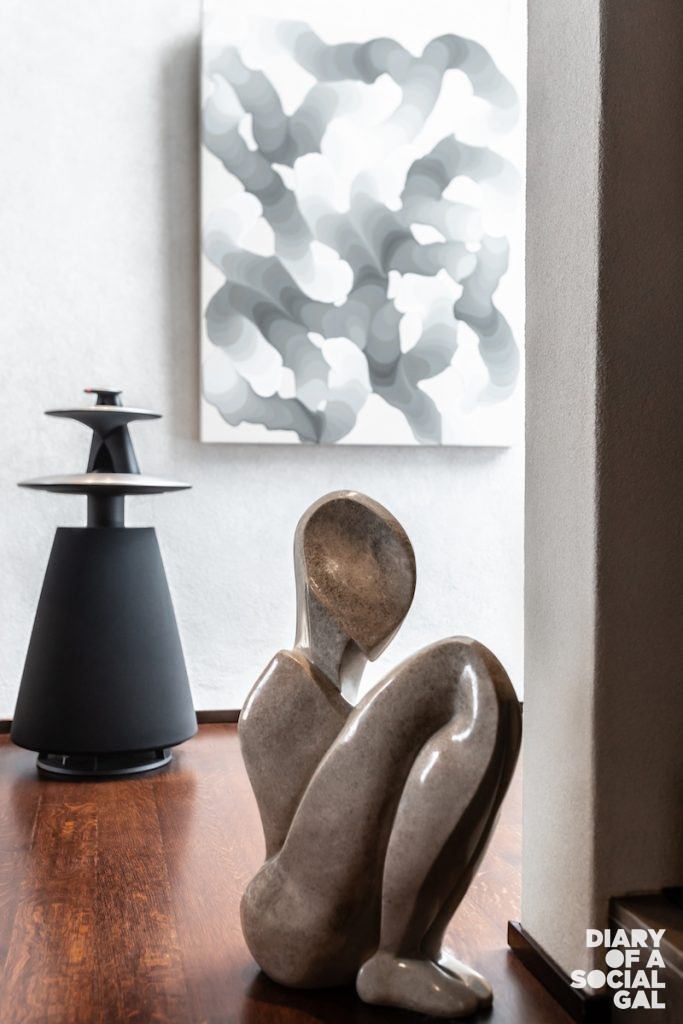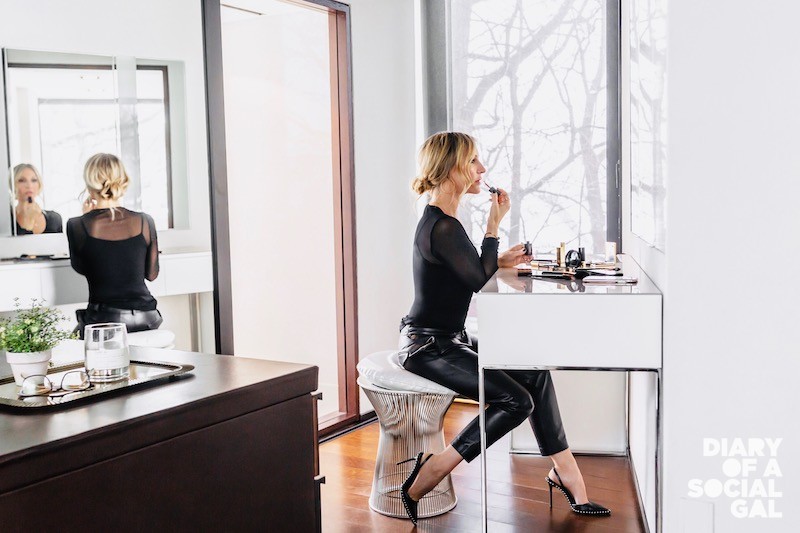 Photography and retouching KAROLINA JEZ.
Creative direction and styling STEEVE LAPIERRE (Ofélia).
Hair and makeup CHARLOTTE MARIE FLANNERY.
ALL clothing except pants (her own) OFÉLIA.
All jewellery ECKSAND.
Many thanks to ERICA BIANCHINI and EVA HARTLING.
Official beauty partner YSL BEAUTY.
For the BTS fun & fab, link here. For the video, here.
For web life, here.