The name of the beloved Social Gal in the stylish spotlight today is Anna Galchenyuk and our girl crush (mine anyway lo!) got underway in the planning phase for DIARY VOL. 6, the Technology Edition, when the two of us teamed up to coordinate a shoot for her brother, hockey phenom Alex Galchenyuk.
And, as I've found to be the truth in most instances: you really get to know someone's true character when you live with them, or work together, especially when the going gets tough!
And in this instance, the circumstances did get increasingly wonky due to many chefs in the kitchen (never a good idea) and communication breaking down by the millisecond.
But then, in the midst of the hurricane, Anna and I connected directly, and from that telling moment on, I continued to be impressed as the ultra capable manager troubleshooted, masterminded and did everything in her power – and her team's – to facilitate and ensure that the shoot would not only take place but go super-smoothly as well.
And did it ever, culminating in an amazing feature that did us all proud.
Ever since, the relationship has only grown stronger, both personally and professionally.
In fact, we had the chance to collaborate once again for the last edition, when we proudly featured Anna in a special DIARY VOL 7 anniversary spread wearing a capsule collection created in honour of it with Naomy Stern Couture: Social Gal Soirée.
The spread was intended to showcase the collection (yes) but also pay homage to several extraordinary women, like Anna, who embody the zeitgeist of the brand and inspire us all with their many accomplishments, drive, determination and humanity.
Which brings us to today's cool update: The ever-evolving and talented model/ influencer/ manager/ businesswoman and generous philanthropist (so love watching her journey!) even wore one of the Social Gal Soiree creations in a recent spread for a popular fashion magazine in her native Russia. And we're so honoured she did, doing us proud and continuing to strengthen the great bond and relationship: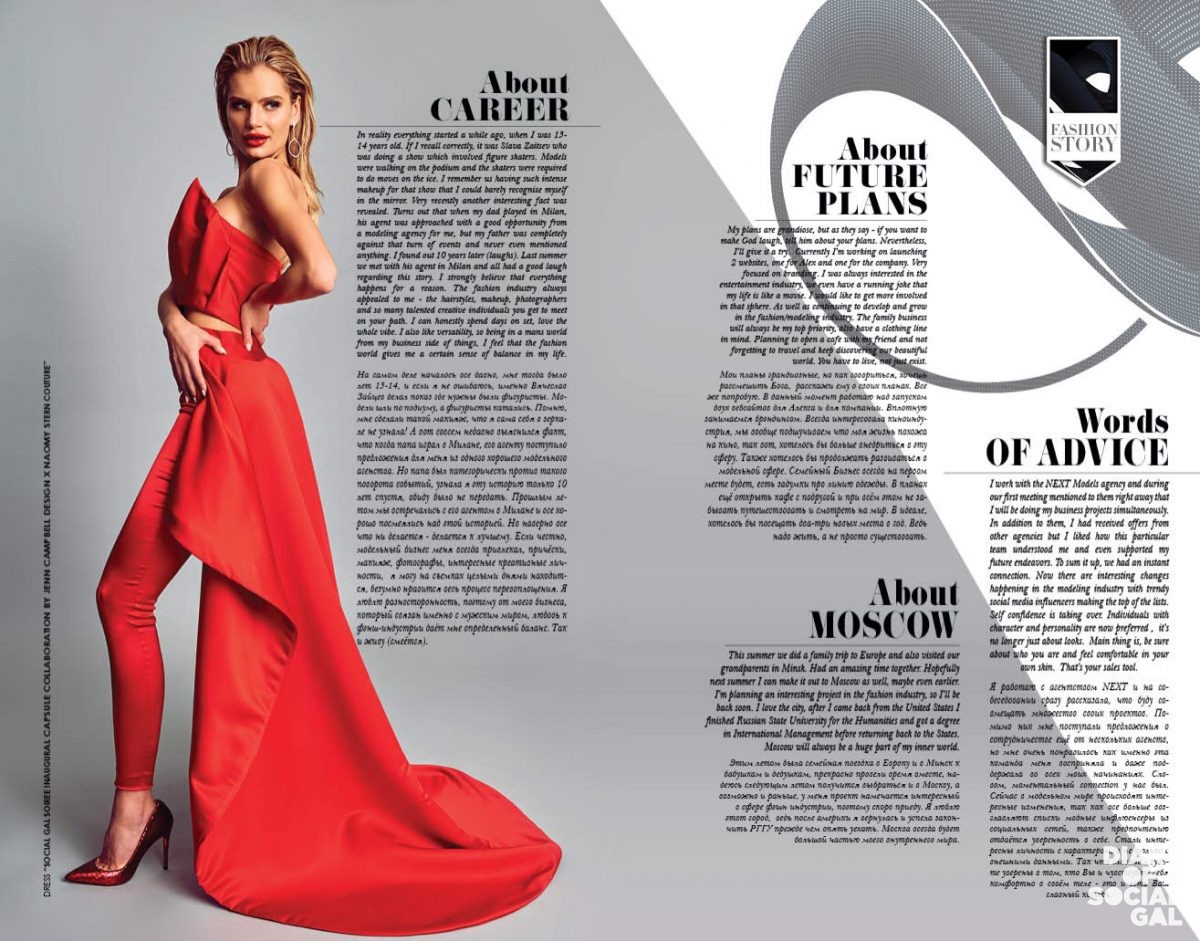 I love the Diary journey on many levels, but one of the most soul-enriching is the invaluable chance to meet and connect with amazing humans and rock fabulous things together. Amen to that.
Thanks for the gift of you Anna. The best is yet to come ..