WHILE RE-EMBRACING THE EVENTS AND PARTIES WE LOVED AND MISSED IS A DEFINITE TREAT AFTER ALL THE RESTRICTIONS — AS IS ENJOYING RESTAURANTS AND OTHER GREAT MONTREAL GATHERING SPOTS — HOME WILL ALWAYS BE OUR HAVEN, NO MATTER HOW SOCIAL WE GET. AND SO, THOUGH YOU'RE BUSY UPPING YOUR GAME ON THE PARTY-WEAR FRONT (WINK), WE'VE ALSO GOT THE GOODS FROM THE RESIDENT EXPERTS ON HOW TO MAKE YOUR HIVES EVEN MORE NURTURING — AND YES, STYLISH — ONCE THE LIGHTS GO DOWN ON THE PARTIES DE JOUR ..
SOFA ME HAPPY
As lockdown life descended, it's fair to say we took the art of sofa nesting and bingeing to a previously unimaginable level. It's also fair to say that we took on fresh appreciation for well- made comfortable and stylish sofas, a leaning (excuse the wordplay) that endures as we move forward. And thankfully, when it comes to discriminating seating options, the city offers a plethora of good choices, with many comfort masters to consult:
THE ITALIAN CONNECTION
First up, in random order, is Yves Gauthier, artistic director of Avant-Scène, one of the chicest furnishing destinations in the city, offering up the A-list in luxury Italian home styling. Asked about new trends in the sofa arena, he points to the return of the vintage 1970s, underscoring that in today's sofaverse, it's all about extreme comfort in playful cushiness. "Designs are taking rounder forms again," he notes, with famed brands like B&B Italia reissuing styles like Mario Bellini's beloved Le Bambole sofa, which still appears natural with no apparent load-bearing structure, and his revamped Camaleonda modules, defined by their capitonné style of seemingly "drowned" buttons and rounded backs and armrests.
Another major player in the super-high-end Italian furnishings field, Charles Virone, of beloved Charles Virone Concept, a design firm specializing in interiors and turnkey projects — and currently in the throes of opening new showrooms in Miami as well as on Laurier Avenue in Montreal — echoes the same sentiments, citing brands like Molteni and Flexform, which are also opting for all-out comfort without sacrificing flawless elegance. "To drop down into Flexform's uncompromisingly chic Campiello with a core insert cocooned in a generous layer of goose down is to experience the perfect cross-section of style and softness," he says.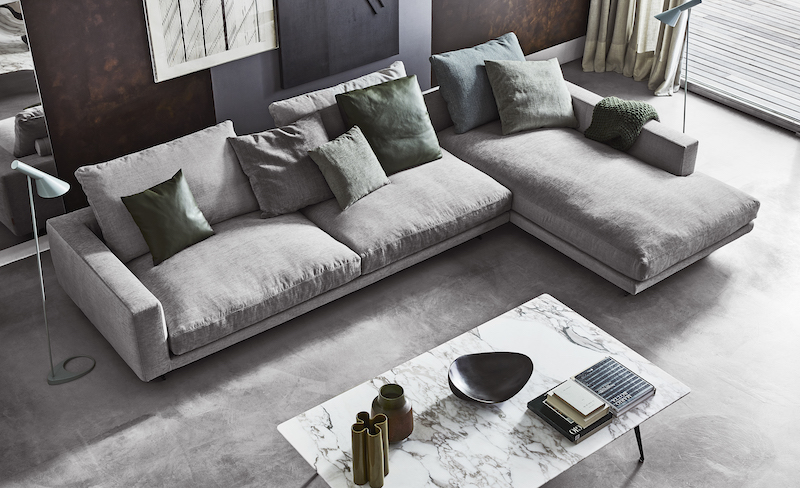 Finally, we would be slack in our sofa-style sleuthing if we failed to check in with the other go-to emporium on the luxury Italian front: Latitude Nord, where team leader/founder Sylvain Faucher also spoke of comfort as an imperative in good sofa seating, one many of his partners in luxury interiors are embracing. (For more on Faucher and LN, refer to this deeper dive as well.
ON THE HOMEFRONT
OK, so now that we've got the goods on sofa trends emanating from discriminating Italy, we turn our attention to some local producers in the sofa niche who are making their respective marks, starting with one of Diary's favourite and most enduring partners (with whom we even collaborated on a Social Gal Sofa for the last edition): Montauk Sofa, proudly made locally in St. Henri.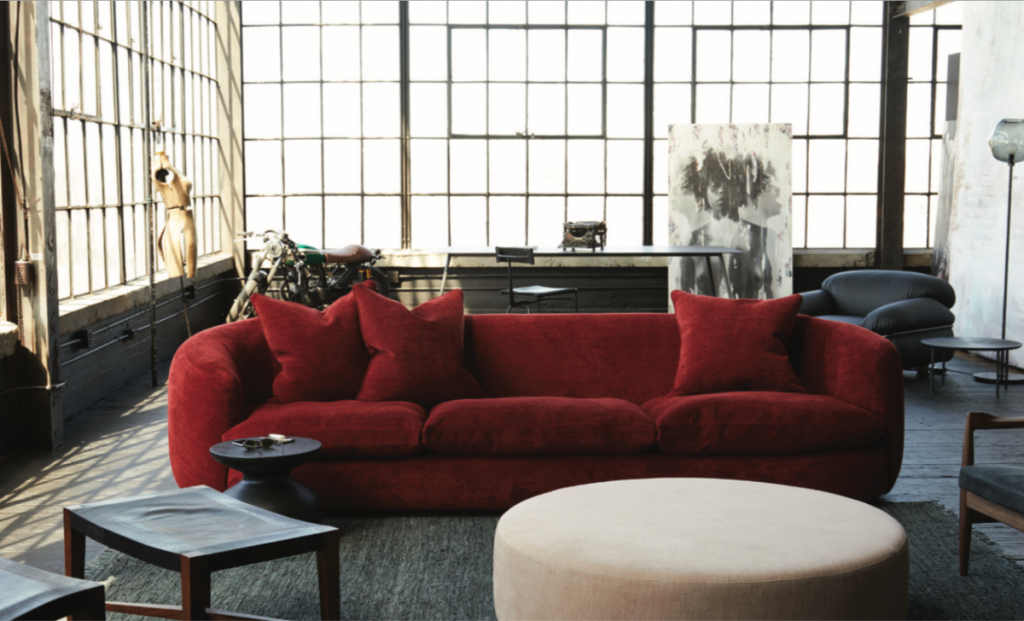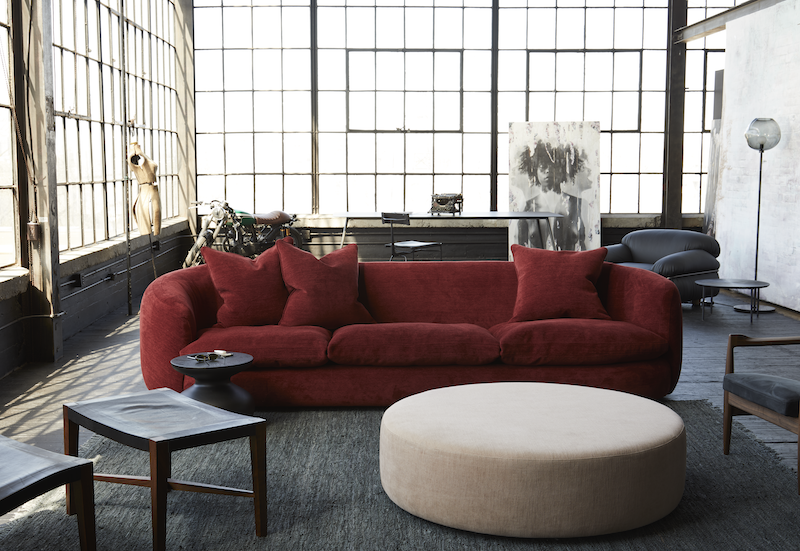 The brain-baby of visionary founder Tim Zyto, who has just launched an already design-award-laden flagship showroom on the Main (there are several worldwide in major city centres), Montauk always has the 411 on forward-thinking leisure when it comes to sofas, a spirit in keeping with the legacy of his dad, the owner of Biltmore Chesterfield, over 20 years later.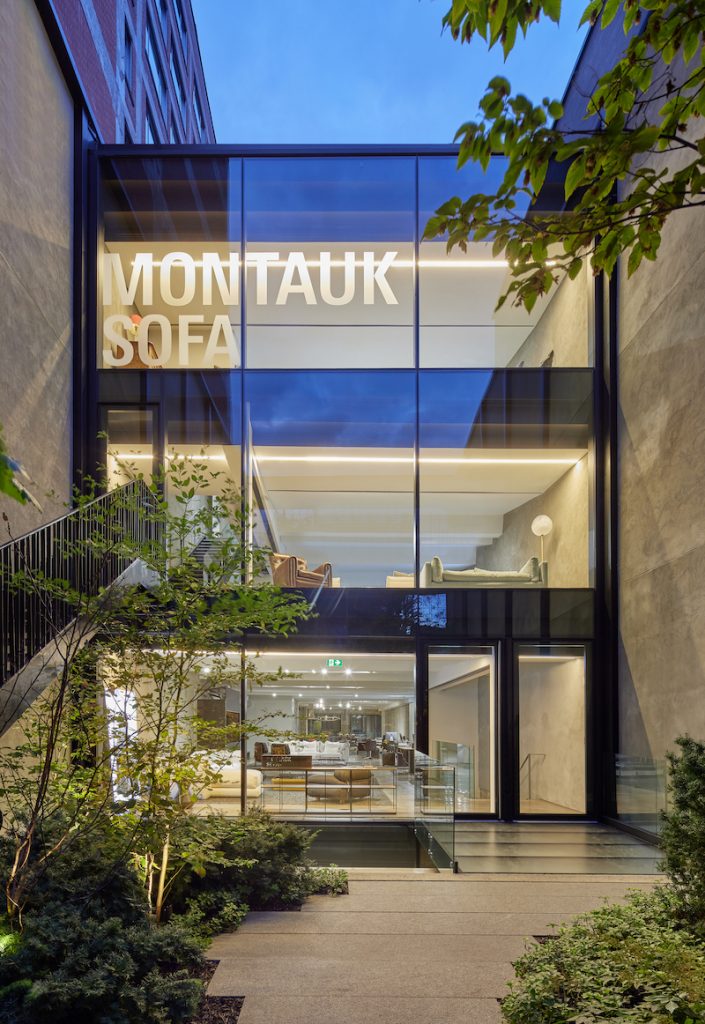 "It's all about comfort nowadays," Zyto confirms, speaking to what has been his lasting formula for success —thickly designed cushions and expansive proportions — since the launch in 1996 but which resonates even more today. "People live a lot more in their homes now and want to invest in comfort," he explains, with that signature sparkle in his eye. "Texture is also big," adds his long-time head designer/executive manager, Danny Chartier. "Everything is velvety or a soft bouclé, which I think is a direct response to us not being able to hug or touch as much over the past few years, so we need to feel cuddled at home. As for hues, grey is still popular, but in warmer tones. We're also seeing beige with gold or olive tones."
Another Montreal institution that must be on the design radar is Cameo Collection. Established in 1960, which alone imparts legendary status, the popular destination for meticulously upholstered furniture — their specialty — also proudly crafted on the home front, knows more than a thing or a million about customizing sophisticated sofas people love and can sink into after a long day's work or all-night party.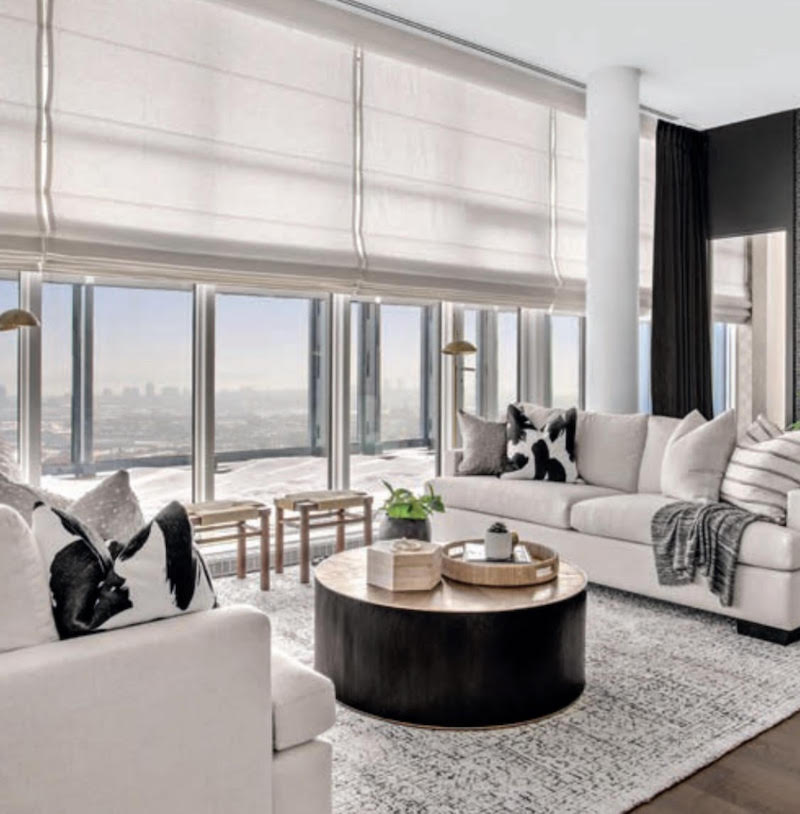 Also servicing customers from a stunning space on Saint-Laurent, their team of experts are a joy to collaborate with and offer an endlessly stirring selection of fabrics and design inspiration.
Re: current trends, savvy co-owner Natalie Madjarian also extols the virtue of soft curves that cozy us up after so much chaos. "It's not only an aesthetic that people love, but the sofa embrace we need in this moment," she says. Spot on, sister.
LIGHTING THE WAY
From stylish sofas to snuggle into we skip now to that all-important lighting that sets the mood and has magical powers in its own right to soothe and relax (which, incidentally, Cameo also connects closely to via its relationship with Juniper, a design and manufacturing studio originating in Brooklyn — founded by a Montrealer — that produces thoughtful, refined and meticulously crafted luxury lighting solutions and now has a brand-new state- of-the-art showroom in New York City).
As for more lighting solutions on the home front, who better to consult than the long-established pros at Union Lighting & Décor a tri-generational lighting mecca currently run by Bram Naimer and his dream team, including wife Joanna Naimer, who despite wearing many hats (well!) was kind enough to shed some indispensable light (hee) on the current trends so integral to setting the mood in our havens.
"When it comes to right-now trends," she explains, "sconces are hot, given the need that arose during lockdowns for more cleared surfaces. Art deco is having a moment too, reigniting an interest in the fluting of clear or milky glass." (Which makes sense, given how soothing those textures can be.)
Naimer also emphasizes the impact of people's concerns about sustainability, which have inspired many to opt for more ecologically sourced products, like Canadian-based Palecek's Greta cocoa bead pendants. "Animal-free imitations like faux shagreen, whose pebbled texture imitates shark or stingray skin, are also popular," she adds, explaining that "burnt, distressed and reclaimed wood are currently very in demand, too, as people look for that natural beauty." (Renowned interiors master Scott Yetman couldn't agree more, pointing to the popularity of artisanal furniture like that by designer/builder Simon Johns, who "crafts furniture in his barn, often integrating rocks from the river flowing past his Eastern Townships place.")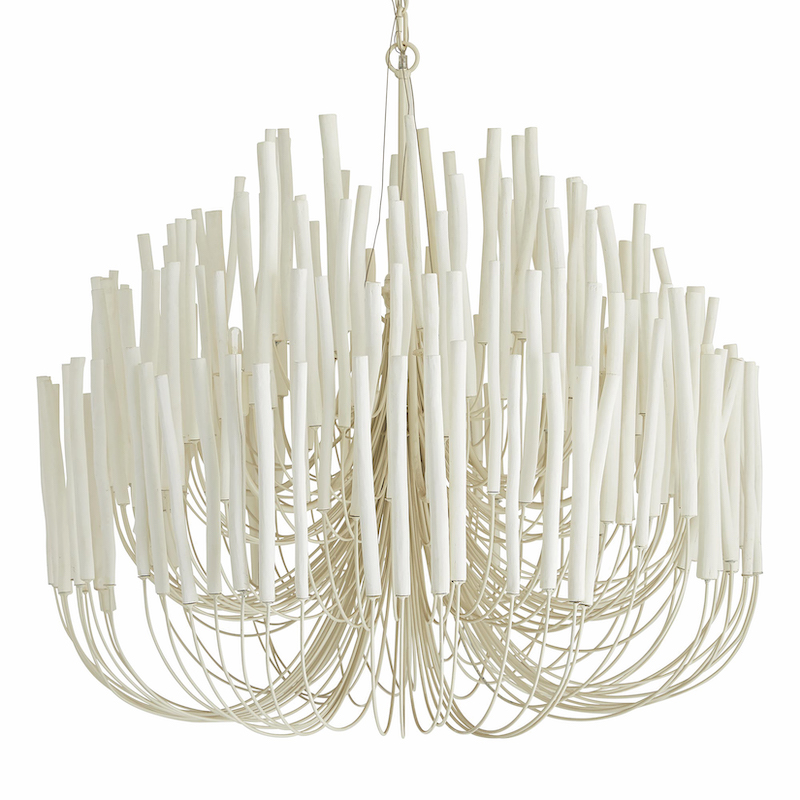 Speaking of beauty, there's much of it at the gorgeous, newly renovated Union showroom at the Union-owned Design Centre, which showcases not only the countless lighting options to perfection but myriad home furnishings and accents, including fresh additions like the exclusive-to-them-in-Quebec Made Goods (a stunning new nature-focused range featuring lighting, furniture and accessories), Arteriors (another innovative and nature-fo- cused lifestyle brand) as well as the completely addictive luxury fragrance range by Dr. Vranjes.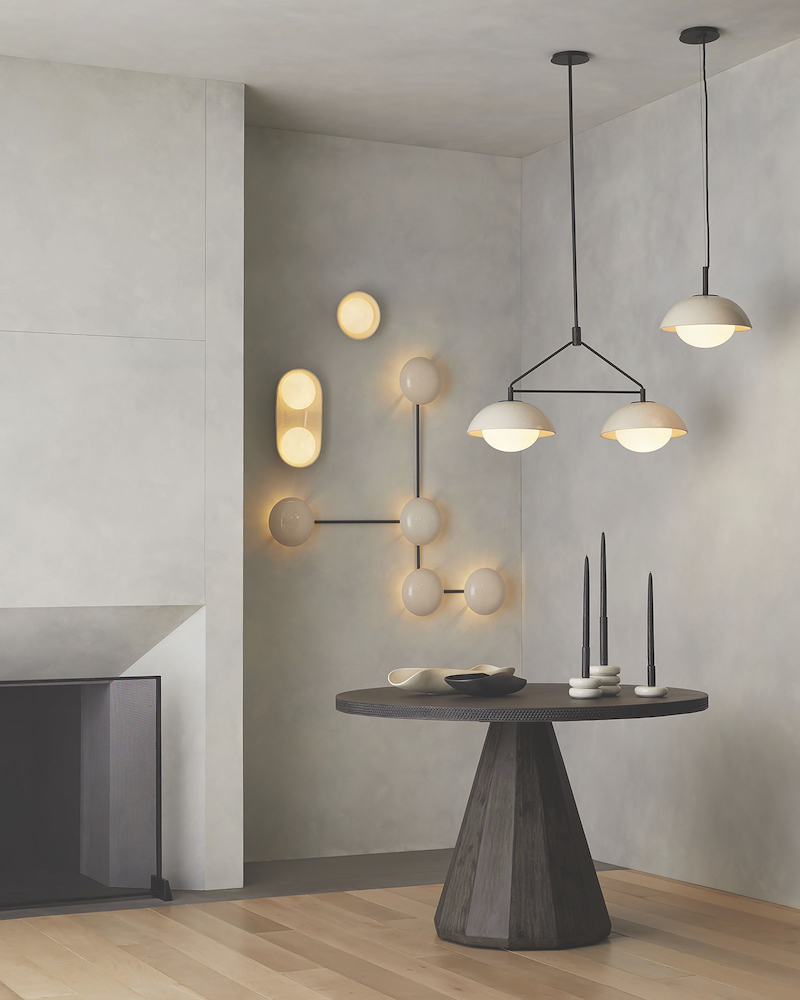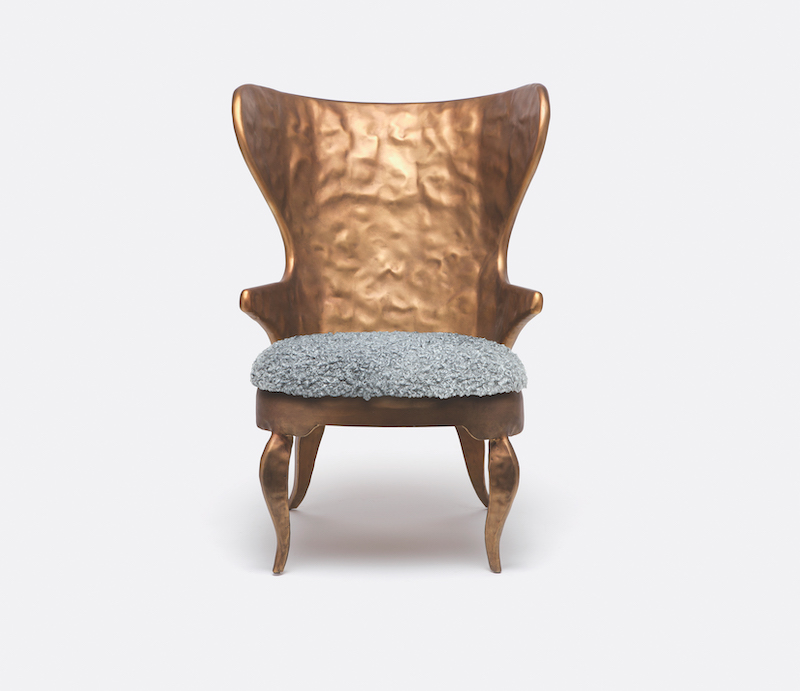 "The goal was to immerse visitors in all the potential their precious spaces can enjoy with the added benefit of a website featuring still more [80,000+] options."
Did we mention they're also planning an in-house kitchen serving delish light bites and bevs, too? Because they are … 😉
THE HUB OF THE HOME
Ahhh, kitchens. Thanks for the perfect segue to this next section, Union! While sofas got lots of attention during lockdown life, so did our kitchens, where visits to the fridge and cupboards often became too frequent, culminating in pandemic weight gain many are still trying to shed.
Still, kitchens have a way of being a hub and a respite from the crazy of the outside world. Designer Yetman highlights the extent to which so many fell madly, deeply for their renovated kitchens during lockdowns. So it's no surprise that the options on that front are plentiful too.
"What's really making impressions in this niche," says Virone, an exclusive distributor of Dada, a leader in the Italian furniture industry, "are glass cabinets so exquisite and majestically lit, they look more like decorative diamonds for kitchens than incredibly functional units."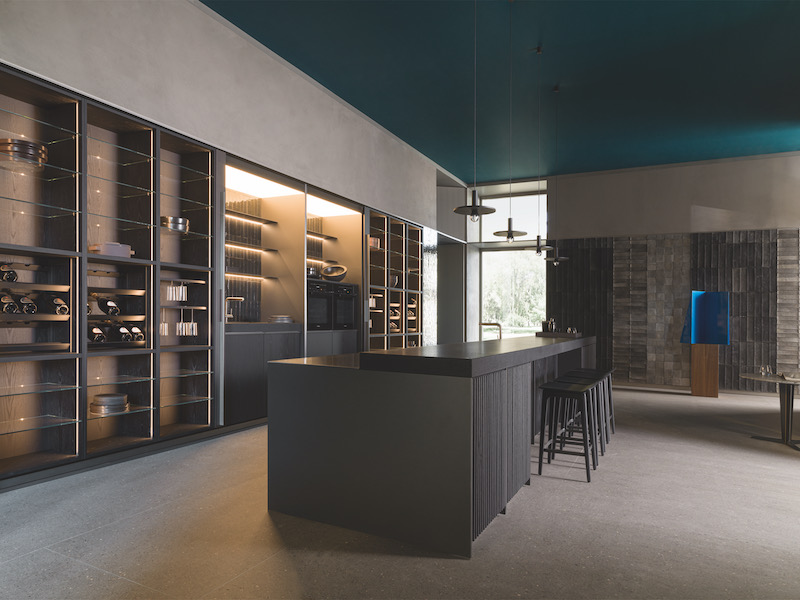 At Montauk, where Zyto and Chartier also offer clients an exclusive made-to-measure Italian line of kitchens by Valcucine, they speak to the recurring lure of the natural, "the organic feel of the wood, metal and glass elements of the sleek designs" that clients can't get enough of.
CERAMIC STYLE MATTERS
As for one of the major focuses in all fashionable kitchens — not to mention the bathroom and great room — sourcing the right porcelain, ceramic and marble for counter-tops, flooring and walls plays a major role too.
Just ask the dynamic duo, and young newly married owners of Arta, Andria Lucia and Andrew Pittana, who with over a decade of experience in the ceramic tile industry between them (not to mention an irrepressible passion for ceramics and design) recently pioneered their own way of taking this niche next level with a new-concept 3,000-square-foot showroom in the Union Design Centre. "In an increasingly hectic and complex world, our goal was to strip things down to basics and create a fun and easy environment for customers, designers and architects alike to bring design dreams to life, offering comprehensive choice for discriminating tastes and the kind of personalized service we enjoy," the power pair says. When asked about current trends, they speak animatedly about the "bold natural stones imported from Italy that make magnificent impressions just via their super-high shine, quality and enchanting designs.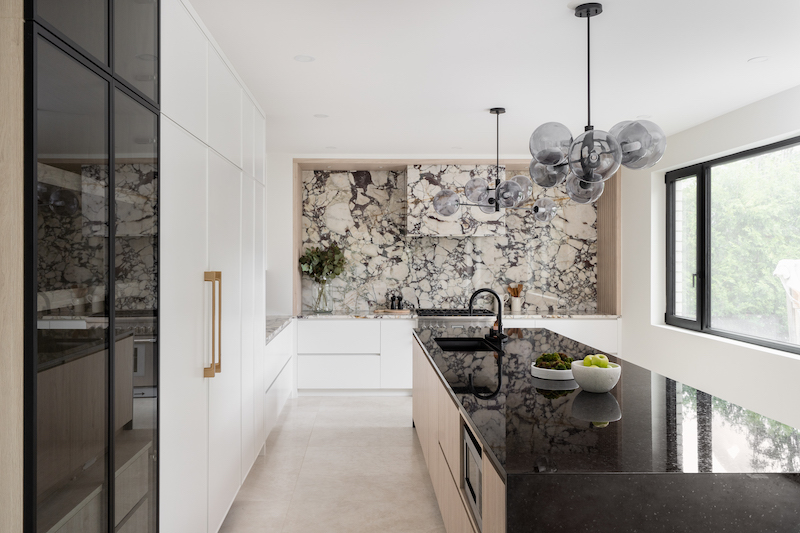 EXHALING AT THE HOME SPA
A buzzword we heard throughout the pandemic and one that is long overdue (because even pre-pandemic we were experiencing a loneliness epidemic and sizable increase in mental-health issues): self-care. (In fact, we have a dedicated spread in Diary Vol.10, and  on the site, addressing it specifically, which we sincerely hope will lend some insight and inspiration.) One specific form of self-care that deserves mention in this context is the ability to head off to yet another escape room in the home: the bathroom, where the therapeutic effects of water, in the form of an invigorating and soothing shower or soak in a welcoming tub amidst fave bubbles, scents and candles, cannot be underestimated: a premium form of aquatic self-scare. Throw in heated towels that wrap you in added comfort and cozy and, well, the bathroom could well have been your rejuvenation destination in peak lockdown. (Sorry, kitchens and sofas!)
And still, even as we ease back into lives more reminiscent of those we used to know, the demand for spa-like bathrooms at home continues to be huge as people embrace the nurturing benefits. Heck, no one feels that ongoing surge more than the leaders in luxury plumbing fixtures at Batimat, where since their establishment in 1977 by Robert Calabrese, they've emerged as a one-stop shop for the finest in the field, boasting over 250 brands and a team dedicated to creating enduring partnerships with clients, rooted in passion, service and professional conscience.
"We remain committed to partnering for the long-term and love to help clients integrate the best in luxury plumbing fixtures," says Karine Perreault, Batimat's showroom manager, "including many trending options for space-saving, customized vanities and showers, easy-to- clean glass options, and stunning design."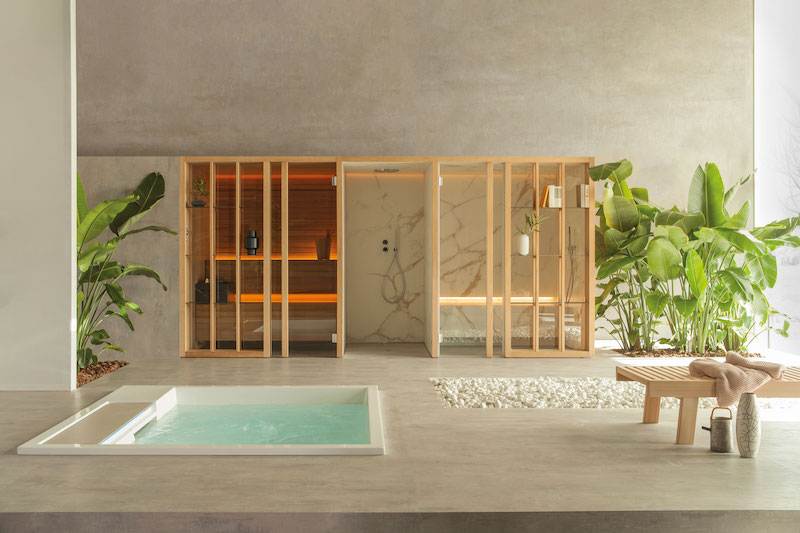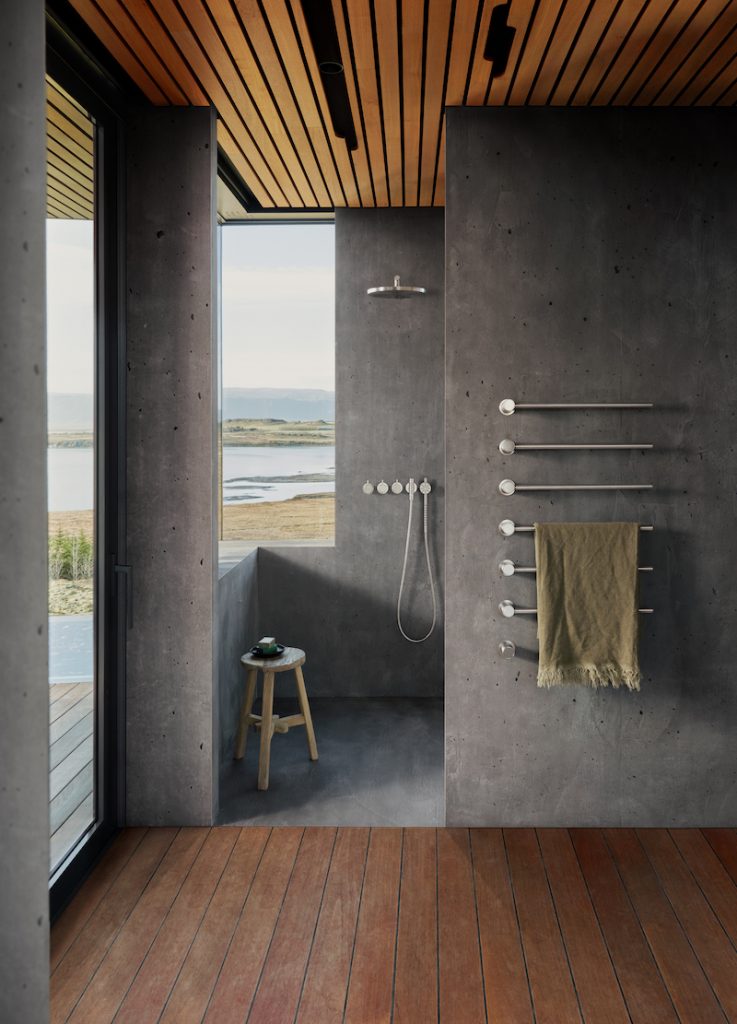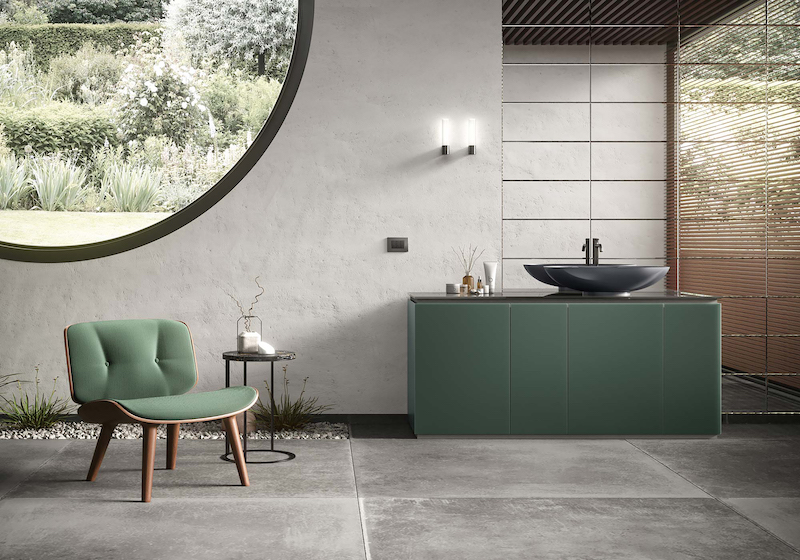 CALMER CARPETS
Whoever said that the serenity we seek in a home oasis stops at the spa … lied. It also extends to the carpets we choose. As noted by the red-carpet queen herself, Reesa Huberman (who comes by the title honestly as owner of The Red Carpet & Rug, one of the top spots in the country for luxury carpets): "In today's chaotic world, the last thing we want is our carpet screaming at us. When so many doors were shut during the pandemic, home became our cocoon — we want to step into what feels like a warm big hug." She suggests that our time spent at home made us realize that we love being there and don't necessarily want to go back to being overscheduled with outside activities. "People still want to be enveloped in their homes with fluid organic lines that offer a luxu- rious comfort with a warm calming effect," she says. "We're not talking '70s shag, but a beautiful silk low-profile cut-pile rug, or a flatweave integrated with a raised pattern or reminiscent of rippling water lines. It has to be inviting, grounding and peaceful," she says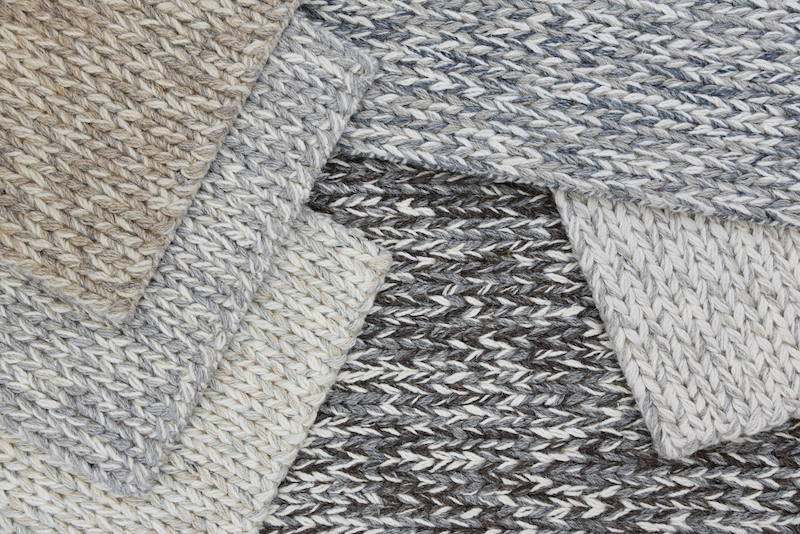 WINDOW/PILLOW DRESSINGS
Yet another amazing way to invigorate a space in our personal retreat: window and pillow dressings. "After years of keeping things simply functional with white sheers or shades, it's wonderful to add colour with a patterned flat panel or texture with, say, an emerald or golden velvet," says Jonathan Auger, owner of C&M Textiles. Reverse throw pillows are quick-change artists, with floral patterns on one side for spring/summer and a velvet or woolly backing flip come fall/winter. "That also does away with having to store any pillows," Auger notes with a smile. "We're also customizing a lot of beds these days so that we can add drawers for people with limited storage in condos, or turn headboards into feature walls," he says. Similarly, a lot of people are having their dining room chairs and sofas reupholstered. "It's either because the piece is a family heirloom or you just can't find that kind of craft or quality anymore," Auger explains. "Upholsterers have gone from almost being out of business to hardly being able to keep up with demand."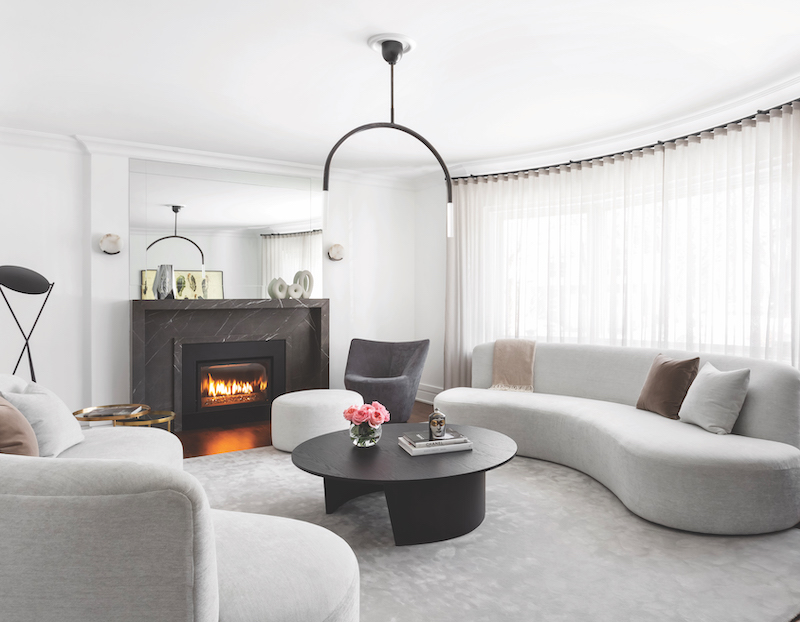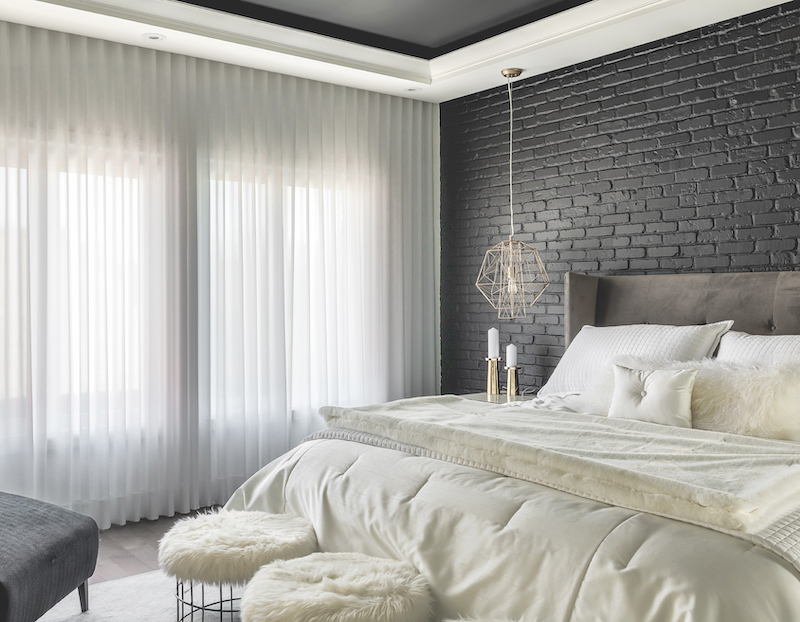 OUTDOOR WONDERS
Finally, a last space deserving of some love in this special feature are the outdoor arenas that really took on more meaning and focus in the last couple. According to Avant-Scène's Gauthier, it's important to consider how something will fare in our climate. "You might need protective covering for everything," he notes. "Or go with companies like Filip Van Damme, Kartell and Serralunga, who make beautiful pieces requiring less maintenance." In this same vein, Montauk has taken advantage of today's more natural performance fabrics with the introduction of their much-anticipated — and predictably stunning — outdoor line that renders any outdoor patio or poolside as cozy and beckoning as indoor Montauk spaces.
And then, of course, while touches like firepits or hot tubs are still enjoying magic mo- ments (more obvious ways to warm up outdoor living!), Union's Naimer says stand-alone or integrated patio heaters are selling like hotcakes. "The pandemic has caused us to do more of our entertaining outdoors, and these heaters are a great way to extend the out- door season," she says.
As for lighting in this instance, it's either increasingly organic in how it blends into an outdoor space or is showcased as a form of art, as dramatically or playfully displayed in many of the projects by designer Charles Virone.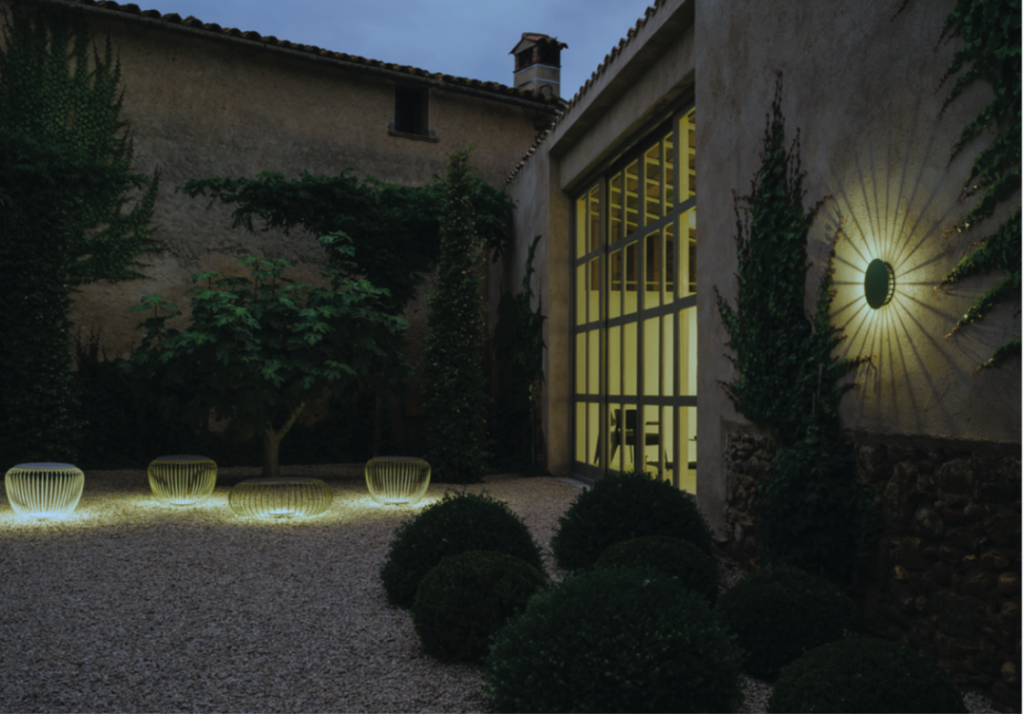 Yup, there's no place like home … especially when we up the "oasis" …
For more on good hiving from these go-to interiors aficionados, visit them live and/or digitally on their namesake platforms.