Christmas came early in 2015 for the aesthete community of Los Angeles. In late September, billionaire philanthropists, art collectors, and benefactors Eli and Edythe Broad inaugurated their namesake, free-admission contemporary art museum, giving the gift of art to the entire city.
The Broad (rhymes with "road"), L.A.'s answer to London's Tate Modern and New York's Museum of Modern Art (MoMa), opened to much fanfare and a lengthy waitlist, with tickets booked solid through mid-January. The museum finds itself in great company on Grand Avenue in Downtown L.A., the would-be epicenter of Tinseltown's recently revitalized arts and culture scene, neighbouring the iconic Walt Disney Concert Hall, and directly opposite the Museum of Contemporary Art.
Yet the Broad may well give them a run for their money in terms of architectural achievement, and is already being heralded as an L.A. landmark. Its matte, white-cast, boxy exterior serves as the perfect counterpoint to the shiny, undulating waves of visionary architect Frank Gehry's Disney Hall.
The building's design is the brainchild of New York architecture firm Diller Scofidio + Renfro, whose remarkable body of work includes the celebrated Manhattan High Line, the redesign of the Lincoln Center for the Performing Arts, and the expansions of Julliard, the School of American Ballet, and the MoMA.
The $140 million, 120,000-square-foot structure is a work of art in its own right: a sleek, three-story glass cube ensconced in a honeycomb-like exoskeleton made of fiberglass-reinforced concrete. Its design is based on an innovative concept pithily dubbed "the veil and the vault." The vault is the 21,000-square-foot climate-controlled storage facility that occupies prime real estate on the museum's second floor, home to over 2,000 works from the Broads' estimated $2 billion collection of post-war and contemporary art. The veil is its perforated lattice shell, whose asymmetrical "skirt" hikes up at either corner of the façade to allow visitors entry.
The Broad's inaugural exhibition – showcasing 250 works by over 60 artists – is a motley assemblage of blue chip masterpieces by the likes of Damien Hirst, Kara Walker, Keith Haring, Cindy Sherman, and Jean-Michel Basquiat, roughly arranged chronologically. Crowd favourites Andy Warhol, Roy Lichtenstein, and Jeff Koons are particularly well represented, with entire rooms devoted exclusively to their work.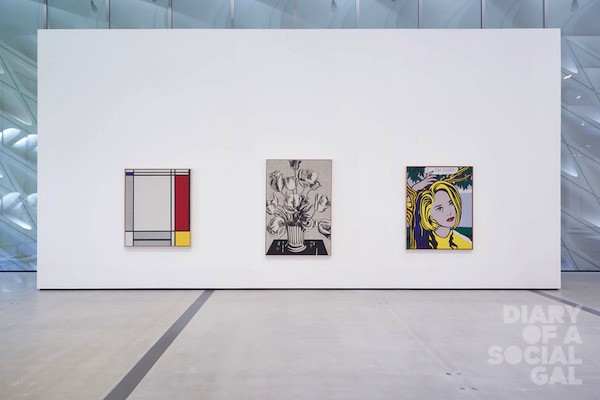 Once inside the dark gray, grotto-like entrance hall, visitors are immediately greeted by a towering, surrealistically twisted lamppost by Swiss-American artist Urs Fischer (think Lumiere from Beauty and the Beast meets Tim Burton's A Nightmare Before Christmas). It can't help but feel like an homage to fallen L.A. artist Chris Burden, whose installation "Urban Light" – a small-scale forest of 202 quaint streetlights – guards the entrance of the Los Angeles County Museum of Art a few miles west on Wilshire Boulevard.
The exhibit officially begins on the third floor, which can be reached by way of a cylindrical glass elevator resembling a human-sized pneumatic tube, or by stepping aboard a more conventional escalator that tunnels through the lobby's cavernous ceiling, fomenting unbridled anticipation on the 105-foot journey to its peak. Either way, you emerge in nearly an acre of sweeping, unobstructed curatorial space with nary a column or support beam in sight; the perfect tabula rasa on which to display selections from the Broads' vibrant and eclectic personal collection.
There is perhaps no piece in the entire display that embodies this aesthetic more than Koons's "Tulips," a 16-foot variegated sculpture of mirror-polished stainless steel, the whimsical amuse-bouche to his better-known metallic blue "Balloon Dog" a room away. Other third-level highlights include works by master scribbler Cy Twombly, Barbara Kruger's punchy renderings of social and political issues, and the Alice in Wonderland-like experience of standing beneath Robert Therrien's gargantuan "Under the Table."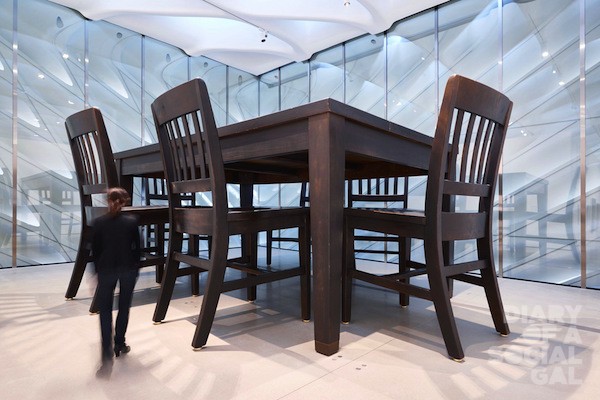 Whilst descending the winding staircase that leads to the ground floor gallery, a stray window offers the rare opportunity to peer into the museum's vault, where idle artworks hibernate until show time. This is a feature unique to the Broad, and gives visitors a small hint of what's to come at future exhibitions.
Downstairs, you'll wander into Japanese "suerflat" artist Takashi Murakami's psychedelic playground, punctuated by his cheerfully macabre 82-foot long mural, "In the Land of the Dead, Stepping on the Tail of a Rainbow," a piece so big it had to be panoramically stretched across two intersecting walls.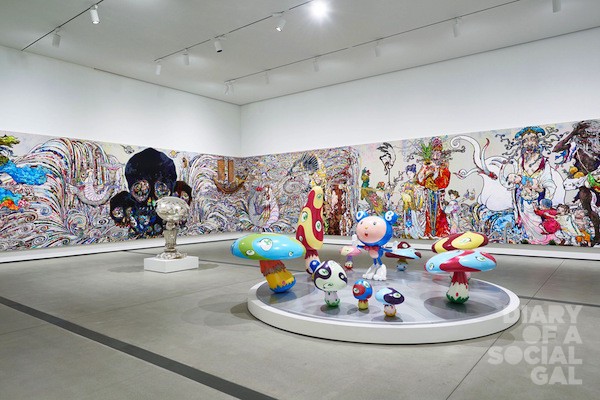 Apertures in the museum's veil automatically adjust to diffuse natural light inside the vast, sparsely occupied space. But the real form of illumination that occurs here takes place in a darkened room that houses the nine-channel video installation,"The Visitors," by Icelandic artist Ragnar Kjartansson. His piece is a captivating hour-long performance of nine musicians playing various instruments and chanting the same lyrics while isolated in different rooms of the elegant, albeit ramshackle Rokeby mansion in Upstate New York. Each performer, including the artist himself, who softly strums a guitar while soaking in a claw-foot tub, was recorded discretely in a single take, only emerging as an ensemble upon playback. The result is both beautiful and melancholy.
From start to finish, the Broad is something of an Instagrammer's Shangri-La, and there is arguably no bigger draw in this regard than Yayoi Kusama's "Infinity Mirrored Room," a small mirror-lined chamber with a dazzling, celestial LED light display. Viewers enter one at a time, and have been known to use the better part of their allotted 45 seconds to snap selfies rather than engage in any kind of meditation, as is the objective. It is without a doubt the museum's most hyped attraction, and requires a separate time-specific ticket due to its limited capacity.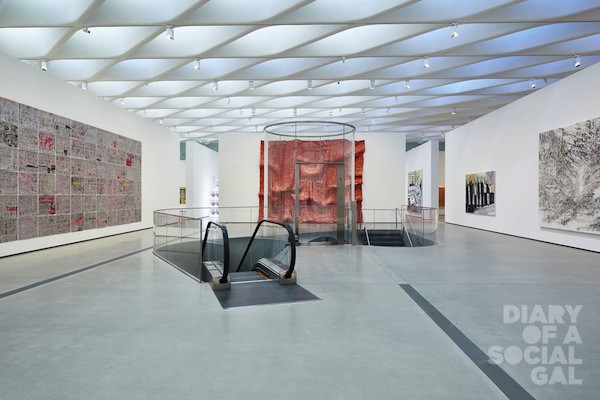 If all of that art contemplation works up an appetite, the Broad will soon boast a freestanding restaurant in its 24,000-square-foot, olive-tree-lined plaza, helmed by The French Laundry ex-pat Tim Hollingsworth, and L.A. restaurant royalty Bill Chait, of Bestia and Republique fame. The 200-seat indoor/outdoor eatery will be called Otium, which is Latin for leisure, and will feature eclectic, family-style dishes, a rooftop herb garden, and a large-scale mural by Damien Hirst.
 Photography COURTESY OF THE BROAD