IT'S NOT OFTEN YOU DRIVE OVER TO A SPECIALIZED MEDICAL IMAGING CLINIC (WITH SAME DAY DIAGNOSIS , I MIGHT ADD) AND THE OWNER/PHYSICIAN, WITH MORE THAN A LITTLE ON HIS ACTION-PACKED PLATE, WAITS TO GREET YOU WITH A BIG SMILE — AFTER CALLING TO ENSURE YOU HAVE PRECISE DIRECTIONS. BUT THAT'S THE KIND OF GOOD PEOPLE DR. KHASHAYAR RAFAT-ZAND (OR "DR. KHASHY," AS I'VE COME TO CALL HIM) IS. DESPITE HAVING TRAINED AT SOME OF THE BEST MEDICAL SCHOOLS IN THE WORLD, INCLUDING THE BIG H (YES, HARVARD), THERE'S NOTHING PRETENTIOUS ABOUT THE GUY. SO IT'S EVEN MORE SOUL-AFFIRMING TO DISCOVER THAT THIS REGULAR GUY YOU JUST WANT TO BREAK BREAD WITH IS CURRENTLY MOVING FORWARD WITH A TRULY INNO- VATIVE WAY OF TREATING PATIENTS — ESPECIALLY WOMEN — AT HIS NEW ISMI: INSTITUTE FOR SPECIALIZED MEDICINE AND INTERVENTION IN THE WEST ISLAND. TRUTH BE TOLD, AFTER ONE OF THE MOST INSPIRING TOURS I'VE HAD IN A WHILE, I WAS PRETTY KEEN TO BE THE ONE SHARING MORE ABOUT THE GROUNDBREAKING CARE IN THIS NEW HEALTH & WELLNESS SECTION UNTIL I REALIZED (EPIPHANY) THAT NO ONE WILL COMMUNICATE THE EXPERIENCE MORE ELOQUENTLY, PASSIONATELY OR ACCURATELY THAN DR. KHASHY HIMSELF. AND SO, I GIVE HIM THE FLOOR … GET READY TO BE ENLIGHTENED AND INSPIRED …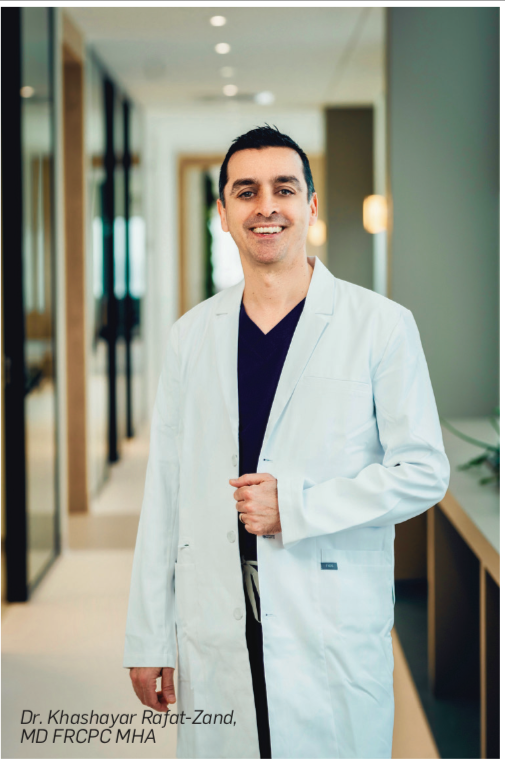 A DREAM TAKES SHAPE
October 2019: Lac Dupuis: Homegrown Henry Mintzberg, Canada's esteemed sage of health-care management, speaks to our class at McGill. He teaches us that the patient is "the single most unused person in healthcare."
March 2020: Pointe-Claire: My hospital (Lakeshore) is declared "red," a COVID destination. Amid the overwhelming death and despair, I realize that working night and day is not enough. I need to work differently.
May 2020: Via Zoom: Harvard Law's program on conflict teaches me that "the first principle of conflict management is to find our shared humanity."
June 2020: My home office: "I conclude I need to work differently, to engage patients and seek our shared humanity." The idea whose time has come is born. Founded on shared humanities of "Care, Dignity and Hope," ISMI — the Institute for Specialized Medicine and Intervention — opens its doors 20 months later.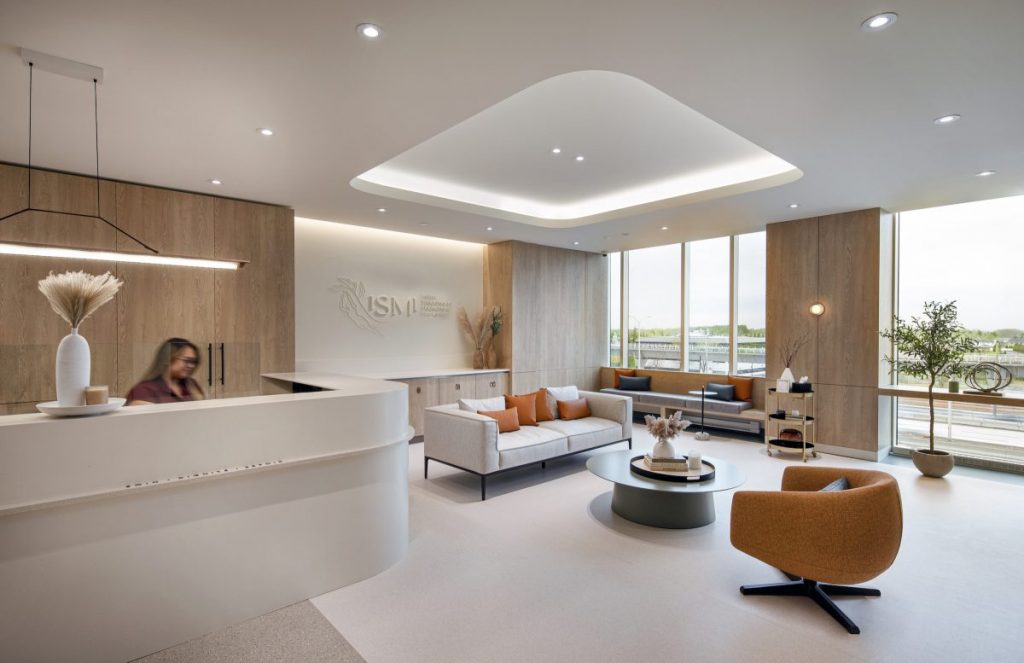 A FRESH PHILOSOPHY IN HEALTHCARE
To be blunt, I see sickness as a conflict. Once illness enters the picture, the body we work so hard to nurture and protect on the daily suddenly turns against us. We become confused as part or parts of us harm the rest of us. Consequently, we begin to feel incompatible with ourselves, filled with doubt. And in this compromised and imbalanced state, we inevitably forget to love ourselves.
It is my heartfelt belief — rooted in years of experience with patients and hands-on healthcare corroborated by copious research — that the journey of healing only truly begins once we regain and reembrace this self-love and compassion, a vital component of the healing journey.
The technical advances of modern medicine do not rekindle this flame. Conversely, they often confuse. The jargon so foreign to us, scary and alienating; the stark white rooms; cold blue gowns; intimidating machinery; tight spaces; glaring fluorescent lights, artificial plants; overpowering wafts of alcohol; and tasteless, bland food make the comforts of home seem like distant dreams, dashing hopes and draining dignity.
MEDICINE DONE DIFFERENTLY
At ISMI, it is the team's mission — and passion — to do medicine differently. Of course, the science is state-of-the-art and professionals are scrupulously selected for their experience, expertise and compassion.
That said, what differentiates us here at team ISMI is that the space is an essential part of the cure and its foundation: the soothing and replenishing smell of "blue wood"; living walls outputting pure oxygen; lavender-scented robes reminiscent of a day at the spa; inviting chaises longues; lemon-tinged water; flood of natural light; spacious and welcoming rooms; absorbing art; and other small but mighty human touches, including a playroom for children and a fun Star Trek–worthy coffee and drink machine.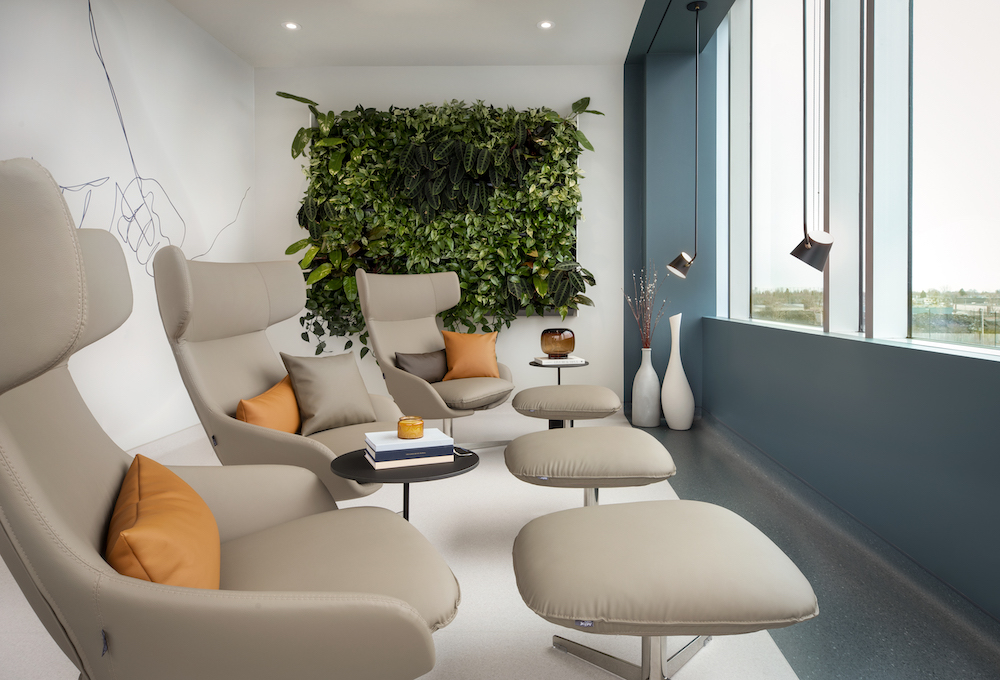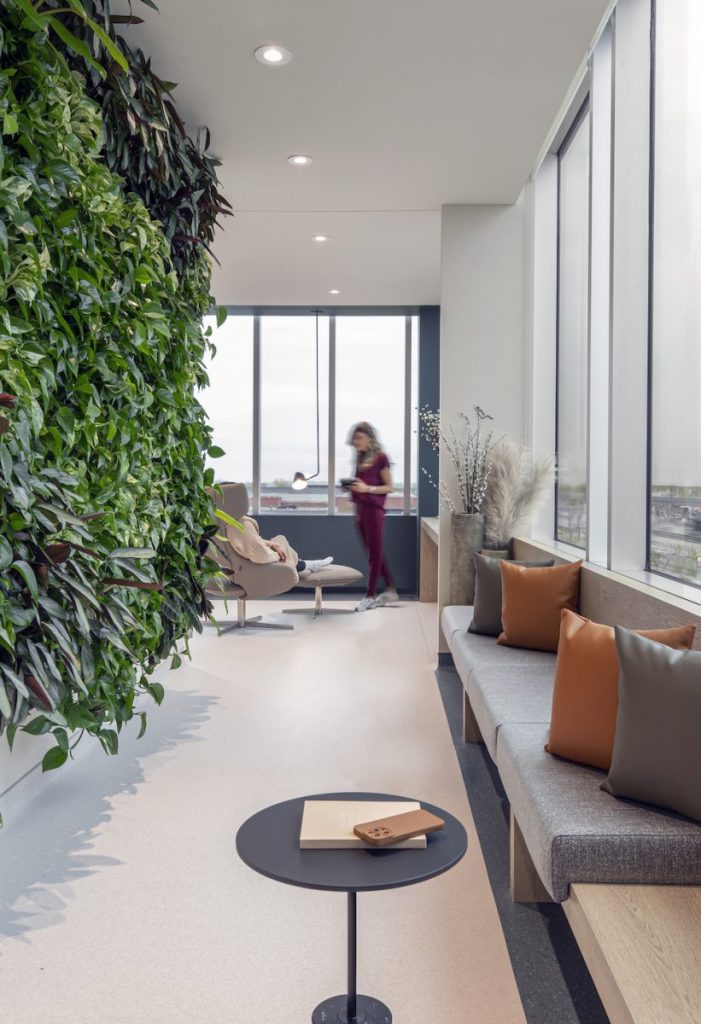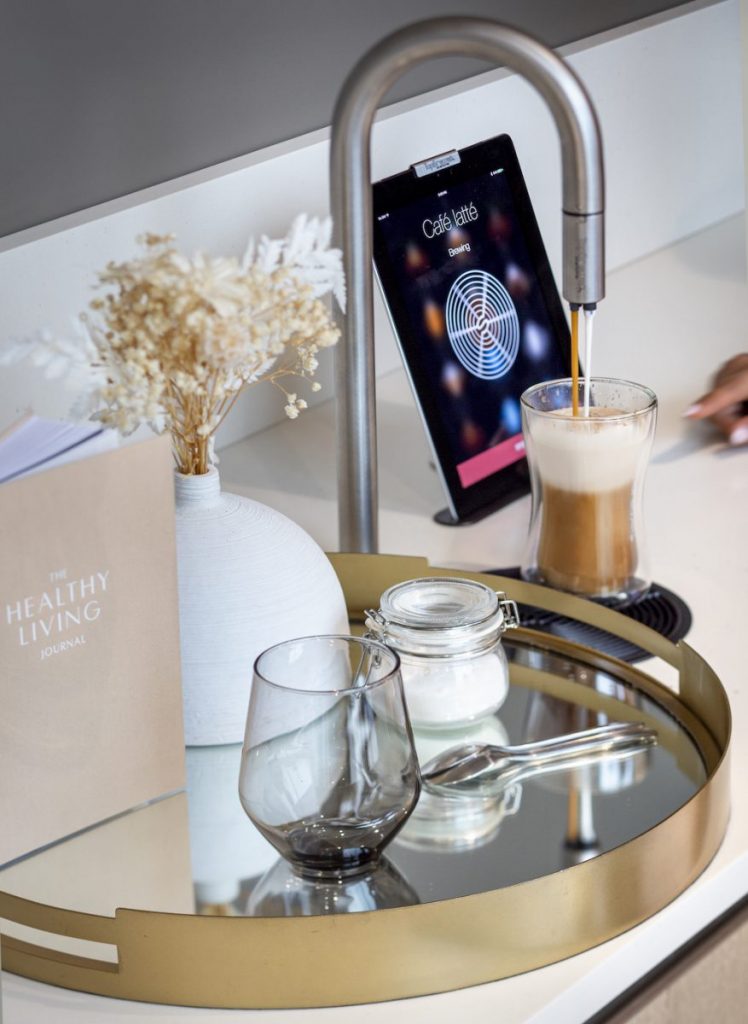 But do not be mistaken. This is not wasteful luxury. A mind troubled by illness will never be distracted by senseless vanity. Behind every apparent extravagance and comfort, there is mindful purpose and thought. In fact, at ISMI we have gathered together dozens of renowned experts in the fields of arts, design, hospitality and botany with a view to both consulting and working in unison to create what is perhaps best described as an oasis of "Care, Dignity and Hope."
Ultimately, it is our goal to help your mind escape its conflict and concern. With our efforts and proven strategies, we seek to overwhelm your senses so you can feel, as long as you're with us at ISMI, to be the most important person in your world. As your senses set your mind free, you become ready to love and heal again.
A FOCUS ON BREAST CARE
Nowhere is the conflict that inspired the creation of the clinic as apparent to me as in the treatment of breast cancer.
Our mothers' breasts feed us. Our friends' bosoms shelter us. Our lovers' breasts exhilarate us. But left uncared for, unwatched, untreated and compromised, breast cancer wreaks havoc on the body, diminishing and devastating the lives of our precious mothers, sisters, lovers and spouses. Indeed, no organ nourishes life so kindly but perishes it so cruelly when out of balance.
Which is why at ISMI we have made breast care a pillar of our practice, doing everything in our power to offer the most sophisticated, immediate and holistic breast-cancer care that addresses patients' needs — from screening, to diagnosis, through treatment, through aftercare, with attentive and cutting-edge assistance along the way.
Biopsy results are immediate, assignment of top specialists a given, and all additional support throughout the journey a passion and mission.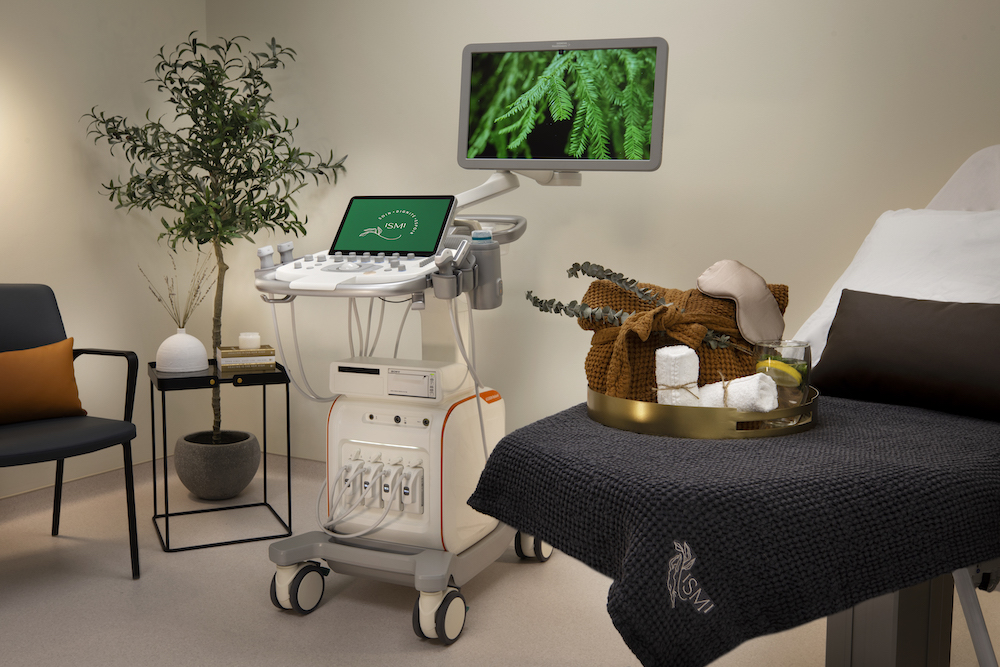 ADDITIONAL NICHES
Other areas of niche expertise that we take pride in at ISMI are pediatric and neonatal imaging (because children are our future), pain management (because in pain, we lose our dignity), prostate care (because men matter as much) and health risk assessment and prevention (because sadly, there is such a thing as too late).
Many of these services are available on an urgent basis, when appropriate, with a view to keeping patients away from strained emergency rooms.
BRINGING IT ALL TOGETHER
I have worked at Lakeshore General Hospital for 11 years, where I have been chief radiolo- gist since 2019. Two months ago, a $1-million donated CT scanner detected a four-centimetre tumour in a middle-aged man's kidney. Shortly after, he walked into our interventional suite, where we immediately initiated treatment with him lying on another $1-million donated C-arm table. Using up-to-the-minute cryoablation probes — with local anesthesia only — two radiologists, with combined training from McGill, Université de Montréal, Cleveland Clinic and state-of-the-art Boston Scientific technology, successfully flanked the deadly mass.
Less than two hours after this painless procedure, the patient left the hospital, walking hand in hand with his spouse, tumour-free, cured.
If this story inspires you, come and see what we can do together at the Institute for Specialized Medicine and Intervention.
Note to reader: If you're a person struggling with a health concern and seeking immediate support, an accomplished medical practitioner for whom this philosophy and approach resonates, or merely an interested party seeking more background on the infinite potential of modern multidisciplinary radiology, please call me at 514-418-3840 or visit ismimontreal.ca