Last week we (I) took on the importance of energy; or more specifically, how this wild world we're navigating has underscored just how essential it is to guard that stash like it's gold, because well, it is, but better. This week, we take on yet another substance enormously present and pervasive in our lives, water, though, in this context, we shine the spotlight more obviously on those small yet endlessly replenishing "pools" of H20 that almost all of us have in our abodes, humble or otherwise … baths, or as I call them, the pandemic stress antidote!
You see, the thing about a bath, is it's not just a tub filled with water. In actuality – far deeper than the eye can see – it's an ingenious little chameleon with the wondrous ability to morph into a plethora of purpose-fillers, a multitasker like no other! Ready for the demystification? Good! Here we go. Ready, set, strip!!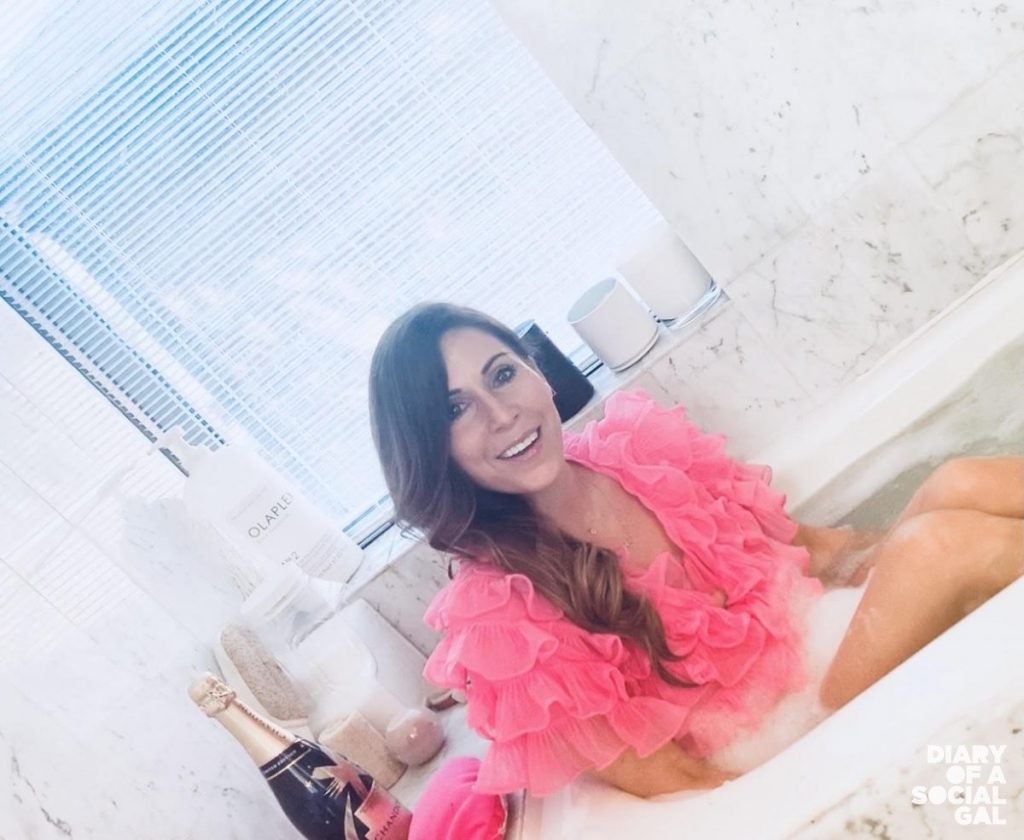 First off, meet bath as glorious spiritual centre of your life. For years, like thousands, the greatest spiritual minds have spoken clearly and powerfully of the purification power of water, washing away not just the day's grime, but its many stresses, releasing your mind from the shackles of thought overload as you descend into the welcoming watery embrace, incapable of uttering more than a long and immensely pleasurable ahhhhh … !! Throw in some flickering and delightfully scented candles (hello fire of fire!) and it's a dip into a sensory overload the majority of mere mortals can't help but surrender to.  PS: if you haven't yet had the pleasure, treat yo'selves to the candle lit magic of Jonathan Adler.
Next up, say hello to bath as beauty emporium, your very own personal spa, where the potential for beautification is boundless! What I like to do (and again what's spectacular here is the rituals are yours to explore and change up at whim!) is start with some added perks involving no effort or exertion whatsoever (gotta love that) including two heaping cups of Epsom salts (how they replenish let me count the ways) along with generous dashes of coconut oil (Mother Nature's gift that keeps on giving) and yes, a cup of bubbles intended to embrace the so apropos in this instance "more is better" philosophy. (On that front, l worship at the altars of several ranges, from  Kiehls's Lavender Foaming Relaxing Bath to Heavenly Coconut Crème Bubble Bath.)
Before immersing, it's all about combining some good ol baking soda with my preferred scrub de moment (trending there now: Beneath Your Mask's Polishing Detoxifying Body Scrub) and enjoy an overall skin slough with a body brush, the most excellent way to exfoliate and up the circulation in one fell swoop, ahem brush. Once submerged, facetime becomes the focus (real facetime lol) as do follicles, presenting glorious opportunities to first exfoliate the face with a solid prod like Kate Somerville's ExfoliKate Intensive Pore exfoliating Treatment (the aforementioned baking soda works well too) prior to applying a go-to miracle mask a la Sisley Paris's Black Rose Cream Mask or SK-II's legendary Pitera Facial Treatment Mask. For hair strands, Olaplex's  hair Perfector #3 does the trick, giving your mane science approved main attention. Lastly, for the determined beauty devotees among us who like to take it to the max, adding in a Starskin Hollywood Hand Model Nourishing Double Layer Hand Mask Glove ensures that every last magnificent skinch of you is spoken for and well pampered.
Whew, if that wasn't so fabulous, tempered by so much relaxing, I'd be tired lol. Onwards and upwards! Now, my friends, meet bath as favorite nook in the library where you can literally escape for hours with a beloved book or magazine, or both, losing yourself as I do (closet loner/hedonist) in the brilliance of the characters and/or stunning editorials and thought-provoking articles, while waves of warmth and heavenly bubbles wash over  ….
To read in in the bath is truly an underrated, easily accessed luxury. So is the following tub incarnation: Bath as think tank! Yes, you read that right! I do some of the best brainstorming in the bath, a sacred space away from all the usual disturbances of our hectic realities, where, completely calm, enveloped by a panoply of presents for the senses, brain-babies just flow (excuse pun), presenting myriad solutions to numerous personal and professional issues and challenges that are so frustratingly elusive during the fast and furious of the everyday jungle we call life … At times, and this is slightly if not highly embarrassing and telling, I've even pushed the limits here and taken some meeting from the bath perch, which, not surprisingly, have culminated in fruitful and productive exchanges and projects. Just ask friends and colleagues like Jen R. Lissy C. and Helen C.  Of course, we rolled old school and opted out of the FaceTime and Zoomy options, which would have been, at the least, unprofessional, particularly in mixed company. Right Andrew L.?!
Finally, we end this tour de bath wonders with a predictable one: bath as party central!  Oh c'mon, you saw this coming. How could your soak not party up with all those sparkly bubbles all round inspiring spirited pours of other bubbles including my fave, Moët & Chandon?! Toss in a few of Two Sisters' fizz bringing bath bombs along with some drizzles of Nannette De Gaspe's much talked about purple people pleaser Bain Noir Cannabis Sativa Bath Soak Treatment (if this prod doesn't send your mood to exquisite heights while inducing the sleep of your life, I don't know what will) and I'd say, the bath party is complete … unless of course, you'd like to invite a select other into the nirvana spot with you. Your choice, probably a good one …!!
Tune in next week when we explore the absolute power of showers … PSYCHE!!  There's no contest here. Showers are fun, replenishing, rain showers holding a distinct advantage in that realm, but at the end of the day, baths take you beyond, for all the reasons elaborated upon above, and so many more …  
As always, I welcome your shares, here ([email protected]) and on our other platforms. For more lessons, scroll round the site and play in social media, especially Insta.