THE REVVING OF ENGINES HAS NEVER SOUNDED SO SWEET: AFTER TWO INTERMINABLE PANDEMIC YEARS OFF THE DOCKET, THE FORMULA 1 CANADIAN GRAND PRIX IS FINALLY BACK TO BURN RUBBER AND POP CHAMPAGNE IN MONTREAL ..
Racing fans, revellers, hoteliers and local businesses alike can't wait for the most glamorous tour in sports to touch down in its rightful home on Circuit Gilles-Villeneuve June 17 to 19.
As excited as Montrealers are for the race's return, there's perhaps no one in the city happier — or more relieved — than race president and CEO François Dumontier. Not that he's able to sit back and enjoy it, though.
"Right now, I'd say we're working seven days a week to get everything ready," Dumontier says. "We're not feeling rusty at all after two years. We're very happy with the response. We think it's going to be a great event and a great thing for the Montreal economy."
Both canned races were originally supposed to happen, but, of course, the pandemic had other ideas. Formula 1 jetted off elsewhere in 2020 after hoping to postpone the race until the fall, and they tried it again in 2021 to no avail. All the while, Dumontier had to be ready just in case he got the green light. This time around, the race is happening, come hell or high water.
On the plus side, by losing two races, the current deal to hold the Canadian Grand Prix annually has been extended to 2031.
One thing that was never in doubt for Dumontier and his team during the two quiet years: the passion Montrealers have for Formula 1.
"We had so many fans who held on to their 2020 ticket, hoping to use it in 2021," he explains. "For them to do that, it tells me what kind of fans we have here: true fans. They're happy, and we've sold the remaining tickets as well."
You never know what can happen, but the race is officially considered sold out.
"We even increased capacity," Dumontier adds. "Before the first race of the season in March, we added two new grandstands, and those tickets were sold in half an hour."
There have been some significant upgrades to the track over the last few years, including a major reconstruction of the paddock area. This year, they're repaving the pit lane. Another huge change behind the scenes was Dumontier's Octane Racing Group getting purchased by Bell in 2021, but Dumontier and his small team remain in charge of the day-to-day. Dumontier appreciates the media and marketing might behind the race's new owner.
Fans can also be assured that the Canadian Grand Prix will run without restrictions or half- measures this year, so expect the usual crowds and, of course, the parties.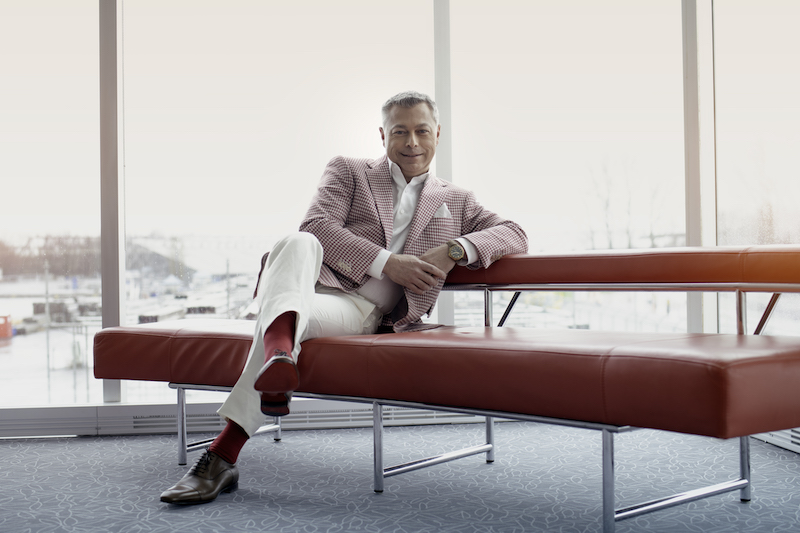 When Dumontier originally took over the race, a key component in his modernization of race weekend into the biggest party the city had ever seen involved the creation of Le Grand Soir, a glitzy ball bringing together Formula 1 stars, celebrities and business leaders for a night of glamour and fundraising — an official opening night to kick off a thrilling weekend.
"It's coming back, June 16 at Windsor Station," Dumontier says. Proceeds will go to the Montreal Children's Hospital Foundationnd the CHU Sainte-Justine Foundation. The weekend is not just an opportunity to raise money for worthy causes. The Grand Prix has long been considered an economic boon for the city, with hotels booked solid, streets buzzing with tourists and restaurant terrasses teeming with life and cocktails.
When the deal was struck with the provincial and federal governments to keep the races here until 2031, Quebec Minister of Economy and Innovation Pierre Fitzgibbon said, "The Grand Prix du Canada generates significant economic spinoffs."
As much as Dumontier looks forward to seeing familiar faces again, he says there's an entirely new generation of F1 fans that grew to love the sport by watching the hit docuseries Formula 1: Drive to Survive on Netflix. Fans of the show have begun appearing at other races, and Dumon- tier expects a few first-timers in Montreal, too.
Asked what he missed most the last two years, Dumontier says he couldn't choose just one thing. The speed, the people, the fashion, the celebrities, the parties, the mystique — it's all part of what makes the Canadian Grand Prix a weekend to remember every year in Montreal.
"We missed every aspect of the Grand Prix," he says. "Our race is well known for the action on the track, but there's also a lot of action in Montreal throughout the week. Montreal truly em- braces this race, and the city comes alive when it's in town.
CREDITS
Formula 1 Canadian Grand Prix topman François Dumontier in his office.
Photography ALEJANDRO ESCAMILLA Styling MAUD MARQUIS-BRETON
Hair and makeup ANNALISA PEARL BURMAN
Bespoke linen shirt with matching pocket square and bespoke jersey wool blazer paired with silk and cotton trousers, all SARTORIALTO.
Shoes CHRISTIAN LOUBOUTIN.
Timepiece BAUME ET MERCIER CLIFTON CLUB (Bijouterie Italienne).