We turn now to a home-grown duo of influencers who paint a perfect picture of how technology permeates our daily lives. Diarysta MARTINE ST-VICTOR makes the connexion for Diary Vol. 6: 
Montrealers Marcus Troy and Naskademini are the perfect ambassadors of our borderless new world. If you see the twins, chances are it will be at Montréal-Trudeau International airport, on their way out.
These frequent flyers are media Renaissance men, working with some of the world's most recognizable brands such as Cadillac and Veuve Clicquot. Marcus is at the helm of marcustroy.com: a lifestyle platform that merges brand experience with luxury and taste and also works with the likes of Golden State Warrior Andre Iguodala. Naskademini is the platform's sphinx eye, its photographer, the capturer of perfect moments.
With their respective and combined impressive number of real and attentive online followers, technology is the springboard between their experiences and those who live vicariously through them.
When I caught up with the power pair to talk tech for this special tech-themed edition of Diary, they were in Japan – which they visit every year – and had much to say on the topic.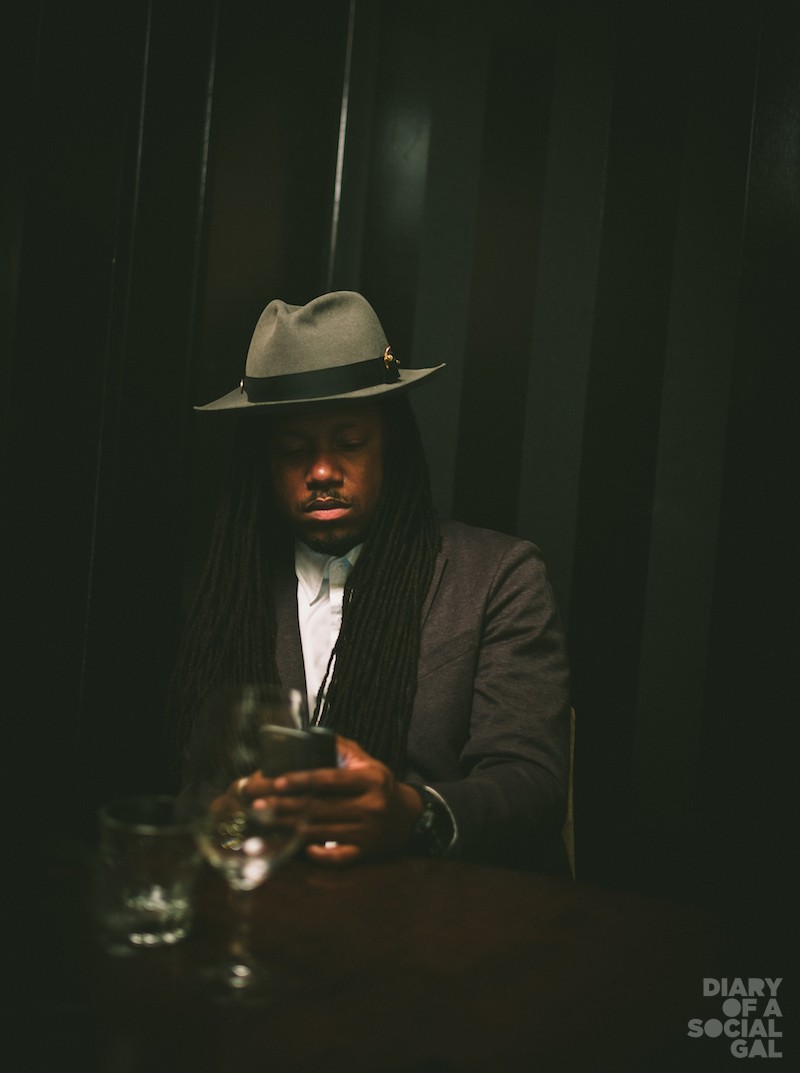 What smartphone do you currently have?
MARCUS: iPhone 6 and iPhone 5s.
NASKADEMINI: I'm currently on an iPhone 6.
If you could, what improvements would you bring to it? What smartphone do you currently have?
MARCUS: iPhone 6 and iPhone 5s.
NASKADEMINI: I'm currently on an iPhone 6.
If you could, what improvements would you bring to it?
MARCUS: More storage and better battery life.
NASKADEMINI: I'm always in need of more storage. So I'm sure one day we'll have more than 128 gigs!
What are your favourite apps, and why?
MARCUS: IMDb: I'm on it daily, checking movies and other details. Then there's Google: it knows everything I'm doing which is both a gift and a curse! And, of course, Instagram and Twitter, for content creation and to see what's going on in the world.
NASKADEMINI: My banking apps, because then I get to avoid a trip to the teller. I Love IMDb too because I'm an avid movie fan and frequent moviegoer. I love going to that app to read movie trivia, follow new releases and see trailers. I also get a kick out of reading reviews of bad movies. As for photography, I would say VSCO is my most used app simply because of the colour profiles and photo editing capabilities.
SMS or WhatsApp?
MARCUS: I dislike WhatsApp – so annoying. I prefer iMessage.
NASKADEMINI: iMessage.
What's your first interaction with your smartphone in the morning?
MARCUS: I grab it for the time or to shut off my alarm.
NASKADEMINI: I try not to touch my phone before 9 a.m. anymore. It's something I learned from a friend of mine; start the day off tuning out the noise, meditate and find peace before looking at your phone.
What is your last interaction with it at night?
MARCUS: Checking Twitter for about 30 minutes.
NASKADEMINI: I also read a lot of Twitter before I call it a night. That's where a good amount of my news comes from.
Describe how you interact with your phone via apps throughout the day:
MARCUS: I check a few things daily, particularly the Google app, since it stores all the important information I need like stocks, people's birthdays, news of the day and appointments.
NASKADEMINI: During the day, I often check Twitter and my Instagram feed to see what's going on. When it comes to travel, the Air Canada app is by far my most used. I use it to check-in to flights, select seats and then leave the rest up to the app to make sure I'm good to go. I can now just show up at the airport without any worries.
Marcus, you created the app and community #kicksonaplane (@kicksonaplane on Instagram), which documents travellers' footwear on airplanes and at airports. It's a treat for sneakerheads. What was the inspiration behind it and what have you learned from giving it life? What are the biggest surprises?
MARCUS: It was ambitious and cool to create my own applications, Marcus Troy and KOAP. However, both need to be redesigned and re-uploaded to the App Store. As much as people were downloading and using them, I still need to figure out how to make them part of people's daily lives.
Well, I'm a big fan of #kicksonaplane. When I tell people about it, the reaction is almost always unanimous love for the concept. You've definitely tapped into something special and engaging. Ahmad: photos are your words. How has technology changed your craft? What role do platforms like Instagram assume in your professional life?
NASKADEMINI: Instagram is the new portfolio. It allows you to show what you're working on, what inspires you. It also allows you to interact with people who are inspired by your work.
You travel constantly. How does technology travel with you? In what countries have you noticed the most synergy between humans and technology?
MARCUS: I mean Tokyo is up there with technology. People are constantly on their phones, playing games, etc. It's pretty fascinating to see people glued to their phones daily.
NASKADEMINI: I feel like Tokyo is a place where when riding the subway, commuters are always on their phones. They rarely look up at you. They're constantly staring into their devices.
Conversely, where have you noticed that technology makes less of an impact on daily lives?
MARCUS: The West Indies! I feel so disconnected there! But then maybe it's best to just enjoy the beach.
NASKADEMINI: In countries where survival is paramount, material things such as smartphones play a less important role.
What are your favourite tech gadgets right now?
MARCUS: My iPhone, MacBook and chargers.
NASKADEMINI: I would say any camera in my hand! I love to shoot with whatever latest camera I have access to.
You're both quite the sartorialists. 😉 What are your thoughts on the merging of fashion and technology? In your esteemed opinions, what brands are doing it right and what are your favourite yields of such collaborations?
MARCUS: Nike is a tech company in my opinion and is changing how we interact with product and tech. Wearables will become a thing of the future.
NASKADEMINI: I think the merging of the two is a beautiful thing and we need more of these mergers to happen. We're in a space where many brands do it well because the information and inspiration are out there and so readily available. (I don't want to namedrop but it's not hard to find the brands creating standouts!).
I know you're both very sensitive to the state of the world, in both micro and macro capacities. How do you see technology's role in making our world safer, better and more equitable?
MARCUS: I think it will make our world more dangerous. We'll become too vulnerable. Everything is digital, which means it can be hacked and controlled.
NASKADEMINI: I think smartphone cameras have created a climate of "proof" or evidence of daily occurrences that might have gone undocumented otherwise. Has it made us safer? Maybe in some cases, yes. We still have a long way to go but I think the fear of being recorded committing a crime has surely led to a decrease in crime, what with everyone now able to press record.
For more on the twins, find them online at marcustroy.com, marcustroy.tv and @MarcusTroy and naskademini.com, naskademini.tumblr.com and @Naskademini.
Photography SUPPLIED