When star Montreal Canadiens forward Alex Galchenyuk first arrived in the city as a talented but raw 18-year-old, his future was considered bright. Fast forward five years and the American-Belarussian has lived up to the hype: he's now the team's first-line centre, one of the league's top scorers and his physique has transformed from thin teenager into chiseled adonis.
He's also grown into a superstar off the ice, thanks in large part to technology like social media. His Instagram feed has become legendary for its footage of his unbelievable offseason workouts in the forests of Belarus, and his emerging fashion sense earned him accolades at last year's glitzy McLaren Formula One party at the Ritz-Carlton hotel.
Galchenyuk is currently the face of Montreal-based Frank & Oak's casual State Concepts line, and it's a partnership that suits him well.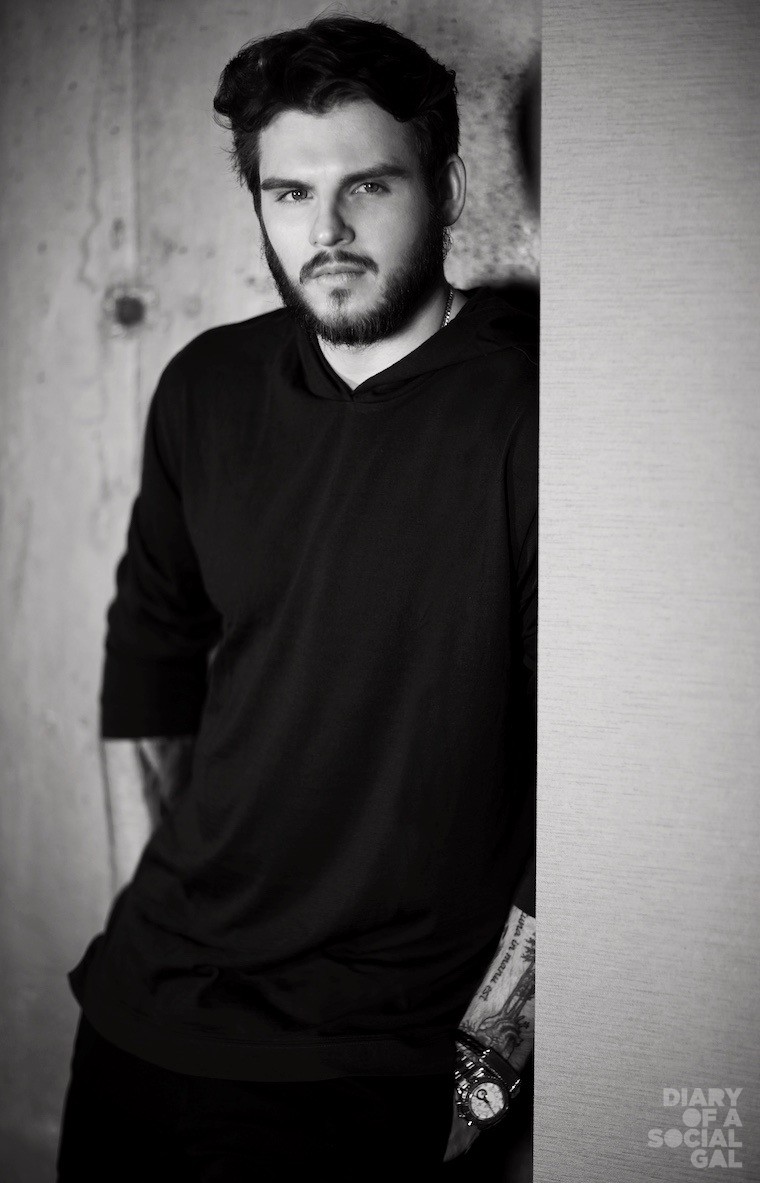 "I signed on with them over the summer, and it's great for me because I like their clothes," Galchenyuk says. "I'm always on the lookout for what's cool and new, and they're cool so I like wearing them."
Although it's only been recently that the 22-year-old has started to turn heads for his sense of style, he says it's always been something that's important to him.
"I spent my whole first paycheque on Louis Vuitton and Gucci," he says with a laugh.
"When you make it, you get into the mindset where you should do something to recognize that you've made it. There were things that I used to see in stores and I would think to myself 'one day you'll be able to get them.' And when you get to a certain point where you can, you have to do it. It's satisfying."
As for trying to describe his budding style, he points out that comfort is a priority. He also doesn't sweat the details, admitting that he only takes about five minutes to get ready every morning.
"I wouldn't say I'm trying to follow trends, but I have my own style and so far it's been working for me," he says. "I think it's my mood. Whatever I feel like, I'll dress accordingly. Sometimes I'll wear all black, or sometimes I'll wear more colours. The thing is I have a lot of clothes so no matter what I do, chances are I'll find something that works."
His sister Anna, a Montreal celeb in her own right, helps out as well.
"She went to New York recently and picked up some cool stuff for me that's hard to find. When I entered the league I was always trying to buy the high-end brands – now I'm more into limited edition clothes, ones that are harder to find," he says.
Growing up the son of a hockey player also helped broaden his horizons. His dad, Alexander Galchenyuk, moved around the United States and Europe during his playing career. He eventually settled in Russia, where Alex grew up, but the Milwaukee, Wisconsin native returned to North America as a teen to pursue his hockey career.
"In Russia, people are fashionable," Galchenyuk says. "And then, when you've been fortunate enough to live in places like Italy and Switzerland, you learn about different brands. I was also exposed to so many cultures growing up; in my life I've been able to take aspects of each."
He's a huge fan of Old Montreal, saying that it captures the history and culture of the European cities he spent time in as a child.
"I think it's [Montreal] a creative city," he adds. "It isn't like any other city in Canada."
If fans want to know what he's wearing, or what sort of mind-blowing workout he's been doing, his Instagram feed is the place to go.
Galchenyuk is exactly what professional hockey needs: a social media savvy star who doesn't mind showing what life is like away from the rink. Last summer, he went viral after posting a video of himself shirtless, running through the forest while pulling a tire that was tied to his waist.
"I'll give credit to my dad for the idea," he says. "We were tired of the same old workout and we wanted to try something else, just to keep my mind fresh."
The minute he started pulling the tire up the slope, he knew it had to be Instagrammed, he recalled. Although he likes to drown out the noise during the season, in the summer he likes to get creative with his social media..
"I think the key is to not just post hockey stuff," he says. "Everyone who follows you knows you're a hockey player. What's important to give is these little life moments. You want to show that you're a normal person, but with hard work anything is possible."
Given his comfort level connecting with hockey fans online, it shouldn't be a surprise that he's glued to his iPhone when he's not at work. It's the one piece of technology he couldn't live without.
"There's always something to read or watch on it," he says. "I can't even get into my car without putting on some music on my phone first or checking the news."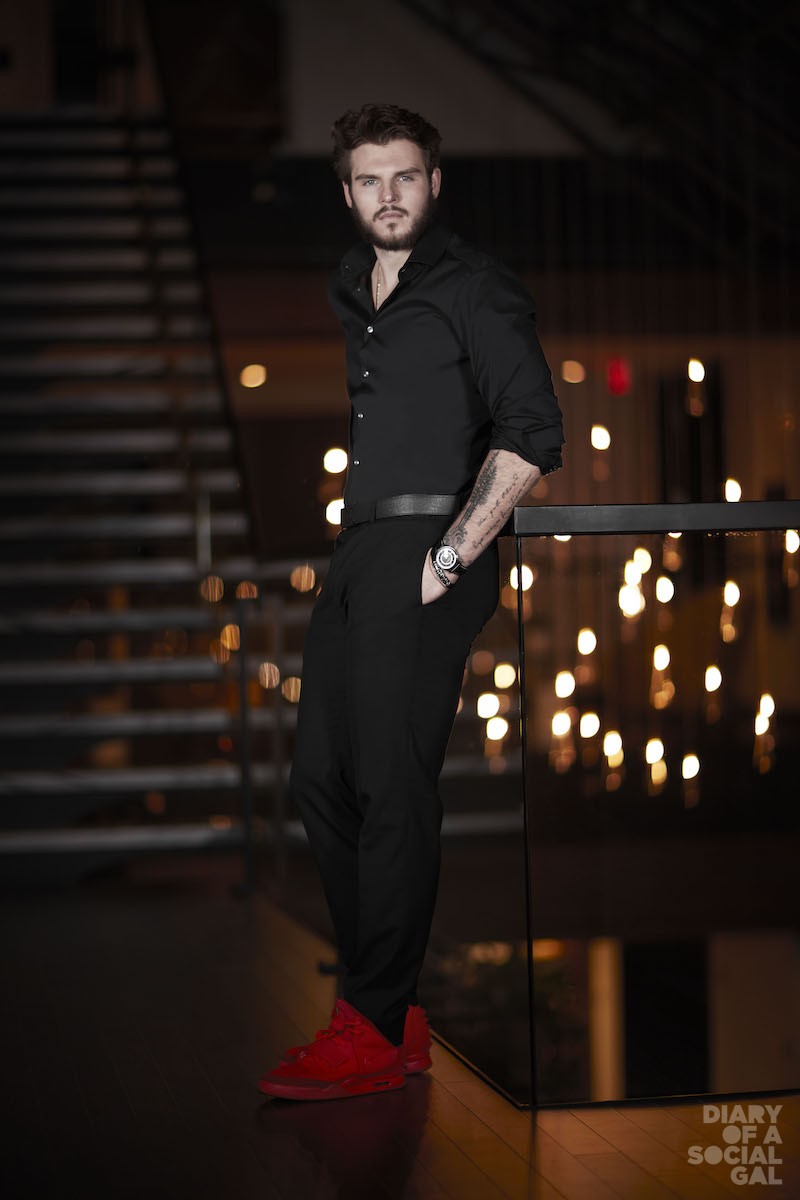 CREDITS
 Photography NEIL MOTA (Rodeo Productions)
 Styling JESSY COLUCCI
 (FIRST LOOK) Hoodie and pants FRANK + OAK STATE CONCEPTS. Bling VERSACE V1969 ITALIA JEWELLERY MEN'S COLLECTION (Delmar Jewelers). Watch ROLEX YACHT- MASTER.
(SECOND LOOK) Shirt and pants HUGO BOSS. Shoes NIKE RED OCTOBER. Bling VERSACE V1969 ITALIA JEWELLERY MEN'S COLLECTION (Delmar Jewelers). Smart Watch FREDERIQUE CONSTANT (BIRKS).
 Special thanks to Maria Antonopoulos and the Antonopoulos Group for kind hospitality at the new William Gray hotel, Anna Galchenyuk for being the superstar she is and Na'eem Adam and the Parvin team for great support.