POSTED AWHILE BACK BUT ANOTHER HEALTHY SUPER BOWL SNACK!:
One of the things that's really bummy (yes, bummy) about signing up for a mostly healthy lifestyle is (truth) a lot of the foods in that health-enriching and -extending world are just not as sexy, spicy, sweet and crave-able as the options in naughty eating land, where greasy fries, authentic poutine, chewy cheesy deep dish pizza and gooey caramel sundaes (all major weaknesses for this aspiring healthy gal) fill up the soul in indescribably gratifying ways.
That said, as I've committed more and more to healthy living, and eating, especially in the recent year, I've been forced to get creative and find some good options that stir me in a similar way; healthy crave-ables, if you will, that up the bod benefits but still entice and gratify the soul.
Enter: ROASTED GARLIC AND TURMERIC CAULIFLOWER: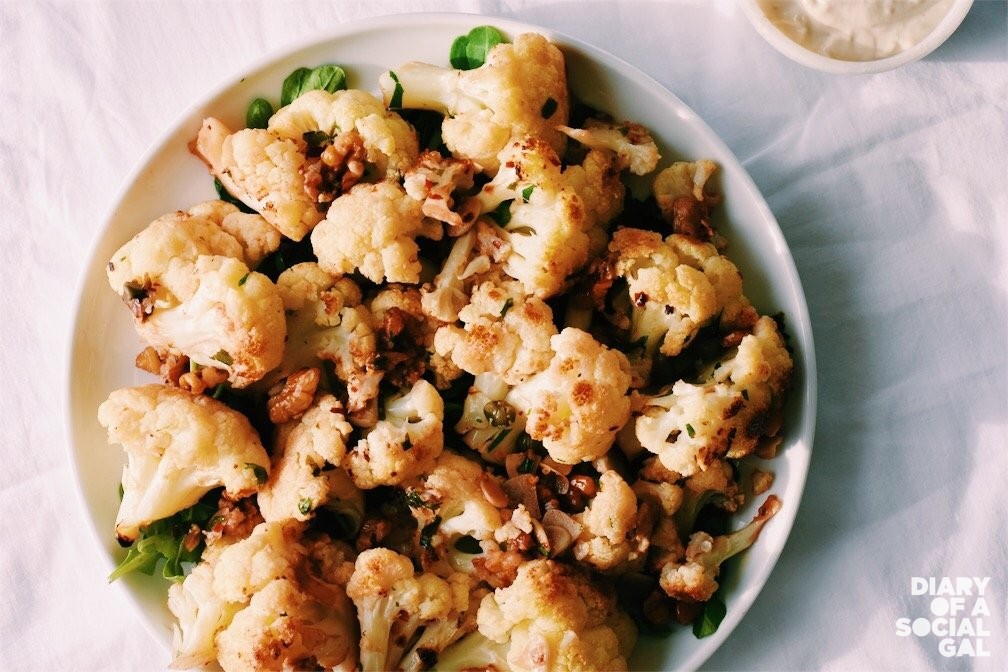 Not only is this recipe easy to make (a must for busy schedules) but I swear you'll want to polish off the entire pan. Which you can, with no guilt whatsoever (the opposite in fact) because all you'll be doing is flooding your body with more of the healthiest, bod-bettering, disease-preventing ingredients on the planet including cauliflower, legendary for its nutrient and antioxidant dense properties; garlic, equally revered for its nutrients and immune-boosting, blood-pressure regulating powers; and turmeric, another miracle food beloved for anti-inflammatory, antioxidant, anti-cancer, even pain-relieving and emotion-lifting prowess.
So gobble up Social Gals and Gents. Make this melt-in-your-mouth healthy crave-able the new TV-watching foodie-love companion. I swear you won't be sorry …

INGREDIENTS
1 head of cauliflower, chopped
2-3 cloves of garlic, crushed
2 tbsp extra virgin olive oil
1 tbsp turmeric powder
1 tsp cumin powder
½ tsp salt
Makes 4-6 portions. organic local options are best. Prep time, roughly 30 minutes.
HOW-TO
Pre-heat  oven to 180 C.
Rinse and chop cauliflower into florets and set aside.
Crush garlic if you're  using whole fresh garlic cloves (or be lazy and use organic garlic powder like yours truly if you're outta crush-time!).
Combine olive oil, spices and garlic in a small bowl. (Feel free too to up the portions of spices to taste. I double and triple the garlic and turmeric adds.)
Proceed to drizzle the intoxicating mixture across the cauliflower florets, ensuring complete immersion and coverage.
Next, spread the florets across a baking sheet lined with parchment paper (you may need to split across two baking sheets).
Bake cauliflower for 20-30 minutes, or until cauliflower starts to brown and is well-roasted (Again, the absolute degree of roasting is a matter of taste).
Remove from oven and serve warm with  meal, or enjoy a s a well-done, guilt-free snack.
Et voila! Heathy eating with edge. Take that fries, chips and other naughty snacks that wreak havoc on the system. There are some new superhero snacks in town. 😉