Time now for an infusion of brilliance and fun from one of the most respected and revered creators on the planet; KARIM RASHID, who I had the pleasure and privilege of sitting down with for Diary Vol. 6. Thanks to his design prowess, our world is an infinitely more beautiful, user-friendly space.
How does the explosive era of technology inform your work/designs?
Design is inseparable from technology and innovation.  Products change with the introduction of new technologies. All important pieces over the last century became iconic because they were created with new technology. For example, the Breuer chair used a steel tube bender from a bicycle factory. The Alvar Aalto chair used plywood tube technology inspired by a local fabricator of wooden sewage tubes. The first plastic moulded Monobloc chair existed because we had the resin technology and injection machine technology to create it. The Eames used one of the first compound bent plywood machines. So industrial design is driven by designers embracing new technologies; whether they relate to material, production method, or mechanical invention. Ultimately, future innovation will depend on how we, as designers, embrace newness. Maybe people like to assume that design moves with more superficial trends, but it's technology that drives us.
Life / work mottos:
Globalove.
Design your self.
See problems as opportunities.
Best party you've ever attended and why:
My 55th birthday. We turned the space into a pinkscape. All 300 guests wore white and pink. We served pink Karimtinis and pink, white and lime-coloured food. I had the best DJs playing until 3 a.m., until security told us to shut it down.
Go-to designers / pieces for cocktail vs. formal wear:
 I don't believe in formal wear.  We live in the casual age! Casualization allows us to drop the facades of dress code, ritual, tradition, and formality. It frees us to be who we are and express the way we feel. My fave on-line shops are yoox.com, asos.com and farfetch.com. I must say though I love Rad Hourani since he's one of the few making really contemporary clothing that is not so steeped and derivative in old archetypes of the past.
Travel spots:
 I typically stay in five-star, contemporary hotels across the globe,  so I am forever escaping. For personal holidays, I enjoy relaxing at resorts in the Riviera Maya. I love the proximity to New York (a three-hour flight) and the white-sand, empty beaches. This year I'll stay at the Finest Playa Mujeres. Previously, we've enjoyed the Blue Diamond Riviera Maya, Nizuc Resort and Spa, and Paradisus Playa del Carmen La Esmeralda. I'll also go to an organic boot camp in Tulum.
Dining destinations:
 I mostly eat an organic diet so I frequent ABC Kitchen and The Green Table. But since I've moved up to Hell's Kitchen, I love dining at Robert at the Museum of Arts & Design, STK Midtown, and a small hidden organic gem called Blue Dog Cafe.
Unwinds:
 I love sketching, painting, listening to music, lying by my pool, sleeping, and dreaming and thinking about the world; about love, about people, about peace, about beauty, and about one romantic, engaging, fulgent, energetic, seductive, and inspiring place we call earth.
 Rechargers:
 I go to the gym for weight training five days a week and run 7k a day. I love to swim, cook and work on my mental and spiritual health by going to lots of museums and galleries and embracing creativity on every level.
Finally and just for fun, if we were lucky enough for you to creatively direct a Diary launch event, what direction would you take it in?
 Well, you are lucky because I would do it! I would base the launch on a contemporary theme, in black and white. Everyone would have to wear both black and white. All food and drinks would be black and white, with a menu of blackened cod, white asparagus, grass-fed filet mignon, white pepper sauce, black wild rice, black carrots, and black squid ink pasta with white scallops. All tables, plates, and every surface would also be black and white.
Oh my. That last answer was an unexpected ray of fabulous. Let the planning begin! 😉
 For more on Karim's inspiring design-rich world, go to karimrashid.com.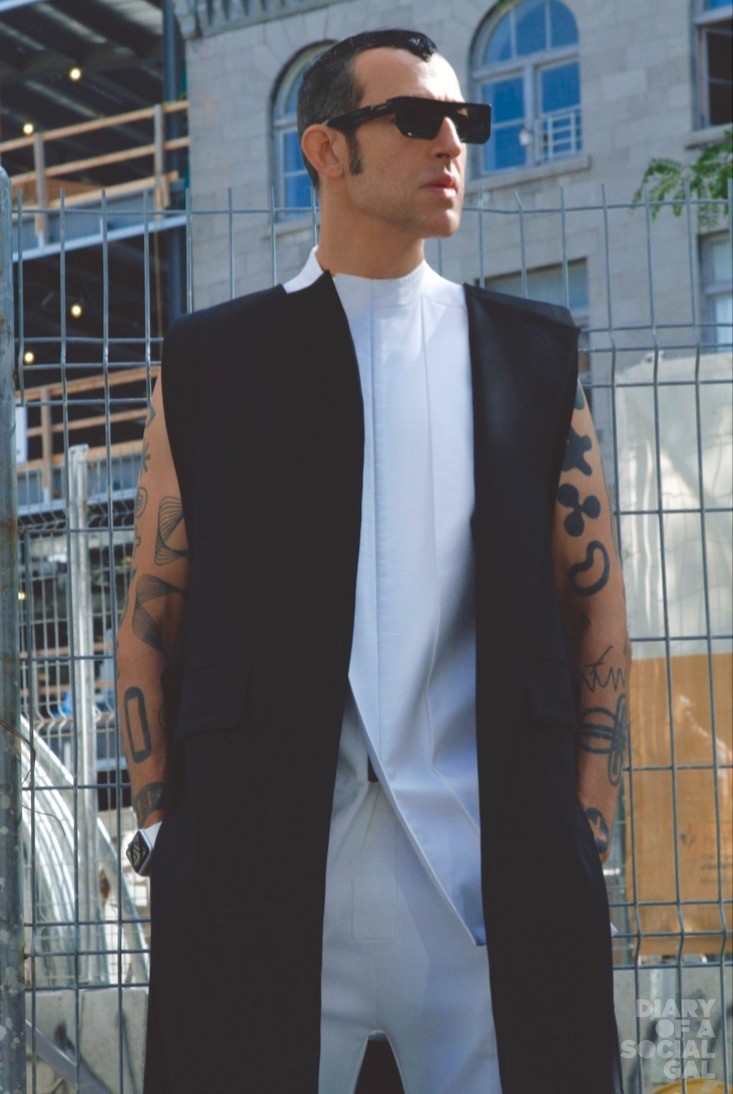 CREDITS
RAD HOURANI UNISEX LONG BLACK VEST (radhourani.com, Rad Hourani Gallery, 231 St. Paul St. W., Montreal).
 Grooming PATRICK RAHMÉ. Assistant CATHERINE GAGNON.