They say opposites attract, and while on the surface NFL football star Laurent Duvernay-Tardif and contemporary art curator Florence Dubé-Moreau may have little in common — you'd be forgiven for thinking a stadium in Kansas City with 80,000 beer swilling fans and a sleek, stylish gallery in Montreal are on different planets altogether — the couple of eight years share an unparalleled drive to be the best at what they do.
Another passion they share? Collecting art.
It's something the couple have become extremely methodical about. Art fills their Plateau apartment and their social media DMs when one of them is on the road. They've adopted strict guidelines for their growing collection: gender parity first and foremost, museum quality always, predominantly Canadian and Quebecois art with aboriginal and Inuit works, with an equal split between paintings, photos and 3D/video/ installations. "It's what inspires us with contemporary art: having a positive impact on living artists. I find it's beautiful to buy a piece and help someone make a living from their art," explains Dubé-Moreau.
"We started going to galleries together, then we did trips centered on art," she recalled. "It became a shared passion. We discuss which ones we like, and we pick them out together. When Laurent is in town, we'll set up appointments at galleries or with the artists, and we'll go see some new works. When we're apart, we'll send each other pictures, so it's a little thing that accompanies us no matter where we are."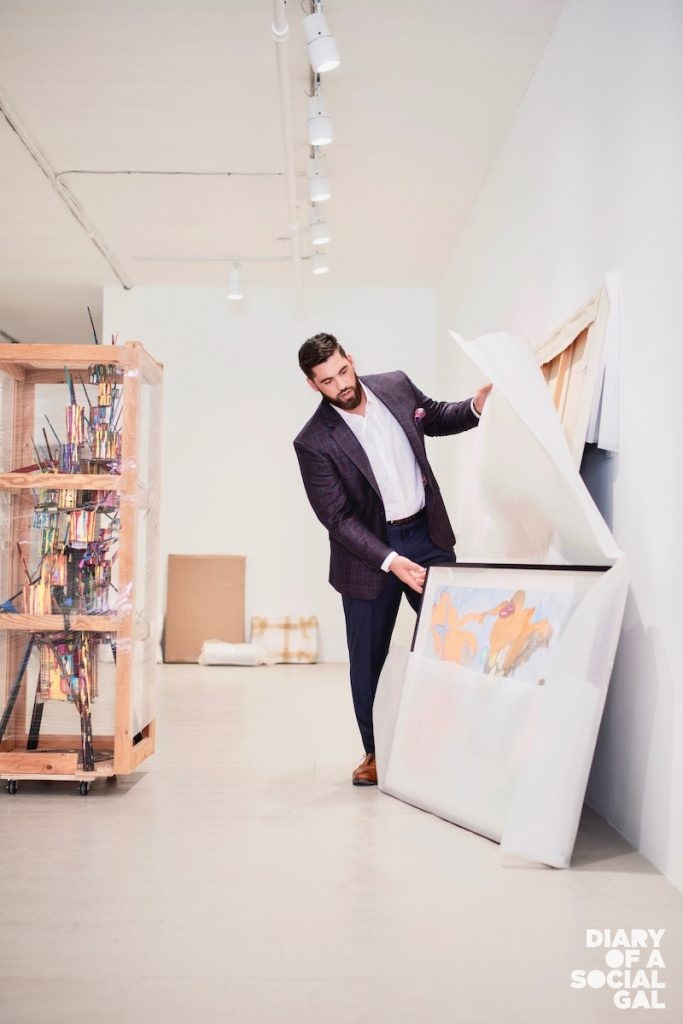 Contrary to conventional wisdom, this wasn't a case where the uncultured burly offensive tackle met a refined woman who shaped his tastes. Duvernay-Tardif — dubbed by football-crazed people down south as The Most Interesting Man in the NFL because he's a rare Quebecois in the league and also studies medicine at McGill during the offseason — grew up with a grandmother who collected works by Riopelle, Pellan, Armand Vaillancourt and others.
It was Dubé-Moreau, though, who introduced him to the incredible contemporary artists this province has to offer. And she would know a thing or two: she has a master's degree in art history from UQAM and works as a freelancer, writing texts for museums, guest curating and handling logistics for exhibits.
"Art is our thing. It's something we don't have to share with the world," said Duvernay-Tardif.
Although Duvernay-Tardif has found great success in the National Football League as the nearly two-meter-tall on-field protector of prized quarterback Pat Mahomes, the love of collecting art wasn't even spurred on by the financial windfall of being a professional athlete
"Back in the day, my first two years in medical school living off a bursary of a few thousand dollars a semester, we were still buying art," he said. "It was just $5 pieces instead of $5000. I think the great thing is even those first pieces represented something meaningful at that stage of our relationship."
In particular, there's a Mathieu Beauséjour piece purchased six years ago called "No Dollar", he looks back upon fondly.
"Instead of having a dusty book full of photos we never look at, art is our way to hold little souvenirs of our lives. And we get to see them every day in our home," he said.
The couple still lives in the same apartment from his early medical school days, but they're finally getting ready for a new place.
"Right now, most of our collection is in a warehouse, just because we don't have the space," he said.
It's a far cry from the Kansas City abode Duvernay-Tardif calls home during the season, which he says is comparatively barren, befitting the unstable life of a football player one injury or trade away from packing everything up. The new place, a modern apartment redesigned by architect Pierre Thibault, is also something of a rare extravagance for a couple that continues to stay humble and modest within the loud, excessive world of the NFL.
It was actually something that caused great shock to Dubé-Moreau when Duvernay-Tardif got drafted. She had trouble confiding in friends and colleagues about the relationship at first because the money and madness of American football didn't fit with her artistic milieu and feminist values.
"I felt like it described me as a person and I didn't want it to," she recalled. She writes a column in French for Urbania about her experience as a WAG(S) (a term for "wives and girlfriends" of the players) where she tries to demystify certain preconceptions about women in that multibillion-dollar marketing machine.
"I had to ask myself, how can I be in that industry while staying true to my ideals? I benefit from this privileged lifestyle, but how can I turn it into a positive thing for the community?" she said.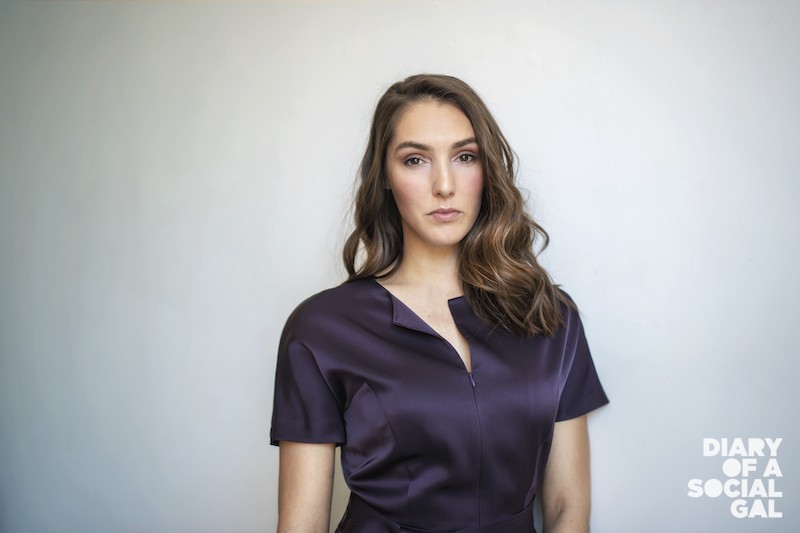 Contemporary art curator, Florence Dubé-Moreau. FLORENCE: Dress JUDITH & CHARLES. Shoes LA CANADIENNE. Jewellery ATELIER LOU.
The answer? By giving back. Two years ago, the couple founded the Laurent Duvernay-Tardif (LDT) Foundation. They've traveled across Quebec, providing workshops for kids that allow them to play sports with professional athletes, but also work with artists. The goal of the foundation is to provide balance for kids between sports, arts and education, which is in part influenced by the couple's own career juggling acts: Duvernay-Tardif found strength in doing both football and medicine at the same time, while Dubé-Moreau balanced school with a high-intensity curriculum in ballet at École supérieure de ballet du Québec before transitioning into art history.
"I feel the need to do it," said Duvernay-Tardif. "Philanthropy is giving to people without expecting anything in return, but I feel the benefit. When we spend the day with 200 children showing them sports they've never played before and giving them an experience that brings a creative spark to their eyes, I come back home feeling like a different person. It grounds me."
Added Dubé-Moreau: "It's a project that allows us to dream big. There are no limits to what we can do, and it's incredibly stimulating to think in those terms."
It's that passion for helping others that unites the pair and has kept them strong through thick and thin.
"Florence is the definition of resilient," beamed Duvernay-Tardif. "She grinds through challenges like no one else. We're both really independent in our respective domains, but we also expect a lot of each other, so we keep pushing to be better people. I think that's what has made our relationship last eight years."
Clearly, the intersection of sports, art, and philanthropy add much to an already formidable union.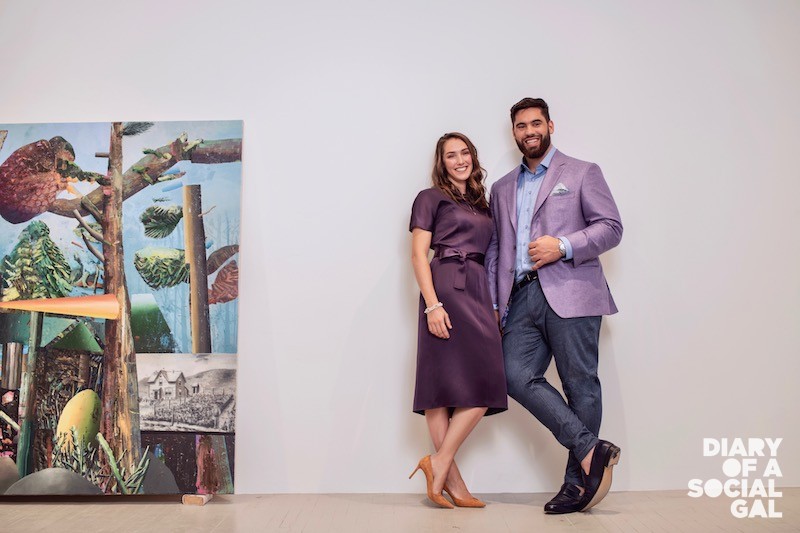 For more in-the-moment BTS fun from the shoot, link here.
For more on the couple: laurentduvernaytardif.com,urbania.ca/auteur/florencedubemoreau.
For more on their foundation: fondationldt.com.
 DREAM TEAM
Photography and retouching ALEJANDRO ESCAMILLA.
Creative direction and styling MAUD MARQUIS-BRETON, MARK PATRICK (Sartorialto).
Hair and makeup ISABELLA FORGET (Folio Montreal).
Location GALERIE HUGHES CHARBONNEAU.
Many thanks to HUGHES CHARBONNEAU for his gracious hospitality and use of his beautiful space.