Like so many die-hard Saturday Night live fans (aka SNL junkies), I was admittedly a little surprised at the announcement that Kim Kardashian West was to host last night's second show of the season.
Don't get me wrong. The Paris Hilton stylist/bestie turned OG reality show star turned social media influencer-queen turned girl boss supreme turned activist and legal eagle in the works is definitely on my radar screen; a never-ending source of entertainment, infotainment and yes, inspiration. ( I mean, does this woman sleep? The work ethic is herculean and the list and range of accomplishments – including facilitating the granting of  clemency to great grandma Alice Marie Johnson – are impressive even for the harshest of skeptics).
But SNL? Let's call a spade a spade, isn't that a coveted space reserved for bona fide actors and performers?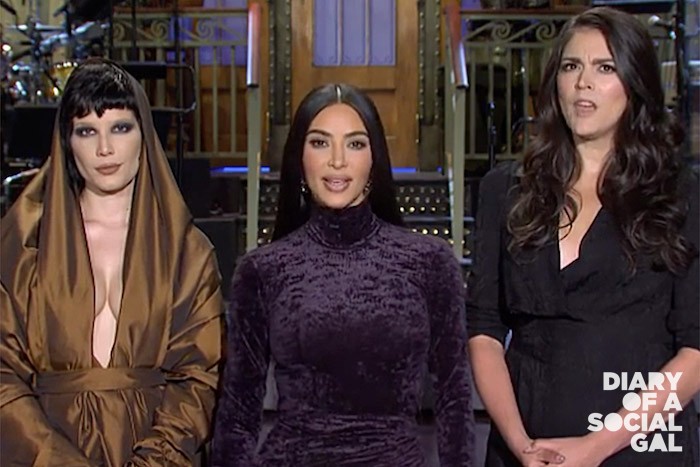 Not anymore! Bring on the Krailblazers! As has been the case with so many of the challenges the tiny dynamo with the big curves has taken on, she not only survived, she surthrived, delivering an evening of laughs and fun that did the SNL brand proud while inspiring her 360 million plus followers to beam and yes, stream all kinds of kimbits from the skits.
Speaking of which, gotta throw some love their way. From the opening monologue where she brazenly poked fun at a number of family members and classic K family drama and glamma to her spot-on portrayal of big sis Kourtney cast as a judge Judy type playing tonsil hockey with new rocker beau Travis Barker to a seriously epic turn as princess Jasmine bantering atop a magic carpet with a hilariously smitten/Kimtimidated  Pete "Aladdin" Davidson (replete with smack on the lips) Kim slayed and slayed some more.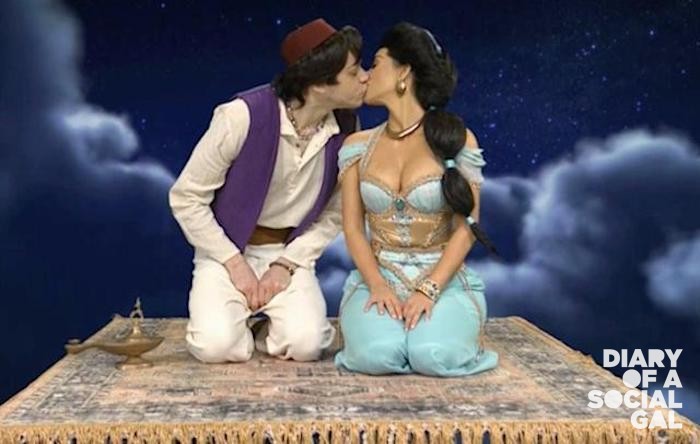 So yay for you Kim K. Add slamming good host of SNL to the list of fab …