When it comes to accessories, technology has us covered, heated, well timed and more. Diarysta ASHLEY KARP tells all for Diary Vol. 6:
If Google Glass taught us anything, it's that it doesn't matter how tech-savvy a wearable is if no one is willing to actually wear it. Fortunately, wearable technology has come a long way from the clunky eyesores that characterized the market early on. We've curated a list of our top picks in wearable tech that strike a delicate balance between substance and style.
ALTRUIS BY VINAYA
If you're considering a 12-step program for your cell phone addiction, look no further. London-based research and design house Vinaya wants to help us all go on a digital detox, addressing the problem of hyperconnectivity once and for all. Their solution is Altruis, a fashion-forward device that allows users to unplug and live in the moment without losing touch or going off the grid entirely.
Altruis is a faceted ceramic stone that connects to your smartphone to subtly notify you of the incoming texts, calls and emails of your choosing. Users can customize notifications in the iOS app, filtering which contacts and communications produce alerts. You can personalize vibration patterns so you'll know if it's a call or a text, your mom or your BFF, without so much as glancing at your phone. The app also monitors your phone habits like how many emails you send per day, who occupies the most of your time and how much time you waste on social media. The idea is to make you more mindful of your digital behaviours and ultimately wean you off your tech dependence.
The gem is modular and can be worn as a ring, bracelet or pendant set in sterling silver and plated in either gold, rose gold or platinum. The jewelry is so gorgeous, you would never suspect it's wearable tech. Starting at $175. vinaya.com.
EMEL + ARIS SMART COAT
 Every now and then comes a product so ingenious, you can't help but wonder: why didn't I think of that? Anyone who has braved a Montreal winter will smack their heads over luxury British label Emel + Aris, developers of a line of smart coats that do double duty as electric blankets. The brainchild of former Montrealer and McGill alum Rana Nakhal Solset, the collection of impeccably tailored outerwear features an infrared heating system hidden in the lining and a rechargeable battery pack concealed in the pocket, which can also be used to charge your phone.
There are three levels of heating – low, medium and high – allowing the wearer to keep warm for up to nine hours without ever compromising on style. To that end, the coats are made in Italy using the finest Loro Piana cashmere, wool and cotton. They are also windproof and water repellent, providing extra protection against the elements. The range features four elegant styles with sophisticated silhouettes, including a trench and wrap-coat for women and an overcoat and raincoat for men. Starting at $1300. emelandaris.com.
MICHAEL KORS ACCESS SMARTWATCH
Michael Kors first teased his foray into smartwatches at Baselworld in early 2016 before unveiling the hotly anticipated Access Collection at his Soho flagship store during New York Fashion Week. To create the stunning timepieces, Kors linked up with Google, using their Android Wear smartwatch platform to bring the best of both high fashion and high technology to your wrist.
The line promises to be a stylish alternative to the Apple watch for the fashion crowd, with a unique, eye-catching design in keeping with the brand's signature aesthetic. The watch comes in two versions, a sporty black model for men dubbed the Dylan and the all-metal Bradshaw geared toward women. The watches are chock-full of valuable features, including voice-activated commands, fitness tracking and smartphone notifications, and are a breeze to operate, even for the most amateur tech user. Still, the coolest element by far is that wearers can change the touch screen display at the swipe of a finger, either by alternating between digital versions of analog Kors watches or by personalizing their watch faces from scratch. Add to that interchangeable linked, leather and silicone straps and the possibilities are endless. Starting at $350. michaelkors.com.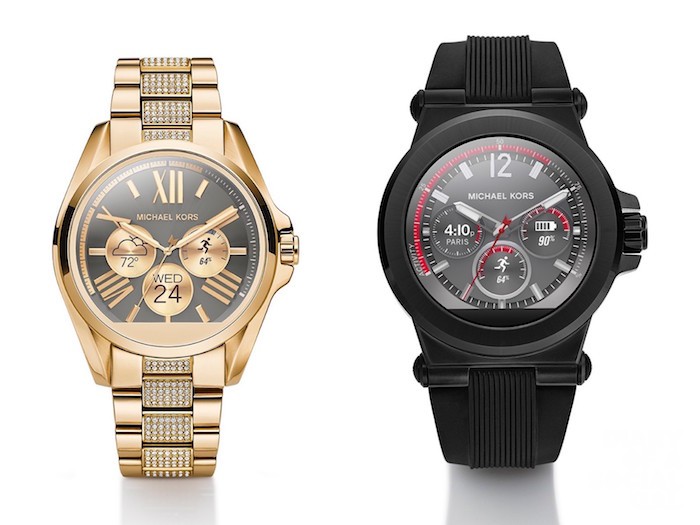 RADEN SMART LUGGAGE
is admittedly more portable than wearable, but for a brand that seamlessly fuses style and technology, we were more than willing to make an exception. The suitcases are sleek, modern and impossibly lightweight yet still incredibly durable, thanks to a hard polycarbonate shell. They come in a variety of colours and are completely monochrome, from the ergonomic handle right down to the 360-degree spinning wheels.
They're also decidedly high-tech, boasting a built-in scale, removable battery, and two USB ports so you can charge your phone on the fly — literally. The cases pair with Raden's intuitive companion app, which provides useful travel information like updated security wait times, traffic alerts, real-time flight details and weather reports. Best of all, each piece is equipped with proximity sensors that use Bluetooth technology to track your bags within 100 feet. While this won't make lost luggage a thing of the past, it eliminates the inevitable guessing game of waiting for your bags at the carousel.
Raden currently offers two models: a TSA-approved carry-on ($295) and a 28-inch model for checking ($395), which can be purchased as a set for $595. raden.com.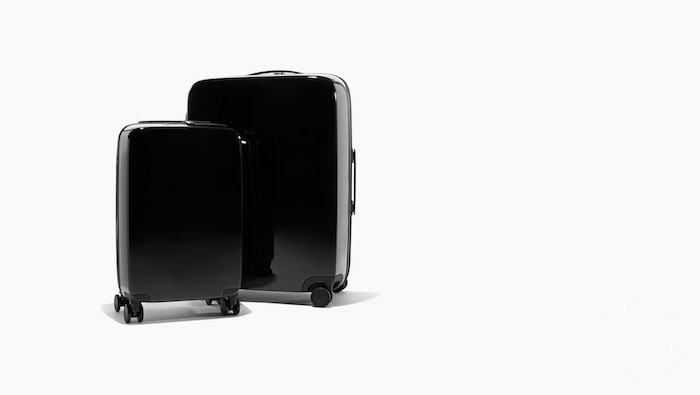 THE UNSEEN REACTIVE ACCESSORIES
Anyone nostalgic for the '80s and '90s will love THE UNSEEN's grown-up take on the mood ring: a line of high-end colour-changing accessories merging the worlds of technology and fashion. The brand teamed up with lavish London department store Selfridges to produce the limited edition collection of exquisite leather accessories that react to the wearer's skin and surrounding environment.
Conceptualized by Lauren Bowker, a self-proclaimed material alchemist, each piece is embedded with a unique formula of reactive ink to provide a different user experience depending on the item being worn. For example, a stunning alligator-skin bag shifts colour according to the season. It turns blue in the summer, green in the fall, black in the winter and red during springtime. Other items, including a necklace, cuff, wallet, coin purse, iPhone case and backpack, respond to air pressure, wind, heat, light or touch.
The centrepiece of the collection is a devoré silk scarf hand-painted with five different inks, causing the material to react differently to different body parts and produce patterns in response to motion. The accessories line ranges from $60 for a notebook to $3000 for a shoulder bag. This is one trip down memory lane that's worth taking. theunseenemporium.co.uk.
WISEWEAR SMART BRACELET
WiseWear recently debuted a fashionable smart bracelet that women will actually want to wear, even without its tech credentials. This should come as no surprise considering the collection of chic bangles was designed by legendary fashion icon Iris Apfel, who also stars as the face of the brand.
In terms of function, the bracelet is part health monitor, part Life Alert pendant for the style set. As an activity tracker, its features are fairly standard, recording steps, distance, calories burned and hydration levels before relaying the data wirelessly to your smartphone via Bluetooth. The bracelet also offers mobile alerts by way of subtle vibrations that notify you when your phone receives a call, text or email.
Where WiseWear differs from the average wearable on the market is in its billing as a personal safety device. Tapping the bottom of the bracelet in an emergency or threatening situation sends a discreet distress signal with the wearer's location to a pre-programmed list of emergency contacts. Whether you've fallen and can't get up or are being followed by an unsavoury character in a dark parking lot late at night, WiseWear will come to your rescue. The brand uses a patented antenna technology, eliminating the need for a screen and making the jewellery undetectable to potential aggressors. It also means that the bracelets can be worn with practically anything, from jeans and a T-shirt to an evening gown.
The three sleek styles of WiseWear bracelets are all made of brass and come plated in either palladium or 18-carat gold. From $295. wisewear.com.