In a world where technology moves faster than ever, travel has also become more exciting and innovative. The following destinations curated by contributor / travel buff OLIVIA COLLETTE for Diary Vol. 6 could have you rethinking this season's travel agenda and logistics. 😉  
Travel and technology no longer exist in separate silos; they're symbiotic. Too often, though, that merely translates into a cool new app or some gadgetry that's an improvement on whatever its previous version was. But innovation can be the journey or the destination itself.
This got me thinking about what it would mean to let newness take the wheel of the next vacation plan. Where would I end up? How would I get there? My research rounded up a few forward-looking finds that give fascinating answers to those questions.
Henn-na Hotel, Japan
When I stayed at the YOTEL in Manhattan, a robotic arm stored my luggage in a large cabinet wall. Once in my modular room, a simple click of button could pivot, swivel, and shape the space and its furnishings to my needs — whether I wanted to lounge, work, or sleep. Though I'm admittedly easy to impress, I was so sure I'd seen it all. But I should have known that Japan can out-automate anything.
There, the Henn-na Hotel is run entirely by artificial intelligence. The moment you walk in, one of three multilingual androids greets you. There's also a robotic arm storing guests' suitcases, or a bell-bot to take them to your room, where motion sensors trigger the lighting system. Meantime, face-recognition software unlocks your room door, doing away with those easy-to-misplace keys. The only thing they haven't managed to borgify is the cleaning service, but for eco-friendly purposes, it's limited to towel replacement during your stay. You have to use your puny human body to make your bed and keep the room clean.
Modobag
Delayed flights also mean crowded airports. That's usually my cue to turn my carry-on into a makeshift seat, for lack of the real thing in the jetty. Modobag turned that common pain point and put wheels on it.
This drivable, motorized bag is a very simple concept. Despite its engine, it's still carry-on sized, and its light aluminum chassis won't tamper with your weight limit. What's most remarkable is how well it's equipped for the modern age; everything from a built-in GPS to a dashboard and dual USB ports are part of the package. It's battery-operated and chargeable, and can be programmed to ride as fast as 8 km/h indoors, or 12.8 km/h outdoors.
So now, when there's a delay, I can motor on to the "fun" terminal while I wait for my flight to decide whether it's staying or going. Luggage: I don't lug you anymore.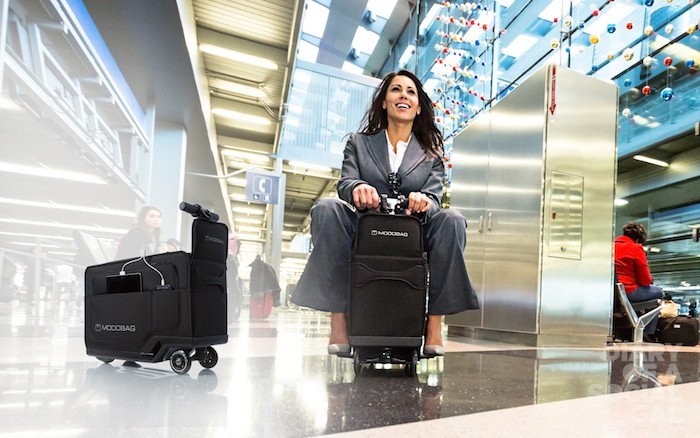 Gardens by the Bay, Singapore
Singapore's Marina Bay is known for its multiple views. You could face the water from the perch of the famed rooftop infinity pool at the Marina Bay Sands skyscraper hotel. Or you could book a night-time cruise and see the city's luminous skyline from the water. On the shore, you could take a stroll through the Gardens by the Bay, a botanical environment that's something of an experiment in bionic horticulture.
The sprawling site is dubbed a "garden city," inspired by Singapore's urban landscape, but in plant form. Each environment is unique and breathtaking, from the enormous Flower Dome to the Cloud Forest, which showcases flora that lives in tropical highlands some 2,000 metres above sea level.
It could easily be described as a feat in environmental engineering; not a single system in the Gardens was conceived without considering its impact on the area, and how it could be synergetic with it. For one, the waste generated by Gardens and around Singapore is burned in an on-site bio-mass generator, which produces energy that keeps the conservatories cool, and helps the botanical gardens save 30% on energy.
The most impressive spot is no doubt Supertree Grove, where 25- to 50-metre canopied metal structures were built to support tall vertical gardens. At night, they come alive with a colourful lightshow made possible by photovoltaic cells built into the canopies, which harness solar energy that's then used to illuminate the trees when the sun goes down.
Of course, if you're perched on the pedestrian path that wraps around and connects the Supertrees, the panoramic vista from 22 metres above the ground might prove to be too distracting to think about any of that.
gardensbythebay.com.sg/en.html
Glamping in Antarctica
Okay, hear me out: I totally get that a vacation in the real-life Land of Always Winter doesn't sound immediately appealing. For centuries, Antarctica's merciless climate only drew in extreme adventurers, ballsy scientists, and the occasional lost colonist. But what if someone came along and made it bearable, even comfortable? Wouldn't you be a little curious?
Enter White Desert, the (only) company that offers luxury retreats in the Great White South. Its excursions were designed by avid Antarctica explorers to be like safaris on snow, complete with state-of-the-art dome-shaped sleeping pods and award-winning cuisine. On the trip, you can arrange to observe emperor penguins, visit ice tunnels, or mountain climb along the western edge.
The fibreglass sleeping pods themselves were custom-made for White Desert, and are ideally shaped to withstand the strong Antarctic winds. Because they're semi-permanent and have no foundation, they can be removed without leaving a trace, which is also part and parcel of White Desert's zero-impact policy.
In accordance with the Antarctic Treaty's environmental tourism guidelines, the camp produces no waste on-site. It's also powered by photovoltaic solar panels for electric supply, and solar water heaters for the showers. They're a carbon neutral company, which means they offset all their emissions.
If all this eco-opulence doesn't earn this vacay a spot on the bucket list, perhaps its price tag will. For a cool $45,000, you can stay here for one frigid week. They also offer short-and-sweet 12-hour tours.
Commercial Spaceline
Never one to shy away from unchartered terrain, rogue CEO Richard Branson has put a lot of effort into Virgin Galactic, perhaps the most ambitious division of his company. It aims to be no less than the world's first commercial space flight provider, developing crafts that will take earthling tourists to space … just to see.
Having recruited everyone from astrophysicists to former NASA employees, Branson and his team are working towards the common goal of sending more non-astronauts into space. A number of setbacks got in the way of its originally intended 2007 launch, but Virgin Galactic has nevertheless forged on, planning its maiden voyage in the next few years.
The quest is at least partly motivated by whimsy, but mostly driven by science. After all, once Branson conquers the atmospheric limits of our planet, can Mars be far behind?
For just $250,000, Virgin Galactic will fly passengers into suborbital space, where they can experience zero gravity, and see Earth from the most exclusive vantage point. Some known names who have reportedly already made a reservation include Ashton Kutcher, Tom Hanks, and Katy Perry.
The ride only lasts six minutes, but it promises life changes and a total paradigm shift, which, I'm assuming, is where all the money went.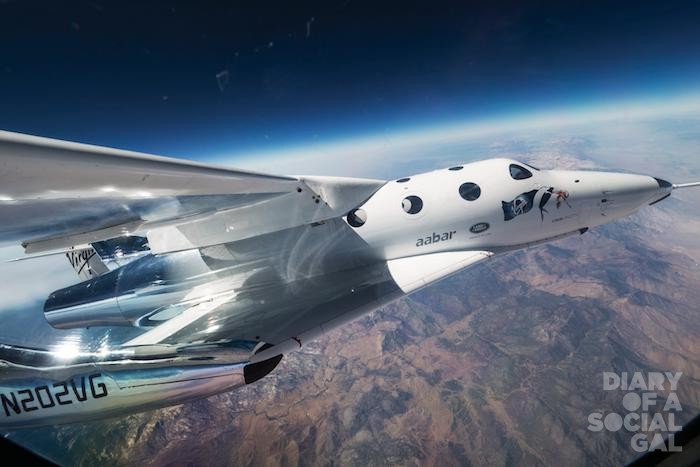 Note to travel buffs: Tuesday is TRAVEL TUESDAY in Diary world. Tune in for a weekly fix. 😉