"You've been all over the world; what's the most fabulous, exotic, luxury destination you've ever been to?" the Social Gal asked me.
"Well," I said, "Tiger Tops in Nepal is fabulous, so is the Caiman Ecological refuge in Brazil's Pantanal de Mato Grosso, but I'd have to say that Jack's Camp is the ultimate."
And I'm not the only one who thinks so. Condé Nast Traveler's British readers recently voted it the number one place to go in the world.
What's special about Jack's Camp is that it combines "real adventure with unreal style," so says the slogan of Uncharted Africa, the company that runs it and three other camps in Botswana, as well as a bespoke mobile safari, which can take you to all three and many other places on the way.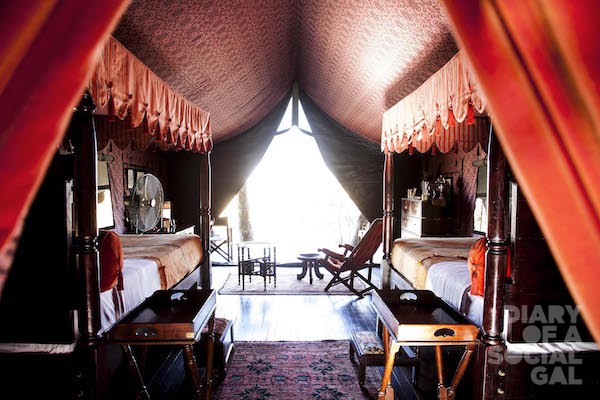 The site, on a knoll of desert palms and Kalahari acacias in the middle of one of the wildest areas in Africa, was discovered in the early 1960s by the legendary safari guide and great white hunter JACK BOUSFIELD. Jack died in 1992 when his bush plane crashed shortly after taking off from the camp. Ten years later, his son Ralph, the fourth generation of Bousfields in the safari business, named the camp after him and made it, as one of its many famous guests, Thomas Pakenham ("The Scramble for Africa,"etc.) described it, "more suited, I would say, for the better class of Maharajah."
Ralph's concept was to keep the flavour of a posh East Africa 1940s tent camp, and make it even more posh. The guests stay in ten green canvas suites lined with Indian silk and floored with dark tropical hardwoods carpeted with Persian rugs, which have roomy verandas and en-suite bathrooms, and indoor and outdoor showers, for those who want to feel the Kalahari sun on their skin. There's a pavilion with a plunging pool, a decadent tea tent, and meals – plated, not buffet – are served at a long communal table in the ornate Bedouin-style main tent, which has low spires and finials with a fluttering valance beneath its eaves, and a Victorian museum of fossils, skulls, feathers, beadwork by the local Zu/'hoasi bushmen, and other curiosities.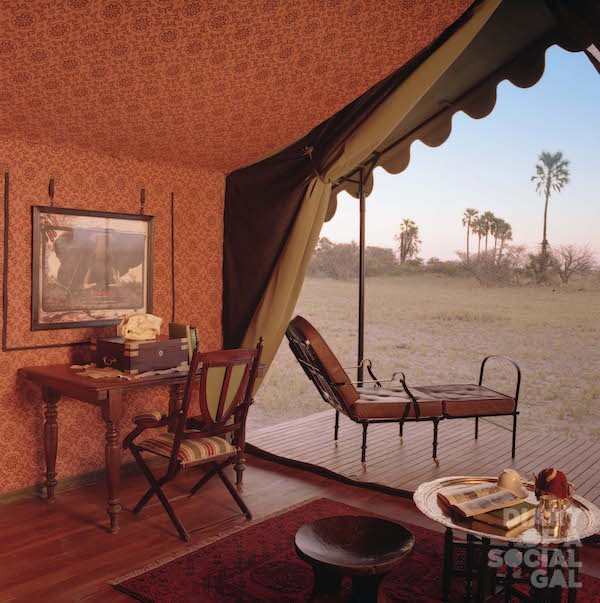 The menu is "creative and original," and always changing. As you sit down to, say, coriander, chickpea and tomato soup, followed by ballotine of chicken, stuffed with mushroom, garlic, spinach, with lemon and parsley butter, mange tout and a butternut pumpkin tarte tatin, and tiny tiramisu, washed down with a succession of ambrosial red and white wines from South Africa, you think, "I should have brought my tux."
In the morning, you venture out with a band of twelve bushmen – six men and six women – on the Makgadikgadi salt pans, the remains of an ancient super-lake, once the biggest body of water in Africa, now part of the famously forbidding Kalahari desert. The private concession of Jack's Camp is 2,934 square kilometres, and the entire protected ecosystem exceeds 50,000 square kilometers. In the dry season, you can go for miles across the pans full-throttle on 4×4 quads and still be nowhere, or maybe find the fossil of an extinct hippo to add to the museum's collection. In the wet season, you can watch the largest migration of zebras and wildebeest in southern Africa. As it is, it hasn't rained in months, and walking on the dry white crusts of salt in the pans is like walking on poppadums.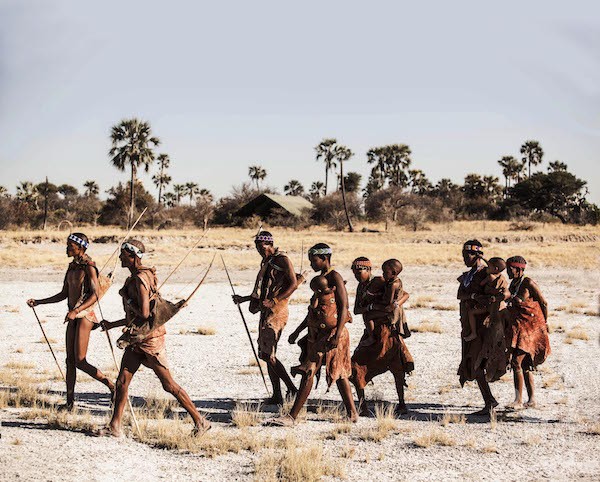 The band I am with turns out to be the family that N!xau, the star of The Gods Must Be Crazy, who died in 2003, belonged to, and they're really nice. The bushmen are the oldest people in the world. They have been living in the same place for 75,000 years; they get everything they need in four hours and have the rest of the day to play. They have, in fact, the greatest amount of leisure time of any society, which makes you wonder if the astonishing progress mankind has made in the last ten thousand years has really been worth it. They dig up water cucumbers, other juicy tubers, hibernating bullfrogs, and the deadly poisonous beetle cocoons they grind up and tip their tiny arrows with to bring down bushbucks and other animals many times their size. They stop for a smoke, making a fire in less than a minute by rubbing one stick into another until sparks ignite a bole of zebra dung. They have survival in one of the world's harshest environments down to an art.
In the afternoon, Ralph takes you out in one of the safari trucks to see the 5,000-year-old Chapman baobab, which is acknowledged to be the largest tree in Africa. It has a big hole in one of its seven trunks that Livingstone, Selous, and other early explorers left messages in for each other, some 150 years ago.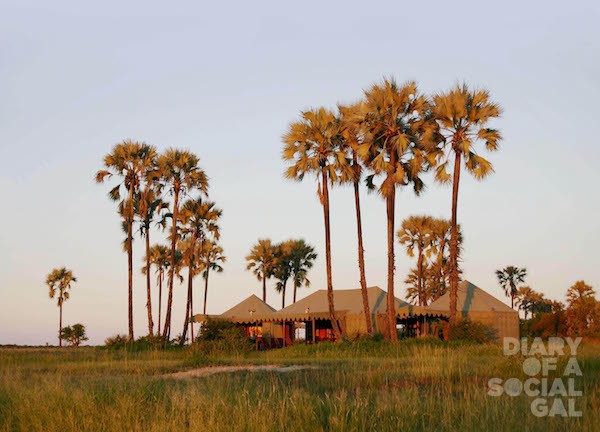 With his safari jacket, shoulder-length hair, and silver bracelets, Ralph looks like Greystoke. He takes you to a family of meerkats, very social and adorable relatives of the mongoose, who are completely unfazed by our presence, and are moving through the desert, sniffing, digging furiously, snacking on scorpions and lizards, while one of them, stretched up to full height, stands guard, ready to sound the alarm should a jackal, or – public enemy #1 – a martial eagle, hover into view; whereupon they will all disappear like greased lightning into one of the big bolt holes they have made every 50 to 100 yards.
After tea, we head off in search of ostriches, aardvark, bat eared foxes, aardwolves, and the elusive brown hyena, which is the third rarest large carnivore in Africa, with only about 8,000 in the wild. Close behind the zebra and wildebeest during the rainy season are the predators: lions, cheetahs and leopards, or wild dog; and there are all kinds of big striking birds like the rare wattled crane, ibis, storks, and clouds of migrating flamingos.
After another sumptuous dinner, we go out to a roaring bonfire that the bushmen have made, and we dance around it with the men, who have seed rattles on their ankles, while the women chant in polyphonic choruses and clap complex cross rhythms. After an hour, I start to get into a state unlike anything I've ever been in. The bushmen have been doing this trance-dancing three or four times a week for 75,000 years, so they really have it down. I am starting to get off myself. It really works, this ancient trance-dancing. The distinction between us and them, modern and tribal, melts in the dancing shadows and we are all just human beings, united by the same unanswerable questions and the unalterable fact that we are all going to die. "The bushmen are the people who never left," Ralph tells me. "Mankind has been living like them for most of our history. Until ten thousand years ago, we were all hunter-gatherers, so meeting the Bushmen is like finding out who you really are, who we are hard-wired and supposed to be, and it's a wonderful discovery, because they're such lovely, gentle people."
Only a few hundred are still living traditionally, so the big take-away from Jack's Camp, for me, is meeting the Bushmen and, as photographer Sebastião Salgado put it, discovering that you're 75,000 years old.
Photography UNCHARTED AFRICA