If you like luxurious, ultra-comfortable getaways in gorgeous picturesque surroundings (and chances are you do if you're a Diary devotee), then the award-laden resort bijou Hôtel Quintessence, in world-renowned Tremblant, has your name ALL. OVER. IT. For every pampery perfect reason this Social Gal is still buzzing from a paradisial stay (and heartily recommends one of your own if a recharge is on the agenda), keep reading:
1. For starters, the impeccably kept property is STUN-NING. Set against the mesmeric bucolic surroundings now synonymous with Tremblant, the charming chateau-like hotel blends seamlessly into the elevation overlooking the lake, affording views from exquisitely appointed, amenity-laden spacious suites – and other perfect perches like the beloved restaurant and infiniti pool grounds – that are nothing short of breathtaking.
And speaking of said accommodations, more words (ahem Social Gal superlatives) are in order to do them justice. From the mega beds that embrace and seduce with layers of snowy-soft down to the freestanding Jacuzzi tubs boasting soothing jets and hypnotic views, it's practically impossible not to want to kiss reality goodbye and move in permanently. Actually still considering it. Only half-joking.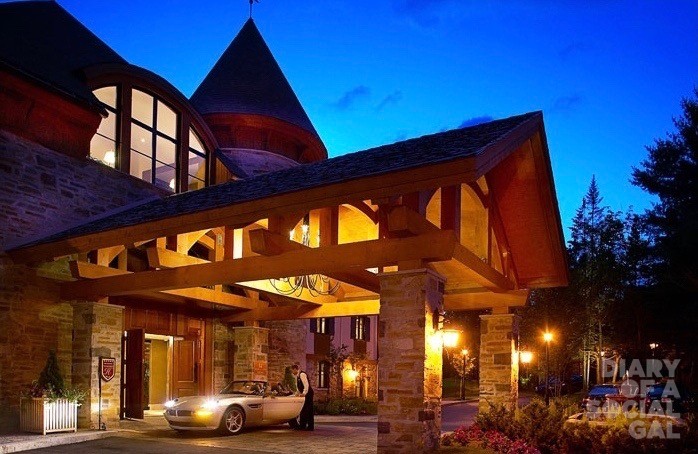 2. When guests include the likes of legendary rock 'n roller / activist BONO (need I namedrop more?!), chances are the fare is going to compare with the world's best. And it does, thanks to the culinary wizardry of Restaurant La Quintessence & Winebar executive chef GEORGES LAURIER and his team. (By the way ladies, the Four Diamond winning master is as dashing as he is gifted).
Among the many innovative French and locally inspired delicacies and house specialties that dazzled from a truly astounding and bountiful chef's tasting menu were (drumroll please): scallop starters in a delicate soy and Ungava gin reduction accompanied by melt-in-your-mouth sweet fried seaweed; a perfect arctic char tartar appetizer served with a spray of microgreens and organic pumpkin seeds; the mouthwatering main of fresh trout bathed in a lush lemon butter sauce with a side of homemade blue chips and seasonal veggies, and, for dessert, a trio of offerings so delectable they defy description. (Suffice to say chocolate and salted caramel figured prominently and seconds were requested and ingested rapidly).
3. Next up on the Qtastic was its absolute SPAtacularness. Equipped with the finest skin-loving and enhancing product ranges (think CARITA and YONKA) and state-of-the-art spacilities including sauna, wet steam, serene massage suites and outdoor whirlpool literally floating over the lake, the dream pamper scene – aka Spa Sans Sabots – also employs some of the best knot-releasing talents on the planet. Indeed, for the first time in a verrry looooong time, stress was expertly eliminated from my usually tightly wound body via a 90-minute deep tissue massage that is still inspiring far-reaching stress-busting benefits today as I hunch over the screen. Can you say ahhhh … ? I can … NOW.
4. Finally, the Quintessence deserves still more love for its magnificent service (a professional team so friendly and accommodating you'll want to hire away the entire human resources department) and a prime location so supreme it places you at the centre of activity; just a hop skip and tumble from Tremblant village, home to an array of excellent restaurants and hotspots like La Forge, a treat for its bewitching views and exemplary bar and cuisine.
And so Social Gals and Gents, I repeat: If enchanting escapism is your thing – awash in all kinds of adventures and activities for every season, do queue up for the Q … and ENJOY. 😉