Step inside the pristine new offices of plastic surgeons SANDRA MCGILL and KARL SCHWARZ and it's not immediately obvious you're in a state-of-the-art medical facility. The ultramodern space is glassy and cool, dominated by sharp, clean lines. Marble floors blend with contemporary furniture and stark white walls, creating a breezy airiness that stretches from the waiting room to the consultation space and the surgical area. Bright windows let the lights of the city trickle in, revealing tony Westmount to the north, while Montreal's luminous downtown buildings glimmer to the east.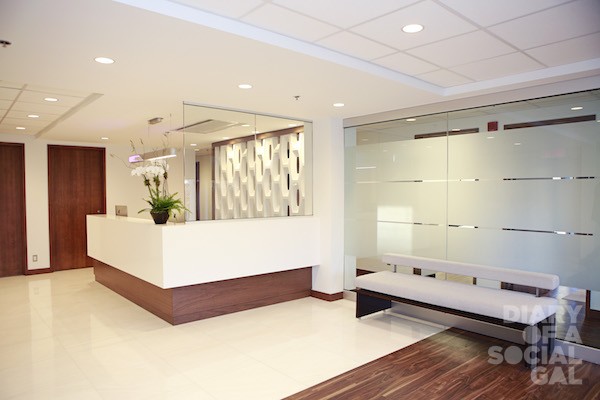 Clearly the setting is impressive. But the soul of this space lies not in its walls, but in the two incredibly personable surgeons who are the brains behind the operation. Doctors McGill and Schwarz, just like their office, are a brand new partnership on the block. After running their own practices for nearly 10 years, the two joined forces because, quite simply, two great minds under one roof are better than one. As Schwarz puts it, "Sandra and I are a synergistic partnership. We share the same ethos as doctors, and we believe in a patient-centric practice."
Marble floors blend with contemporary surroundings creating a breezy airiness that runs through the facility.
Perhaps you already have a solid understanding of what liposuction, laser, and latex mean; but what does Schwarz mean when he says "patient-centric?" He means the moment you swing open the doors to this oh-so-chic clinic, it's all about you.
Patient-centric also implies that the first item on the checklist for them is tapping into the intangible. During the initial consultation, the docs aren't itching to know what procedure you're interested in. They want to know why you want to do it. "The first time I meet a new patient, I create a bond with them," says McGill. "There's a physical problem the patient wants to overcome, but there's always a story behind it. And the story is the crux of what we try to understand before we decide which treatment or procedure is the right fit."
You might waltz into the Dr. Dream Team's office with a crystal clear objective – Botox under the eyes, please! – but the expertise and artistry of this power pair have a tendency to change a patient's vision, and for the better. "Many people arrive thinking they know exactly what they need, and yes, sometimes it's right," says Schwarz. "But there's no cookie-cutter solution when it comes to procedures. Every person is different, and each procedure is a different form of art."
Imagine that you're a canvas, and McGill and Schwarz are the artists trying to make each masterpiece that much better than the last. They'll labour over every single brush stroke, every shade, and every colour. They want this design to be the best in show.
And to make their masterpieces come to life, they're well equipped. In fact, their new space doubles as the most advanced surgical facility in the city. What's more, when the docs aren't cooped up in the O.R., they're bopping around the globe to learn the most cutting-edge techniques from their peers. Which means they know the best of what's out there, and, better yet, how to perform it on you.
In the spirit of their new partnership, the Dream Team revealed some of the latest trends in the plastic surgery world that they're most excited about. From face to body and breasts to booty, wrap your head around the latest in plastics:
FRACTIONED FACIALLY FABULOUS
Whether it's minuscule lines and can't-hardly-see-spots that cause daily grief, or deep wrinkles that evidence years of stress, there's a new cure for woes that makeup can't fix. Say bonjour to SCITON Fractioned Lasers, which stimulate collagen beneath the surface through little holes that apply pressure to problem areas. The result is tighter and brighter skin that's red carpet-ready. The Dream Team loves this technology because it's incredibly diverse. "SCITON works for lighter peels, perfect for women in their 30s who just need a little refreshment," McGill points out." But we can also use this laser to be more aggressive and tighten the skin significantly for women with deeper wrinkles, who want a non-surgical solution." What's the best part about SCITON? "There can be little to no recovery," remarks Schwarz. Yes, that means you can go from laser to party without having to veil your face à la Samantha Jones.
TOUGH LOVE, BODY!
Apparently, unwanted fat responds well to the cold shoulder. Cool Sculpting is a fat reduction technology that does exactly what its name implies. "By freezing the problem area, you can sculpt your body by reducing fat to the applied area by 25 per cent," says Schwarz. Cool Sculpting has begun to buzz from coast to coast, and for good reason: "It's an easy, effective treatment for under the chin, arms, legs, stomach … any part of the body, really," praises Schwarz. "It's an excellent alternative for candidates of liposuction, who want a less invasive approach." The cold shoulder might be one of the oldest tricks in the book, but this new and improved version deserves a warm welcome.
FOR THE GIRLS (AND BRAZILIANS)
Something all of us beauty and body buffs constantly lament over is the elusive, very difficult to achieve thing called proportion. Imagine if you could literally relocate unwanted fat in your body to another place where you believe it rightfully belongs? It would be like moving knick-knacks from place to place at your office desk for a new vibe, or switching around the furniture in your bedroom. All of the same stuff is still there: but now it's in a new, improved place.
This magical moving system is called REVOLVE Fat Injections, and it's worth getting excited over. "It's liposuction with an aesthetic bonus," describes Schwarz, who's seemingly the most thrilled about this new innovation (we are too). "This is how it works: take the fat from the unwanted area, then the technology purifies, filters, and washes it to transform it into a filler." Then, the fat is injected back into the body at its new home. It's most popularly administered for Brazilian butt lifts, and it's ideal for small-scale breast augmentation. In Canada, there are over 500 varieties of breast implants available today, but if you're looking for just a boost instead of an overhaul, REVOLVE may be exactly what you need for a little bodily feng shui.
++
So, there you have it. With almost unfathomably advanced technology and gifted surgeons, you can laser, freeze, and relocate your personal canvas to redesign your body into something you love. However, though the hands of McGill and Schwarz are capable of performing out-of-this-world surgeries and treatments, they're the first to bring us back down to earth and remind us what it's really all about.
As Montreal's night sky shone through their impeccable office, casting a glow on McGill's naturally beautiful essence, she concludes with firm confidence, "as surgeons we can do just about anything. But the truly attractive thing about a person isn't their outward appearance. It's their radiance. It's our job to illuminate that inner spark that looms within."
Photography MONIQUE SIMONE PHOTOGRAPHY