I don't know about you but when I was a little girl, there was no better game or play than … dress up, especially when it involved traipsing into my mother Gail's closet (which at the time, next to my diminutive stature seemed like something out of Carrie Bradshaw's world, or more precisely, that dream closet from the big screen version most of us have yet to get enough of even a decade plus later).
As my five-year-old eyes perused all the fantastical designs brilliantly arranged according to color and season, and feasted on the rows of footwear boasting intricately woven straps and snaps, I was sure I'd been properly dropped into heaven. I mean why the heck would anyone want to go to a park and park their tush on a seesaw or swing, when the rewards of this fantasy playground were so much richer than a momentary swoosh through the air? Sensual silks, velvets and myriad other fine fabrics wrapped all around in a million different ingenious configurations, each bringing new personas and possibilities to life versus repetitive up down back forth motions. Was there really any contest?! Who were these funny little others who looked like me but had the imaginations of gnats?
Clearly, I was not your typical tiny person and equally clear back in the day: one of my preferred modes of creative expression – and escapism – had reared its style loving head and wasn't going anywhere … or rather, was going everywear: E-V-E-R-Y-W-E-A-R!
Soon after the closet affair, I discovered Fashion Television both literally -the series and eventual network hosted by the ever sublime and deliciously iconic Jeanne Beker – and via its earlier incarnations, Style with Elsa Klensch on CNN and CBC's Fashion File with Tim Blanks (two more brilliant fashion journalists who made the planet so much better with their informed and infinitely entertaining style commentaries and shares).
While other children watched cartoons and played with mainstream blonde barbies, I was hooked on the fashion reporters and glorious fashionalities and runways they brought to life so incandescently, dressing my Barbies of choice, the limited-edition Cher and Diana Ross dolls (yup) in getups and creations worthy of their own sassy struts down catwalk tracks.
And don't even get me started on the designer obsessions and my own version of modelizing initiated early on: To tune into a Galliano and McQueen fashion show, dripping in theatrics, showmanship and the kind of glammed-up next level exaggerated couture that only their magnificently complex imaginations could mastermind was an indescribably exciting experience that still gets the goosebumps prickling, made all the more delectable when rocked by their supersized barbie dolls, the truest "fashitude" soaked OG supermodels of all time. Yes those gorgeous glamazons like Naomi, Christy, Cindy and Linda, who famously quipped they wouldn't get out of bed for less than $10,000 a day .. (Contrast that kind of whet your appetite and leave you wanting more vibe with today's selfie-obsessed endlessly in our face social culture of oversharing and the allure is clear … )
Ahhh FASHION … it dazzles and soothes the senses in exceptional ways we have yet to understand (there's a reason we call it "retail therapy"), takes art straight off the walls onto the mobile canvases of our bodies, represents immeasurable opportunities for reinvention and creative expression, and even manages to record history and cultural trends in an incredibly useful and innovative "fashion" all its own, far more riveting and consumable than more convectional modes of record.
No wonder it was my right brain dominant addiction from toddlerhood, represented the focus of my college thesis CAN CLOTHES TALK? (To this day, my father finds it mind boggling that I managed to talk my way into a 60-page analysis of clothes for which I then received an A) and became a major focal point of my professional journey, first as a fashion reporter for many years post law school (not a typo) before eventually launching a brand and publication of my own, yes this one, wherein I could give fashion an even more prominent starring role, interviewing and profiling some of the greatest legendary figures in fashion history (from Patricia Field to Herve Leger to Jeanne Beker to Michael Kors to Stuart Weitzman) while working alongside gaggles of gifted creatives in our midst who brought a slew of magical editorials to life, thankfully immortalized on the pages of the publication to this day, and of which, I remain fiercely proud …. There were even collections like Social Gal Soiree, offering up my own vision of go out glam …
Also obvious in this context is how naturally fashion evolved as a go-to style savior in my world when our world at large hit the crazy button last March. While there was the more obvious retail therapy made possible thanks to such an expediently digital culture, there was also the far more fun and fabulous dress up that really got me -and arguably many- over the edge, though I likely didn't realize it at the time.
With quarantine in overdrive and literally nowhere for us to go except our living rooms, suddenly it made sense to escape the madness, the sadness, the fear, via a grown-up version of my childhood dress-up. And though it sounds slightly mad, this escapist exercise in play and self-expression did make a difference, offering momentary respite from a surreal real we were desperate to flee. (For those who need the visuals here, feel free to take a scroll down insta lane and you'll find the goods: oversized shades and hat tipped slightly askew against the backdrop of a glam tub, my best impersonation of a tawny rocker queen in animal print and vintage glitz, and some bizarre maybe not so boomerang worthy dancing performed atop a bed in a sheet turned gown).
Fashion, dress-up did not disappoint. Dressing was a blessing I badly needed in tough times.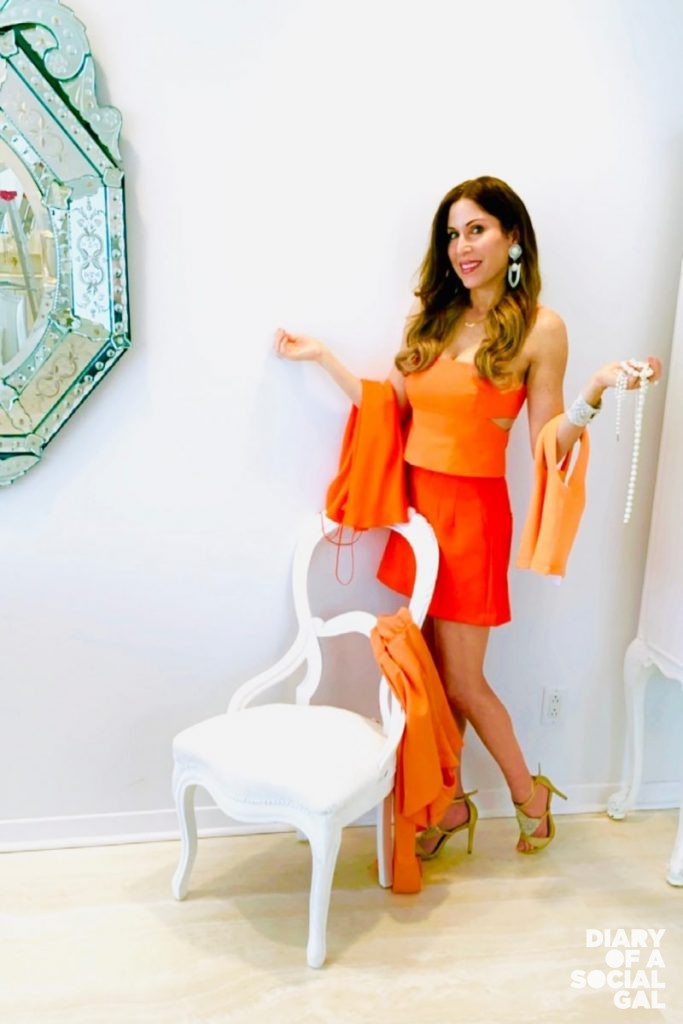 And there you have it folks, another lesson as we slowly emerge from the nightmare of our past year. Welcome your thoughts and shares here. Did dress up save your sanity too? For more lessons, explore the site and look for more companion materials on social media.