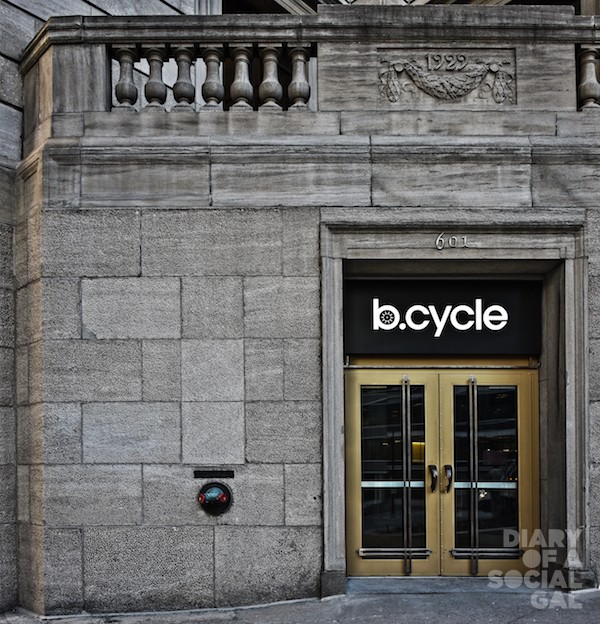 I'm totally the worst when it comes to working out. I can't help it; I just find it dull. If you do both cardio and weights, each session takes too long, and usually, within three months, I start finding ways to avoid the gym. All told, I was surprised when Diarysta-in-Chief Jenn asked me to cover b.cycle, an in-door cycling studio that opened on the edge of Downtown and Old Montreal in April 2015.
Fitness is hardly my beat, and I'm the last to know about any new exercise furor. But since I'm shopping for a workout regime I won't hate, I took on the assignment in good faith. Before the interview, co-owner TINA LEBER suggested I bring gym frocks so I could actually try one of b.cycle's spinning classes myself. "There's nothing like it," she promised.
When I arrived, the stark contrast between the interiors and exteriors gave me a jolt. Out-doors, it's exactly what you'd expect from the city-centre: tall grey towers and glass boxes. On the inside, b.cycle immediately introduces rich wooden surfaces along the walls, the benches, at the juice bar, and reception desk. Green accents pepper the décor. Created by interior designer Christine Blais and architect Éric Leblanc of Casa Architecture, this organic visual impact soothes and welcomes, which is exactly what's intended.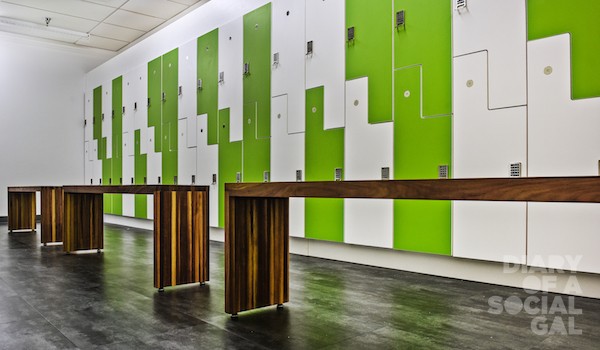 Greeting me with Leber were co-owners Bijan and Chahram Bolouri, son and father, respectively. I was taken on a quick tour of the establishment, and shown the two workout areas: the spinning room, and the ballet barre room. The b.cycle concept was inspired by SoulCycle, a U.S.-based chain of indoor cycling centres that revolutionized the workout.
Lead spinning instructor Bijan, as though he saw me coming, explained what went into fashioning this unique environment. "You can't design your body if your mind's not ready for it," he said. "We saw this concept in the States, and wanted to bring something like it to Montreal, but with our own flavour. I wanted to motivate people to change their bodies, but also their minds, and bring everything to another level."
That other level is at least partly embedded in b.cycle's entirely web-based system. While a three-month package is available, b.cycle also encourages 5-, 10-, or 20-class bundles. Once you create your profile online, you then book the class you want at the day and time that suits you best, or with your favourite instructor. At the end of each class, your performance results are sent to you in an email.
From b.cycle's website, you can even pay for an organic fruit juice, smoothie, water bottle, or salad in advance. So when you arrive, or when your workout ends, reception will have your purchased item ready, with your name on it. You can have it to go or at the bar.
This convenient model was put forth with the business crowd in mind. It's also why classes are only in the morning, at lunch, and in the evening. "The idea is that people can get in and out as quickly as possible," Bijan pointed out.
Still, the classes are what distinguish b.cycle. Granted, there are only two kinds, but they pack a lot of power. The ballet barre is a muscular workout, using ballet exercises to tone the body. "You don't have to be a ballerina," Leber said. "You use a bar, ball, bands, and weights. It's a combination of toning and stretching. For me, spinning and ballet barre are the best combination."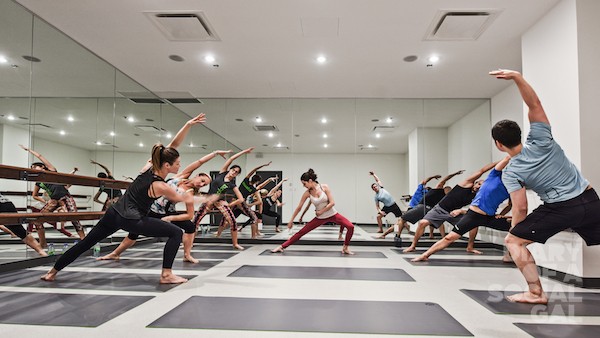 As for the spinning class, well, that's where it got interesting. I entered the dimly lit room before anyone else, and Bijan, preparing to teach the class, explained the set-up. "It's not a spinning workout; it's a journey," he told me. "The whole design of the room is done in such a way so that it's darker, so you can't see the people around you, and you disconnect from your surroundings. The lights are on the instructor, so it feels like it's just you and him or her. Plus, the stadium seating means that no matter where you sit, you'll have a good view of the instructor."
Fair enough, I thought, let's see where this goes. A few moments later, I clicked into the cycling shoes supplied by b.cycle, and started pedaling. Though it was dark, I couldn't help but notice that the room was filled with a nearly even ratio of men and women. That was the first surprise. The second was the music. I was expecting nothing but EDM, as is the custom with most gyms; and certainly there was some of that, but Bijan also mixed in some dubstep, Madonna, and even Mumford & Sons.
The rhythms always varied, complementing each exercise. Meantime, while cycling, we were asked to do push-ups on the bike bars, increase the resistance over five songs, and, at some point, lift light weights while maintaining a good cycling posture with a steady core. I was exhausted. I thought I was about to hit a wall. And before I could fully commit to giving up, it was over.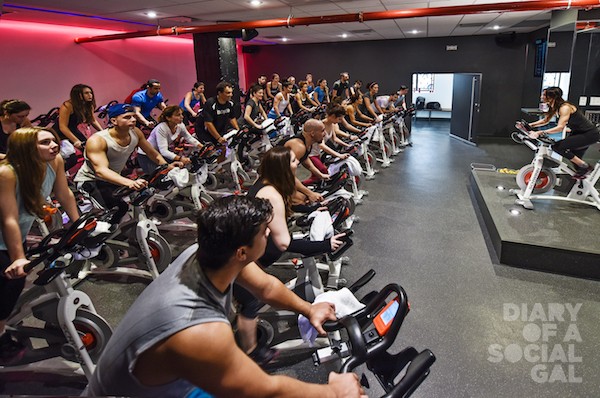 In that complete, 45-minute workout, I couldn't get bored because I was always moving, trying to get through the exercise, or just beating my own score on the leaderboard, which Bijan would occasionally show on the screen up front.
Bijan's father Chahram, who also did the class, took some time to chat with me afterwards. He's an avid long-distance cyclist, but this spinning method, he confessed, was a whole new ball game for him. "I love it," he said. "I go as often as I can to get the rest of my workout."
It's effective; that much I can't deny. And I experienced that same endorphin high I used to get from running. Only with spinning, I won't have to recover from shin splints or any other running-related injury.
Am I a convert? Time will tell. But I can say that I went home that night, tired, stinking, and sore. I sat my aching butt on the reclining sofa, opened up my laptop, and booked my next class.
b.cycle is located on 601 Gauchetière St. West. Find out more at bcyclespin.com or 514-393-1001.
Photography CAROLINE BERGERON