So it's Canada Day tomorrow, Social Gals and Gents, and for those of you who are staying local and looking for some fun and fab ways to celebrate, 'course we have your backs. That said, be sure to stay well hydrated no matter how you choose to go Canada cause it's gonna be hawwwwtttt, with daytime highs of 30-35 degrees that will feel more like 40 with all that humidity.

OLD PORT GETS ROCKING 
Not surprisingly, there are going to be nonstop activities and amusements and workshops happening in this historic and trending area throughout the day and night. And there is literally something for everyone, a perfect one-stop-shop for gangs of friends and families with diverse tastes. 😉
Some notables: a let your hair down dancing stage offering up an opportunity to rock a slew of new moves; a delish traditional Canada Cake; a guaranteed to bring a few tears to your eyes swearing-in ceremony of new Canadians replete with raising of the flag and anthem presented  by the 34th Canadian Brigade Group; a crazy fab makeup tent where the only limit is your imagination; a main stage boasting all kinds of cool performances; and yes, rain or shine, those superstar fireworks.
For more details on all this dazzle, go to: the event's website.
NORTH SHORE FESTIVITIES 
The Old Port won't be the only game in town. We are the party city. 😉 Equally inspired celebrations will also be unfolding on the North Shore at 901, Park Ave, kicking off at noon. Music will be on the agenda, along with night-time fireworks too.
For more details here: Laval Fabulous.
PARADES LEAD THE WAY
For those who love a good parade, get ready to be well entertained.
The big annual Canada Day Parade gets under way at 11 a.m. on the corner of Fort and Ste Catherine streets,  continuing to Place du Canada, where at around 1:30 p.m. a towering cake will await will slices for attendees.
For more details: Canada Day Parade.
Longueil also featured a parade as part of its planned fabulosities, running from René-Veillet Park (1050 de Parklane St.) to Empire Park (195 Empire St.).
Entertainments here include games, workshops and a variety of performances.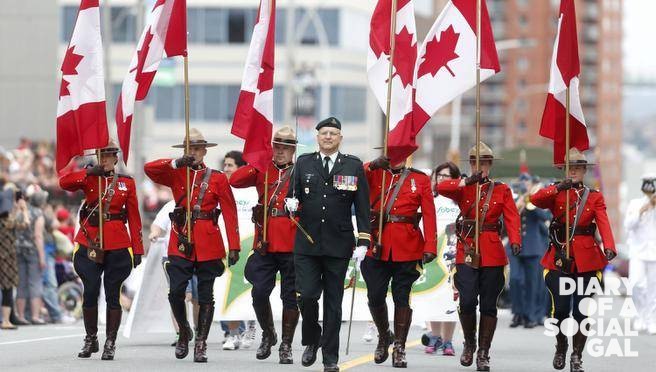 MORE OPTIONS
Still haven't found your Canada Day nirvana? Well maybe Montreal West will entice with its BBQ, music and games and full-on fireworks. The fun starts at 4 pm. in Strathearn Park, on the corner of Strathearn Ave. N. and Parkside.
HAPPY FABULOUS CANADA DAY ROCKSTARS!!! CELEBRATE THE GOOD STUFF!