Retail apocalypse? More like retail renaissance. While e-commerce continues to grow, the brick and mortar retail landscape — though surprising to some — is also evolving rapidly, spawning a new era for shoppers, especially when it comes to luxury. And contrary to the doom predictors and naysayers, change in this lane is actually extra-fab because along with this evolution comes revolution: out-of-the-box retail decor, headline-making experiences and design elements that make customers (whether shopping or simply browsing) want to stay.
Need more proof? NP. Simply log on to the "Smart Bestie" at your side and check the countless insta snaps and stories of shoppers currently capturing the cool at happening new retail emporiums like KithNYC, Glossier Melrose, WeHo Los Angeles and our own SSENSE MONTRÉAL where on-site props, lures and events (think Kith Treats, giant Boy Brows, a Glossier Canyonand live performances) are making trading lazy couch-buys for in-store Insta "lives" dangerously appealing.
Clearly Doug Stephens, speaker, retail futurist and founder of Retail Prophet was on to something in 2017 when he said, "stores can't be just about distributing products. They need to be about distributing experiences: less stores, more stories … less emphasis on shopping and more emphasis on entertainment, hospitality and community."
Hmmm … so, whether reactionary in a digital climate or not, the reality is that telling these "stories" in the modern retail environment is culminating in a fresh and electrifying shopscape that Social Gals and Gents can't get enough of.
Join me now for an overview of the rapidly adapting MTL retail scene and see for yourself what all the hype's about …
HOLT RENFREW OGILVY'S NEW FASHADISE
So the skinny here is as follows: if you've ever pictured the gates of retail beauty heaven, chances are they looked a lot like Holt Renfrew Ogilvy's recently unveiled Beauty Hall, a masterclass in stunning design and brand curation featuring every possible upscale beauty brand worth fantasizing about … which, along with the equally impressive Menswear Floor (a mecca for men with good taste) is, drum roll please, only phase one of the new Holt Renfrew Ogilvy coming our way. The gift that keeps on giving!
Masterfully designed by Jeffrey Hutchison & Associates in coordination with architects Lemayand Gensler (designers of the new Ogilvy façade for the store expansion), the departments' expanded Beauty Hall (25,000 square feet) and Menswear Floor (40,000 square feet) are just part of Holt Renfrew's $400 million investment plan to revitalize and enhance its network of stores across Canada.
In addition to the aforementioned super-spaces, expect to get equally excited about the refurbished main floor set to include heavenly designer shops from the likes of Celine, Dior, Gucci, Hermès, Louis Vuitton, Tiffany & Co and a large CHANEL presence, in addition to a brand-new Colette Grand Café, designed by Paris-based Laplace and scheduled for completion in 2020.
The cool neon pink sign in the Beauty Hall may profess Holt's adoration for Montreal but hey, we love it right back!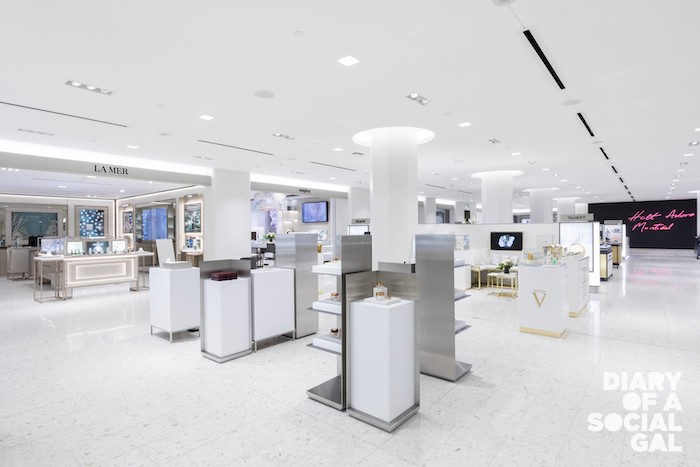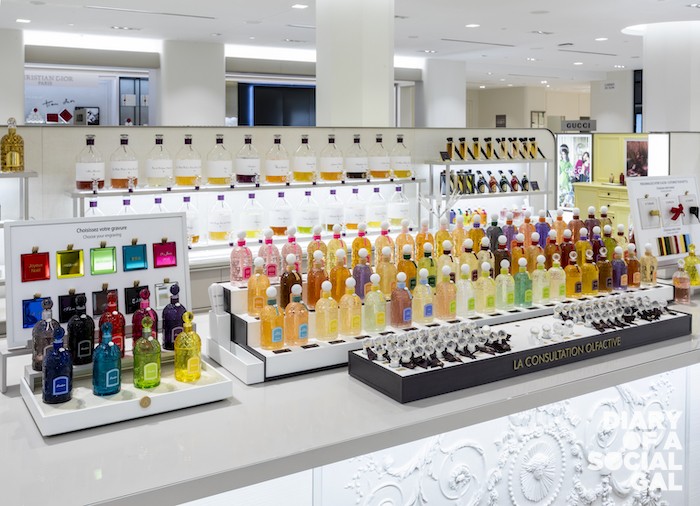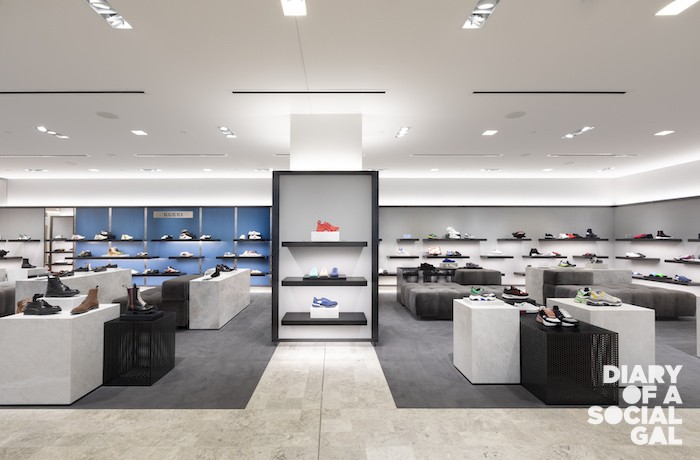 ESSENCE OF SSENSE MONTRÉAL
A year to the day, I remember people in my network reaching out with messages like "you're so lucky to live in Montreal and be able to hit up the new SSENSE flagship whenever you like!"
Well, they were right. When the new flagship SSENSE MONTRÉAL opened its doors at 418 Saint-Sulpice in Old Montreal in the spring of 2018, it was clear that a new era in experiential retail was born … and I had an easy-access front-row seat.
Representing the first building in Canada designed by world-renowned David Chipperfield Architects, the expansive 13,000-square-foot five-storey historic 19th-century building — now housing a modern inner structure — is so spellbinding in its own right, it rivals established landmarks as a leading architectural wonder to experience when visiting the ville.
But, of course, there's so much more to it than that, as the Diary exclusive with SSENSE senior director of communications, Deanna Chow, reveals (for the full interview, link here).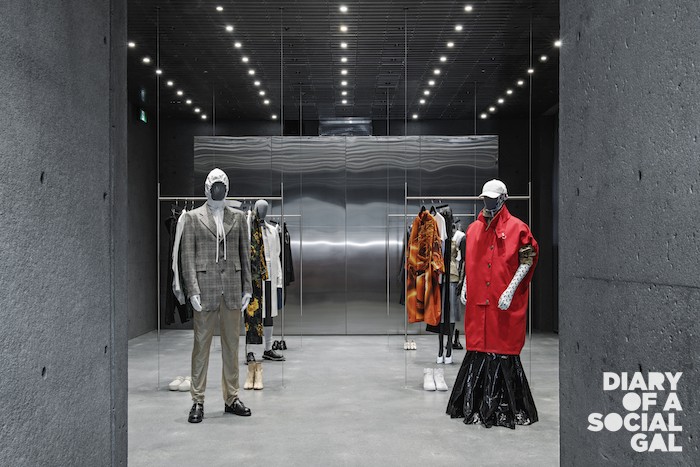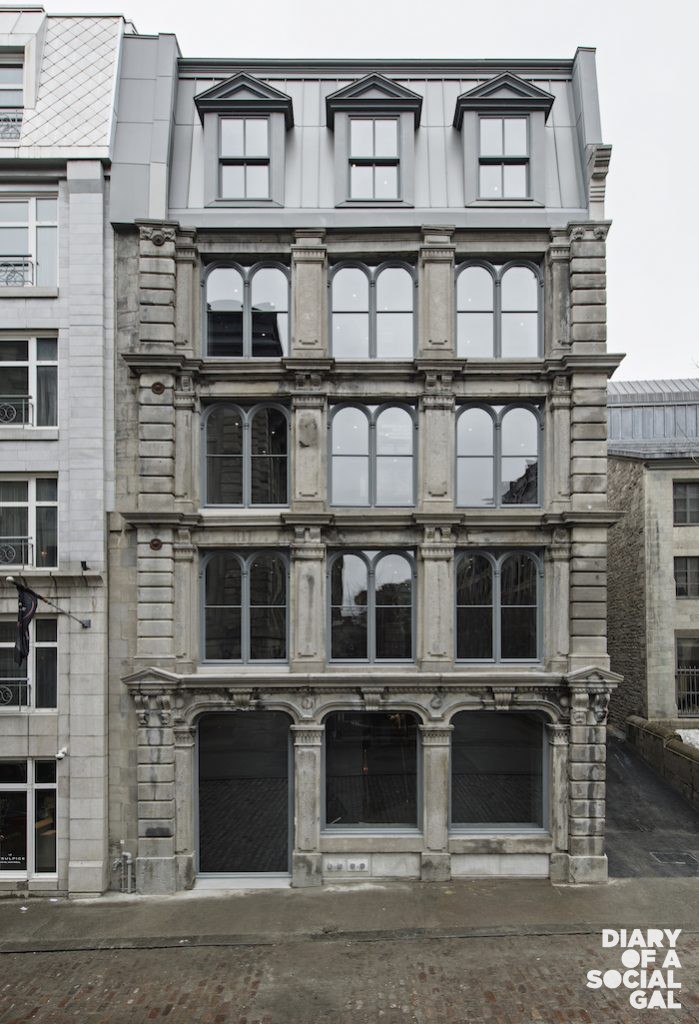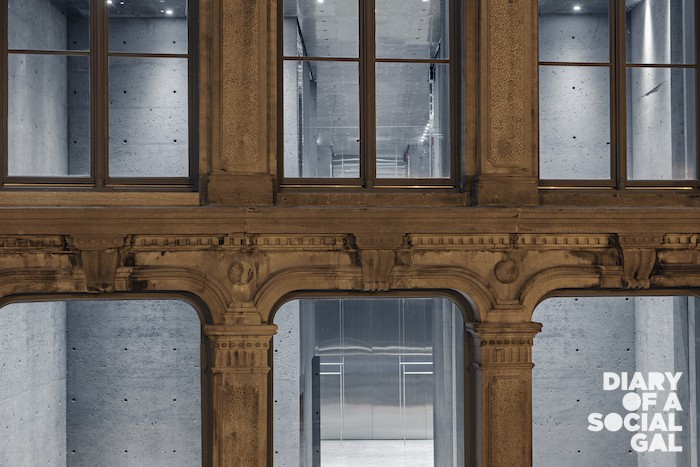 KEEPING IT COOL: CANADA GOOSE
Much to our delight, the country's fave fashion goose — aka the globally admired purveyor of iconic winter coats and deep-freeze outerwear Canada Goose — couldn't not make its mark on the new retail landscape too and launched a new Ste-Catherine flagship in November 2018, awash in all kinds of its own signature crowd-pleasers.
Topping the list: the first-of-its-kind in Canada "Cold Room" where insta-ready fans can actually test the brand's warmest parkas in temperatures as low as -25 Celsius, the kind of immersive experience that previously existed only in the fantasy realm of sci-fi.
Also cool (excuse the wordplay): the heritage-driven brand proudly supports talented fellow Canadians through art references in the space (i.e., Inuk prints and drawings by Canadians Pitaloosie Saila, Ningeokuluk Teevee and Shuvinai Ashoona) and design elements including Inuk serpentinite carved sculptures of a bear and transformation figure, as well as an ash desk (weighing in at a whopping 2,700+ pounds!) carved from a single piece of marble sourced from a quarry in British Columbia.
Talk about culture permeating the very fabric.
Did we mention there's also a cozy lounge where visitors can literally "chill out …"?!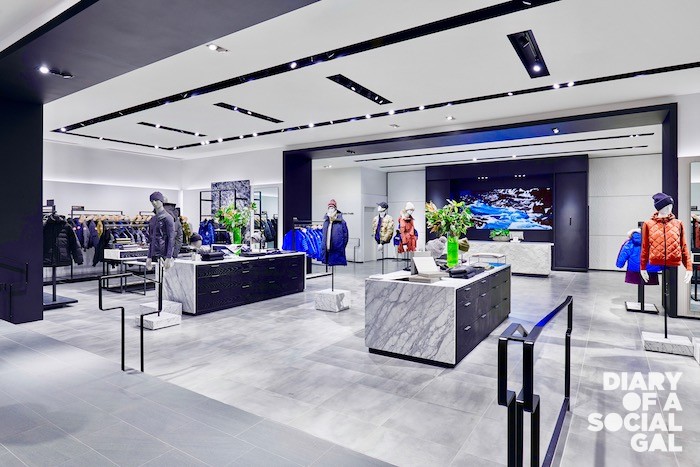 THE MAGIC OF M0851
Commended by many for his frank point of view in the online fashion news bible BoF (Business of Fashion), founder of Montreal-based international leather goods fashion and home brand M0851, Frédéric Mamarbachi, was spot-on when he underscored the importance of "entertaining the consumer" in addition to perfecting a great, well-designed high-quality product.
And truth be told, he — and his dream team — have certainly lived up to the company's vision with the enthralling in-house-directed design of the recent flagships, including the world's largest on Ste-Catherine Street, a capacious 4,000-square-foot space awash in dazzling details like ultra-high ceilings and sleek light fixtures that show off the vast selection of clothing and home fashion items — including tables and ottomans — so exceptionally well.
A fashion feast for the senses, one might say …
THE NEVER-ENDING ALLURE OF JUDITH & CHARLES
Also calling your name on de la Montagne is the downtown sweet spot of homegrown womenswear label Judith & Charles, the brand to hit up when the goal is exquisitely-tailored and timelessly elegant suiting and original pieces that can take you from boardroom to cocktail setting to weekend getaway with equal flair and facility.
While the design of this flagship — and newly redesigned Rockland location — is alluring in its own right (think pure and serene minimalism in soothing tones with rich accents like marble patterned large-format porcelain floor tiles imported from Italy), what also leaves an indelible impression is the brand's firm commitment to serve as a retail gallery for the artwork of Canadian talents (all brilliantly suspended "invisibly" by special cables and titanium-finished metal rods).
Not surprisingly, the initiative is already a resounding success with visitors loving the chance to experience new creative energy in a retail space, offering nothing but rave reviews for the David Umemoto exhibit that wrapped April 1.
Don't look so sad. Another one is planned for May and will look just as fab in your selfies!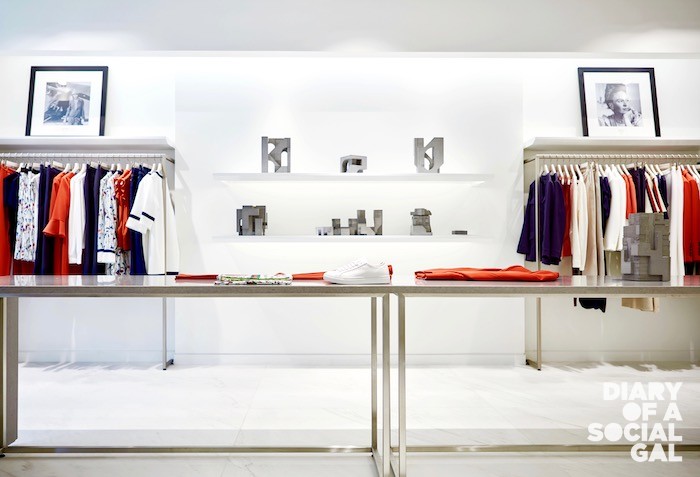 MORE MACKAGE MOMENTS ON DE LA MONTAGNE
If you can ever pull yourself away from the wonders of the new HR Ogilvy (challenging, but we have faith!), you'll likely want to make a pilgrimage across the street to the new Mackage flagship.
The iconic über-chic and über-comfortable outerwear brand — beloved by such globally influential trendsetters as the Duchess of Sussex Meghan Markle and her homegrown bestie, stylista slash entrepreneur slash TV personality Jessica Mul-roney — has now exploded onto the ready-to-wear scene with a shopping experience so beautiful and welcoming you'll want to … move in!
Housed in a heritage building dating back to 1880, the designers retained outstanding historic references like the side façade stone (much to the sat- isfaction of shoppers with a yen for nostalgia), while cleverly juxtaposing pops of modern including extra honed white statuario marble for the iceberg podium, black nero marquina marble at the cash, 17-foot high glass windows, 14-foot lightboxes (the largest of their kind in Mackage stores) and upmarket custom fixtures designed especially for the space.
Jess and the Duchess won't want to leave, either!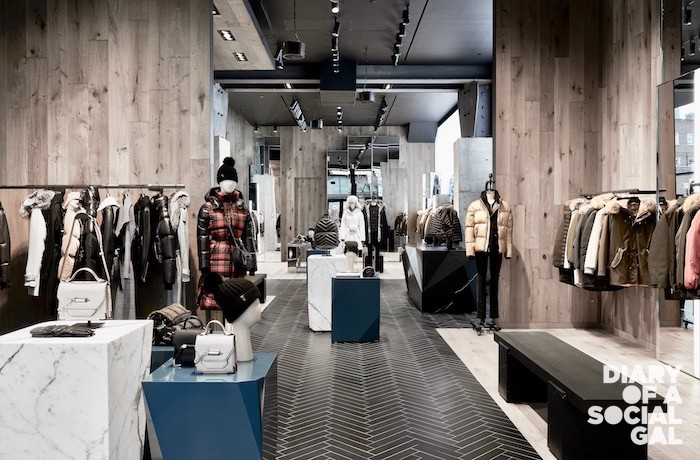 ONE MORE MENTION ON DE LA M.
Finally: when on de la Montagne, you also want to be sure to say hey to MONTAGNE, where long-time veteran of the fashion retail world, co-owner Fernanda Sousa, knows a thing — or a trillion — about how to make an entrance.
Not only has she curated apparel, jewellery and accessory collections for what she describes as "an ageless, creative and forward-thinking" clientele that are some of the most glam and impression-making around (including an in-house label that's to-die-for), but the store itself is signature chic too. Think up-to-the-minute "woman's cave" that is background extraordinaire for the regular series of events the boutique regularly hosts to fete both established and emerging design talents.
BROWNS, FOREVER, IN OUR HEARTS AND SOLES
When it comes to one-stop-shopping for all your shoe and handbag needs, Browns has been delivering the goods for generations (literally, lol) and, as the following denotes, is only upping its A-game via fresh adventures in retail.
At both the recently-launched Browns flagship at Carrefour Laval and newly-renovated B2store in Toronto's Eaton Centre (which notably doubled in size, featuring a central lounge with seating by Roche Bobois, a refreshing flat and sparkling water bar, and a 14-foot video wall), the goal is to incorporate great design and optimize customer experience.
Other superstar touches already garnering big buzz in the stylish shoe emporiums (featuring custom lighting and artisanal glass): a completely cool "endless aisle" station, where visitors can browse the retailer's full collection online, as well as a practical "kid zone" replete with interactive digital games — bliss for little ones in need of a little stimulation while parents enjoy some Browns' retail therapy.
You just keep getting better and better, Browns … thanks for the gift of you!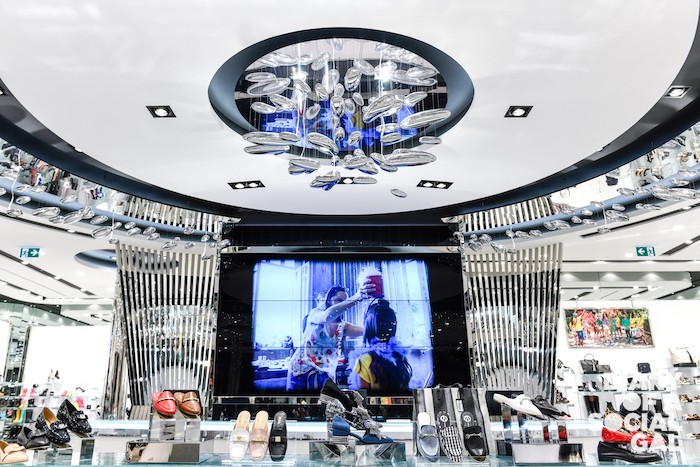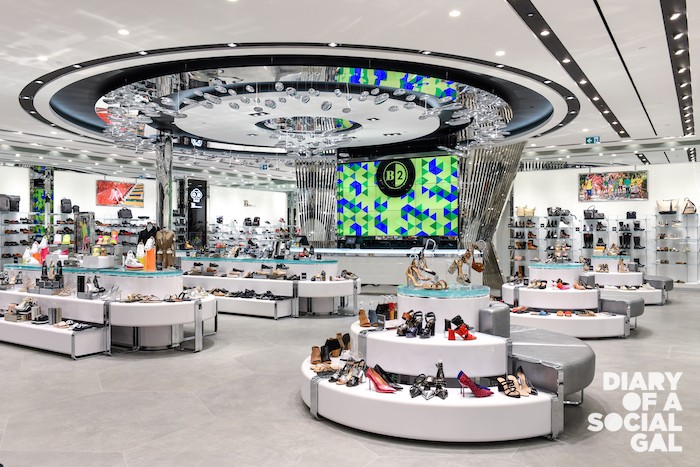 OFÉLIA BRINGS THE FASHION FAIRYTALE
Time now to applaud the divinely designed power pair of Ofélia flagships that recently sprung up on de la Montagne as well, making serious impact on take-charge self-assured Social Gals with a thirst for living life on their own terms … and very fine designer finds (guilty as charged).
For your first dose, head to Boutique Ofélia, where the magic of covetable designers like Luisa Cerano, Riani, Anne Fontaine, Airfield, Raffaello Rossi, Set and Monsillage will prove hard to resist.
Next, indulge in a little Ofélia Studio, home to just-as-irresistible names like Oui, Princess Goes Hollywood, Raffaello Rossi, Anatomie, LeComte, Frieda & Freddies, Juvia, Milano Italy, Betty Barclay and Peruzzi.
Both locations will entrance with the chic monochromatic settings incorporating fun touches like exposed stone and brick walls.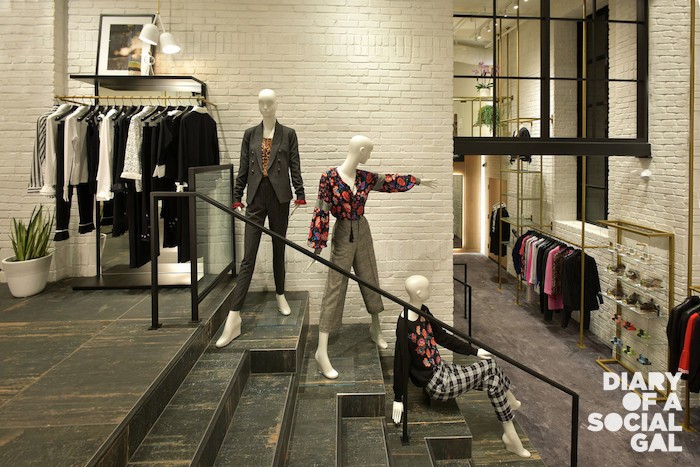 A SHOE-IN FOR YOUR NEXT SPREE
Rough day? Feet killing you?
You're in the right place — and paragraph — lol!
Not only is the selection of footwear spectacular at homegrown La Canadienne's Outremont and downtown locations, but the edgy-chic decor with pleasing light woods, pops of fuchsia and prints, and welcoming cozy chairs is an excellent place to put your feet up. Heck, would you expect anything less from locals? There's even a cozy coffee bar for a java fix and digital check-in.
Of course there is.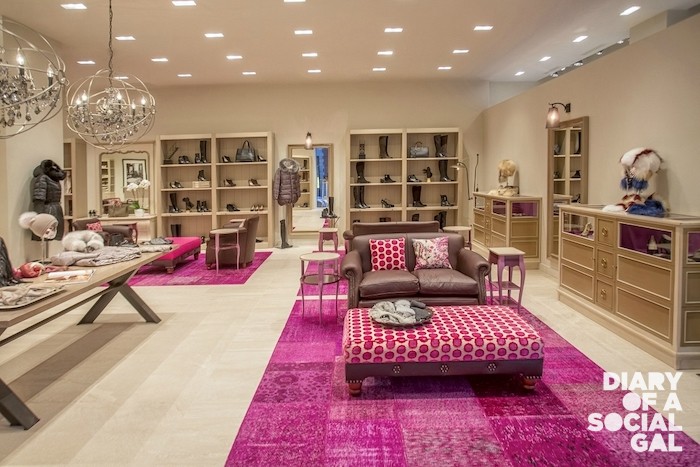 COMPELLING CONTRASTS CAPTIVATE AT MARC CAIN
inspiring prints that are beautiful and still pioneering in design. Bursts of majestic hues that accentuate the power of colour and the unforgettable impressions one can make with — and in — them. Structure and styling that is at once incredibly modern and strong and endlessly flattering. These are the hallmarks of global fashion brand Marc Cain, a relative newcomer to the local landscape that has rapidly made its mark (ahem "Marc") on the retail scene.
Speaking of which, if you haven't had the pleasure of shopping the collections at the flagship in Carrefour Laval (there are also several other stores in Quebec City, Ontario, Edmonton, Calgary and three more in the works in Vancouver), you want to make the trip.
The sophisticated in-store experience is a treat, wowing with a contemporary glam palette that veers from soft champagne to white, a hue the president and chairman of the board Helmut Schlotterer regards as perfect, symbolizing light, newness and the start of things.
It is also the best possible neutral backdrop for each season's celebration of vibrancy, a study in harmonious contrasts continued in the retail design where matte gloriously counterpoints shiny, and sleek stainless steel and glass coexist pleasingly with plush high-pile carpeting.
To shop the retail experience of Marc Cain is to live its aesthetic. Point final.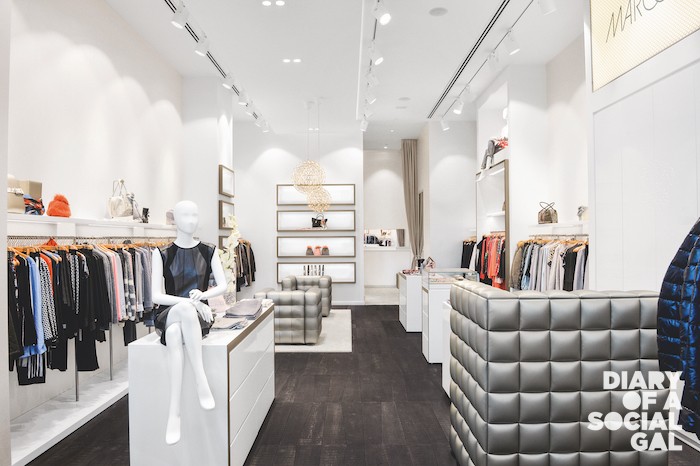 MEET THE NEW MALLS ON THE BLOCK
If you're contemplating the possible obsolescence of malls in a digital world, you'd best immediately consult the Royalmount website which will rapidly convert you to a whole other mode of thinking.
Forward-thinking developer Carbonleo president and CEO Andrew Lutfy and his team clearly did their homework and will thrill when they deliver the finished product of a pioneering retail ecosystem set to span the equivalent of 40 plus football fields and feature state-of-the-art, environmentally friendly entertainment and edutainment pockets, next-level office spaces, a spectacular hotel, transportation hub, and much more, all with a view to fostering connectivity, self-expression and new modes of shopping complementary to our active, high-tech lifestyles.
Popular Rockland Centre has also heard the call of the modern "whirld," consistently reinvigorating its impressive retail spaces, most recently with a complete reimagining of its food court, where a superbly styled La Cuisine now offers visitors the chance to enjoy perks like a central tasting island; new food choices with the addition of Liv, Bacaro and Pastaga Shop, and two counters reserved for street trucks scheduled to offer new fare every three months. Seating sections have also been reimagined to adapt to the changing needs of a rapidly progressing world.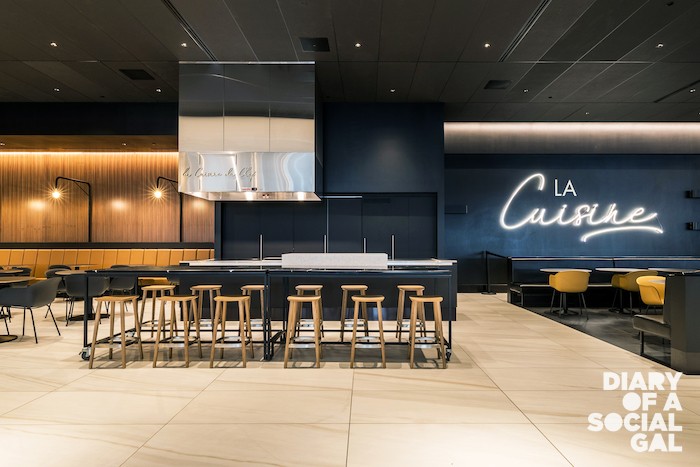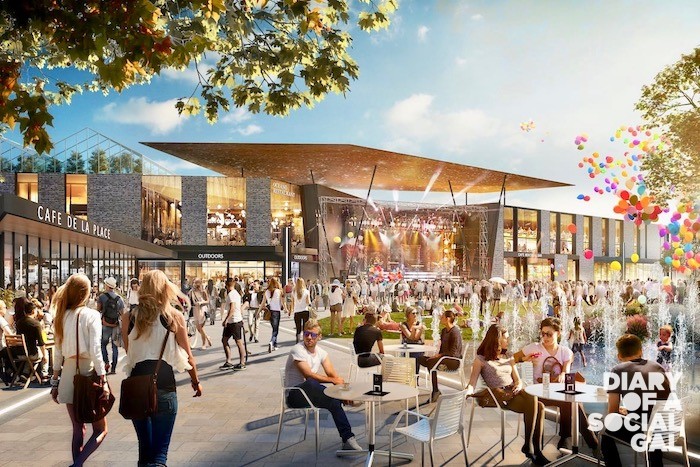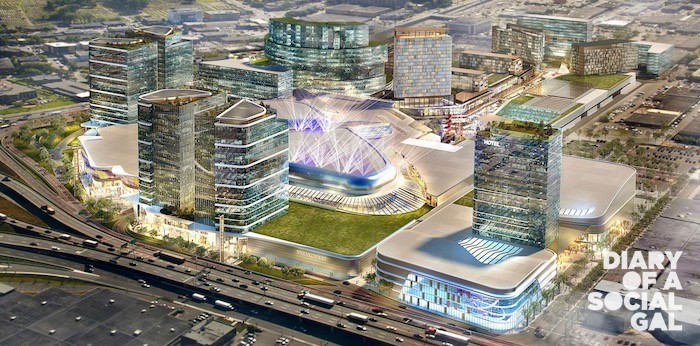 TIME FOR TIME OUT
Finally, downtown Montreal will also get the ultimate foodie treatment in late 2019 when the famous food and cultural market Time Out Market Montreal comes to the Centre Eaton de Montreal (which, FYI, will be the first Time Out Market in Canada).
The curated experience is one to look forward to with passion — and cravings lol! — for it will unite the best of the city under one swish roof, giving visitors the rare and invaluable opportunity to sample chow from the city's top chefs and finest restaurateurs, sip cocktails from leading mixologists and experience culture with Montreal's rising talents. And if you don't take my word for it, perhaps CEO Didier Souillat will drive it home for you: "Montreal has developed into a culinary hotspot and is now one of the world's foodie capitals. This is a city with incredibly creative chefs and an audience with a love for great food. As if this wasn't enough, Montreal also has a buzzing cultural scene with over 100 festivals each year. All of this makes this city a perfect spot for Time Out Market and we look forward to opening our first site in Canada." #CANTWAITFORTIMEOUT
Phew-wow, Social Gals and Gents! That was one big adventure in retailing (and we didn't even hit them all!). But the proof is in: we've officially moved to an exhilarating new conceptual space in retail places where offline is arguably the perfect complement to its online counterpart.
Happy shopping … and yes, happy snapping!