For those who love interior design and routinely binge-watch HGTV (guilty as charged) the name Sarah Richardson conjures up all kinds of fuzzy feelings and gasps of pleasure. Of course it does. While the busy interiors aficionado with a thriving practice — and wife and mother of two — doesn't lack for daily to-do lists (hello!), she does happen to be one of the channel's most prolific designing personalities, with hosting and producer credits for eight lifestyle series including the latest video catnip for design devotees, Sarah Off The Grid. She's also the author of two best-selling books for Simon & Schuster (equally addictive) and the creative force behind myriad lines and ranges for the home like her most recent collection with Palliser Furniture. Sarah is set to rock the decorating universe this fall in both Canada and the United States. While she's waaaayyyyy too young to be a legend, we'd say she is one anyway and we count our lucky stars to be featuring her in the pages of Diary Vol. 8 and on the site … Bucket list, check. Enjoy:
Sarah, at Diary, we're all about entertaining spaces. In your expert opinion, how do we best create them in the home?
Set them up so they're designed for how you live and your unique entertaining style. If you aren't a born entertainer, skip the formal dining parlour and craft something that's more casual, more liveable, more YOU! The key to entertaining is doing what you feel comfortable with — and are good at! Being invited into someone's home is a special gift (and a chance to connect and unwind from the bustle of a restaurant or the chaos of work). If you can't cook, order a pizza or take-out, set a great table, open the wine, and have fun! Not being a fabulous and seasoned host should not stop you from inviting people into your home. Don't be scared, but do be social.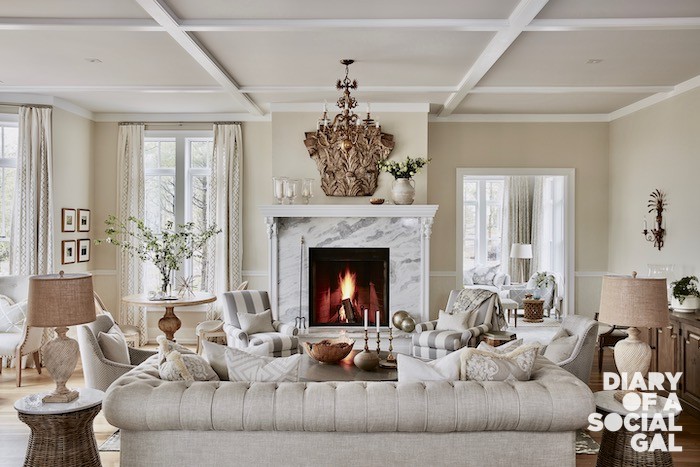 Summer is here (at last!). What tricks do you have up your designing sleeve for rocking optimal summer party vibes?
No matter the season, I'm all about candlelight, a well-stocked, self-serve bar with all the fixings, fresh and easy florals, an eclectic table setting of vintage meets modern, and a menu that's more farm to table than fussy.
At any good party, seating is key. Can you share your secrets on this front?
The key to a great party is meeting awesome new people, striking up scintillating conversations, having some big belly laughs, and hopefully making new friends.
Rule number 1 is NEVER sit with your spouse or seat couples together. We arrived together, we'll leave together, and in the time between, Alex and I love to meet new people, have great chats, hear about other people's insights and experiences, and then be able to tell each other about the night later.
Are there any sofas and/or cozy chairs you covet?
Lol, I don't have to covet them, fortunately, since I design them! I'm super fortunate to have a few homes and to be able to design them to suit how we want to live and entertain.
I'm actually launching a giant collection with Palliser this fall which is comprised of four unique style groups and combines upholstery, case goods, rugs, pillows and throws. Hopefully it will inspire consumers to add all my new designs to their wish lists for home!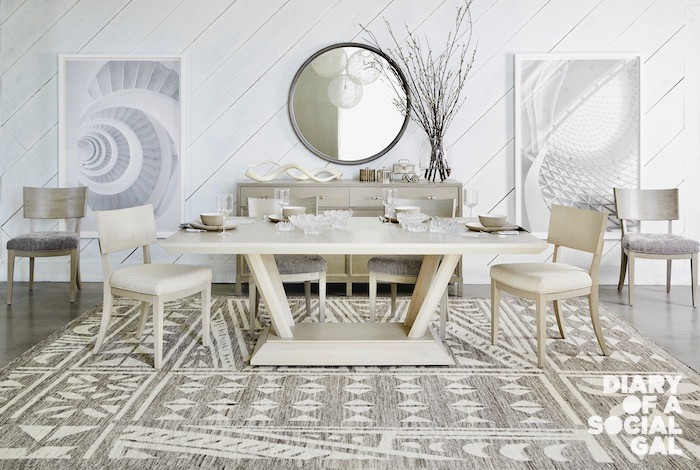 Moving on to tables, any faves there?
The bigger the better. My dining table at home was made by a talented friend and is a 9" slab of solid walnut with a modern polished nickel base. In the country, it's a giant rustic table made from floor boards salvaged from a century-old barn that sits on a custom base inspired by a 19th century Flemish trestle table, and my cottage table is 10" long, made from inexpensive pine planks and a rustic X base. I'm all about the right thing for the right location, at the right price.
For dinner parties, round or rectangle?
Rectangle! And I use narrow banquet tables when hosting a big event because I like to offer maximum options for great chats. If you have a shallow table, you can talk to way more people than you can at a giant 60" round. I like options!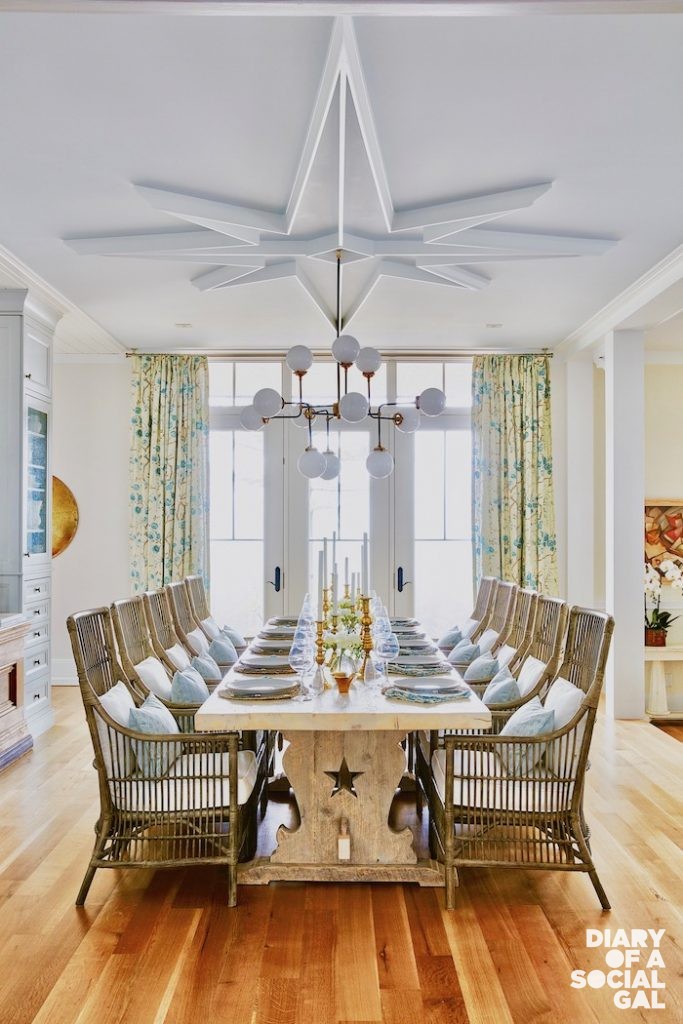 When seeking to create that indescribable festive feel, what colours, textures and accents stir you?
Flowers are an easy way to add colour and impact to a room, but my go-to favourite will always be white for how fresh and crisp and modern it looks.
I like using patterned napkins and a mix n' match collection of dinnerware to give my dining room a unique atmosphere.
I designed and manufactured my own collection of affordable linens a few years ago, so I've got lots of playful napkins in plenty of colour options that allow me to "set the scene" in any number of ways.
What about table settings? Fave dishes, cutlery, cloths, Candlesticks?
I have so many favourites I'm not sure where to start! There are the Limoges settings given to me by my mom, Jasper Conran for Wedgwoodfrom our wedding, treasured Georg Jensensterling serving pieces, and a whole host of other thrift and consignment store finds that make it easy to entertain.
My secrets here? Shop consignment stores for awesome candlesticks, votives and serving pieces. (From sterling to brass, you can always score a deal — and I often find Kosta Boda and Iittalaglass pieces at ridiculously low prices.)
Need a full suite of gorgeous fine bone china? Skip retail and head to consignment shops for deals that will make you swoon. Great suggestions: Elle and Eve, Around the Block.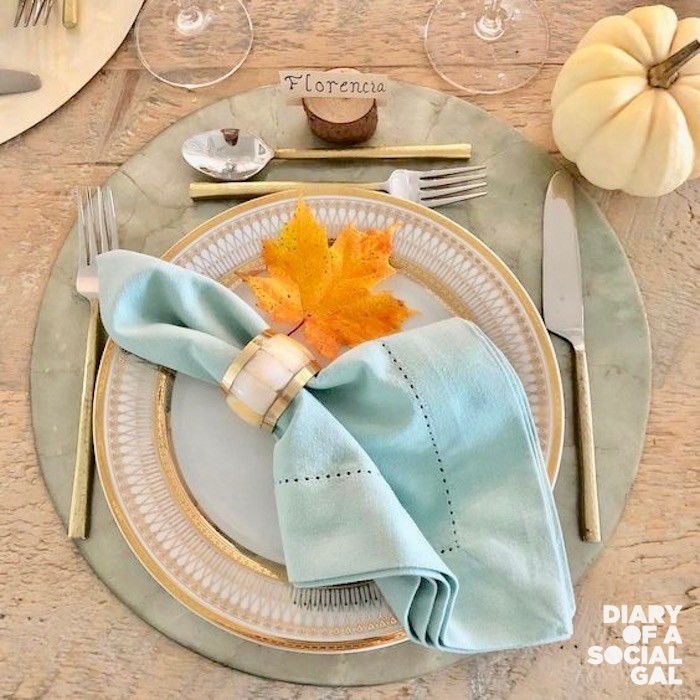 Attend any killer soirées recently?
One of the best things about Instagram is that you get to see the best of the best and be inspired by galas, fundraisers, product launches and swanky soirées on a daily basis.
Last summer we stayed at Cowley Manor in the UK for my brother's wedding and it was off the charts beautiful in terms of setting, ambiance, decor and the most INCREDIBLE flowers of any wedding I've ever attended. I love a great destination wedding that's all about the guest experience!
Finally, we have to ask: What parties have you hosted in your home that stand out in memory?
I love every party at home for a different reason. We host a "friends-giving" gourmet potluck at Starlight Farm (our country property) on Thanksgiving and everyone brings what they do best, so it's easy, relaxed, all-ages family fun.
We hosted a super-fun après-ski for 120 this past Christmas that combined cocktails in the house with a BBQ dinner in the barn. It was the epitome of casual ease.
And every other year, we co-host a black-tie dinner with dear friends for about 150 that is equal parts elegant dinner affair and full-on dance party.
No matter the event, watching friends have fun together, seeing people laugh, and hearing later about how much fun they had makes every bit of the effort worthwhile. We have so many great memories from these shared experiences.